Our rapid response to the world's toughest logistics challenges? Yes.
Your greatest allies when the unexpected occurs are the ones who have been there before, done it before, and most importantly, succeeded before. We're those people.
---

We're your one source and one point of accountability
Crowley people provide you with the logistical advantage before you even know the challenges you face. More than having at-the-ready, relief and response assets in place to help, we provide you with a total supply chain solution to scale to your needs—from ocean and overland logistics to air freight and warehousing.
Plus we provide you with the power of working with people who have moved major military and historic humanitarian cargos everywhere in the world.
We know the world of hard cargoes and tough challenges
What's the scenario? If the task at hand is chemical weapons handling and disposal, post disaster humanitarian assistance or operations of military or commercial nature, we can pull together a high-performing, cross-functional team for the job. Rely on our commercial operations and government experience to handle your planned or contingency operations, logistics planning and feasibility analysis—all with one call.
---
Haiti Earthquake Relief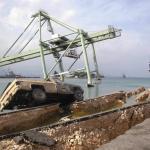 In the aftermath of the massive Haitian earthquake in January 2010, clearing debris out of the devastated Port-au-Prince Harbor was just the beginning.
There were still millions of people living without food, water or shelter. The need for relief supplies wasn't something that could be measured in days — each hour the situation was becoming more desperate. We instantly recognized the vital role we could play here and what needed to be done to help alleviate the suffering.
Collaboration With USAID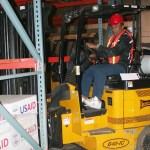 During the late summer and early fall, Crowley's rapid response team keeps one eye glued to the TV and the other on the phone.
With hurricane season in full swing, the team is frequently called on to collaborate with USAID to assemble and often deliver life-saving supplies to islands throughout the Caribbean, usually with only a few hours advance notice.
In August 2007, when Hurricane Dean battered Jamaica with 150 mph winds, we answered the call.
---
We're indispensable during the unimaginable
We're among the few who have stood in your shoes. We can help you formulate the strategy and execution for missions that are hard to get your head around, let alone get started on. We'll help you save time and avoid mistakes on:
Base construction and operations
HAZMAT removal and disposal
Port opening and operations
Salvage engineering and technical response
Inland transportation and warehousing
Arranging customs clearance
Cross border clearance and transportation
The big stuff, the heavy stuff, the hard stuff that takes your breath away. Those are the types of logistics challenges our people live and breathe for.