OFFSHORE ENERGY SERVICES AND PROJECT MANAGEMENT
Crowley's Been Offshore from the Beginning
Crowley has been a key player in the development of the offshore services industry for decades. Serving as a prime contractor or subcontractor we combine our expertise in engineering and marine operations with our fleet of premier offshore assets to develop and execute safe, reliable solutions for the world's most challenging offshore projects.
We Bring the Right Vessels …
Crowley has one of the largest U.S.-flag fleets of tugboats, barges and other specialized marine assets found anywhere. These Jones Act – compliant vessels range from high-endurance tugs with dynamic positioning capabilities to high-deck-strength heavy-lift deck barges up to 400 feet long by 130 feet wide.
And our heavy-lift foreign-flag deck barges are ideal for jobs around the world. If we don't have the right assets in the right place at the right time, we leverage our network of contacts around the world to source the ideal vessel solution to meet your offshore services needs.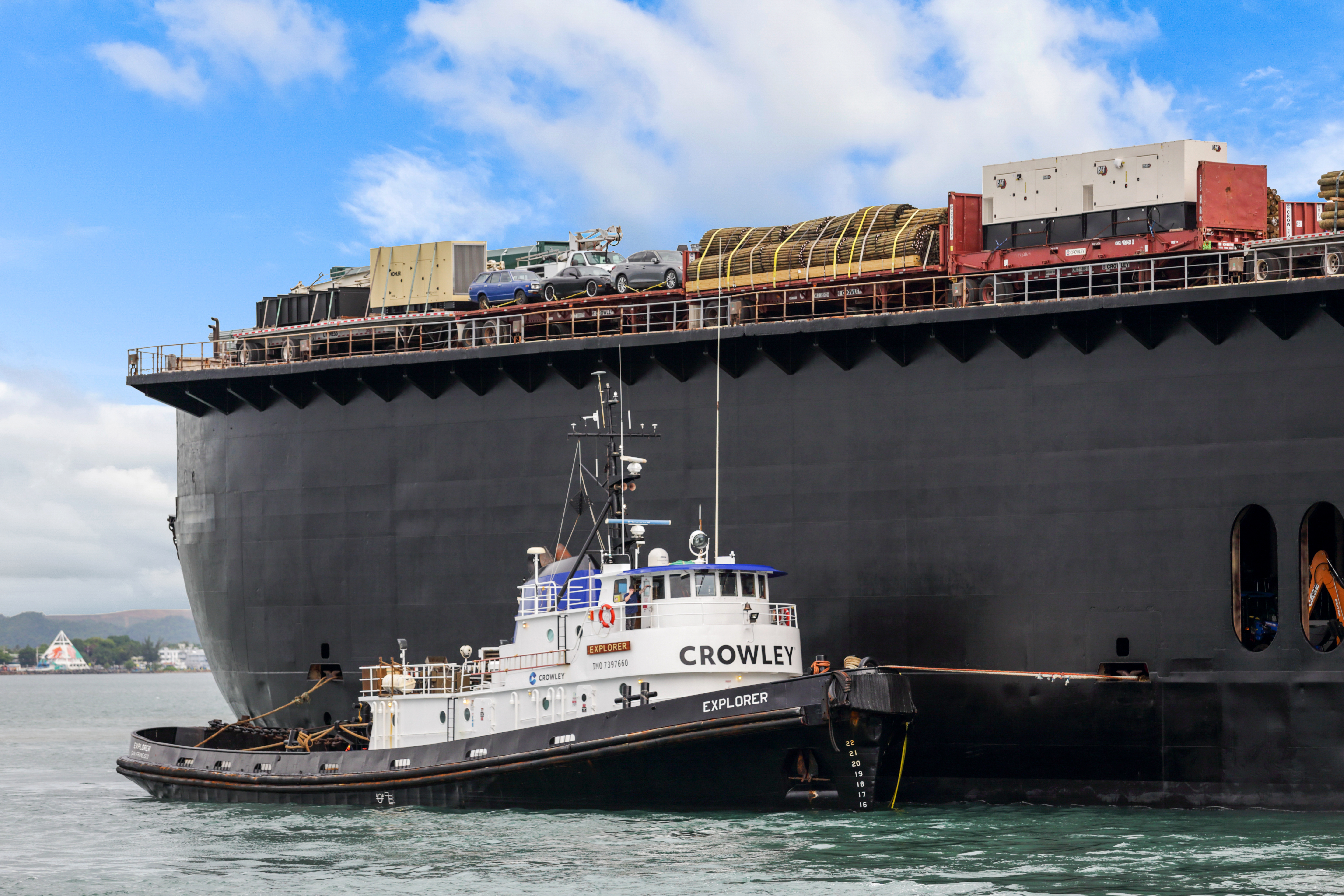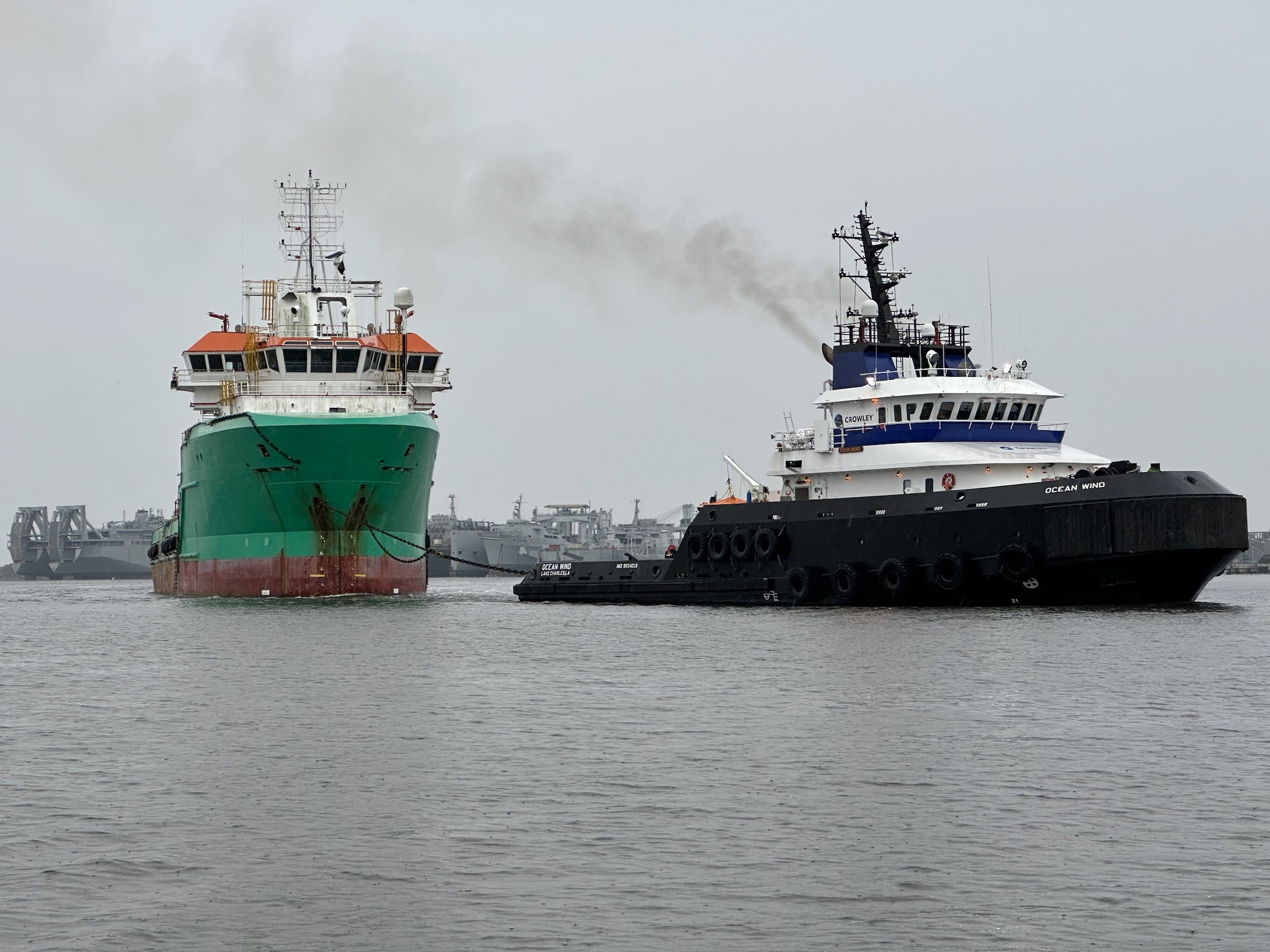 … and Know how to do Every Job
Our engineers provide comprehensive solutions for vessel load and cargo fastening plans.
Utilizing 3D modeling and Finite Element Analysis (FEA) software, they ensure the design and safety will exceed expectations while helping to limit project costs and risk of your offshore services project.
Vessel loading services include:
Project Management
Barge Stow Plans
Mooring Plans
Barge Strength Studies
Local/Global Structural Analysis
Stability and Hydrostatics Analysis
Ballast Plans
Seafastening Design
Finite Element Analysis (FEA)
Load and Offload Calculations
3D Load and Offload Renderings
Technical Expertise for Emerging Markets
Crowley is accustomed to going to places no other companies have been and designing and executing projects that haven't been done before. We delivered the North Slope infrastructure beginning in the 1970s. We've transported modules and other equipment to six continents and dozens of countries.
We've helped manage some of the largest salvage operations in history, including the Costa Concordia, with our experienced naval architects, marine engineers and salvage support teams.
When you are contemplating that new, challenging project, engage us at the beginning of its lifecycle to ensure its success.
Whether you are looking to make a complicated delivery over the shore on a remote beach, or beginning an energy exploration project requiring bulk or coastal transportation and heavy-duty tow-outs, or developing an offshore wind energy project, we're always ready for what you want to accomplish.
What's Your Challenge?
Our resume of performance over the past 130 years is extensive. No matter the project you are contemplating, it is very likely that we've done it safely and successfully before. In those rare instances where we haven't, we have a team of engineers, naval architects, towmasters, vessel crews, and project managers to develop a custom solution for you.
Topside Transportation
Offshore Drilling Platform Transportation
Offshore Installation or Decommissioning Support
Ship Tows
Emergency Response
Marine Salvage Support
Transportation and Logistics in Remote, Extreme Conditions Such as the Arctic, Russian Far East, and West Africa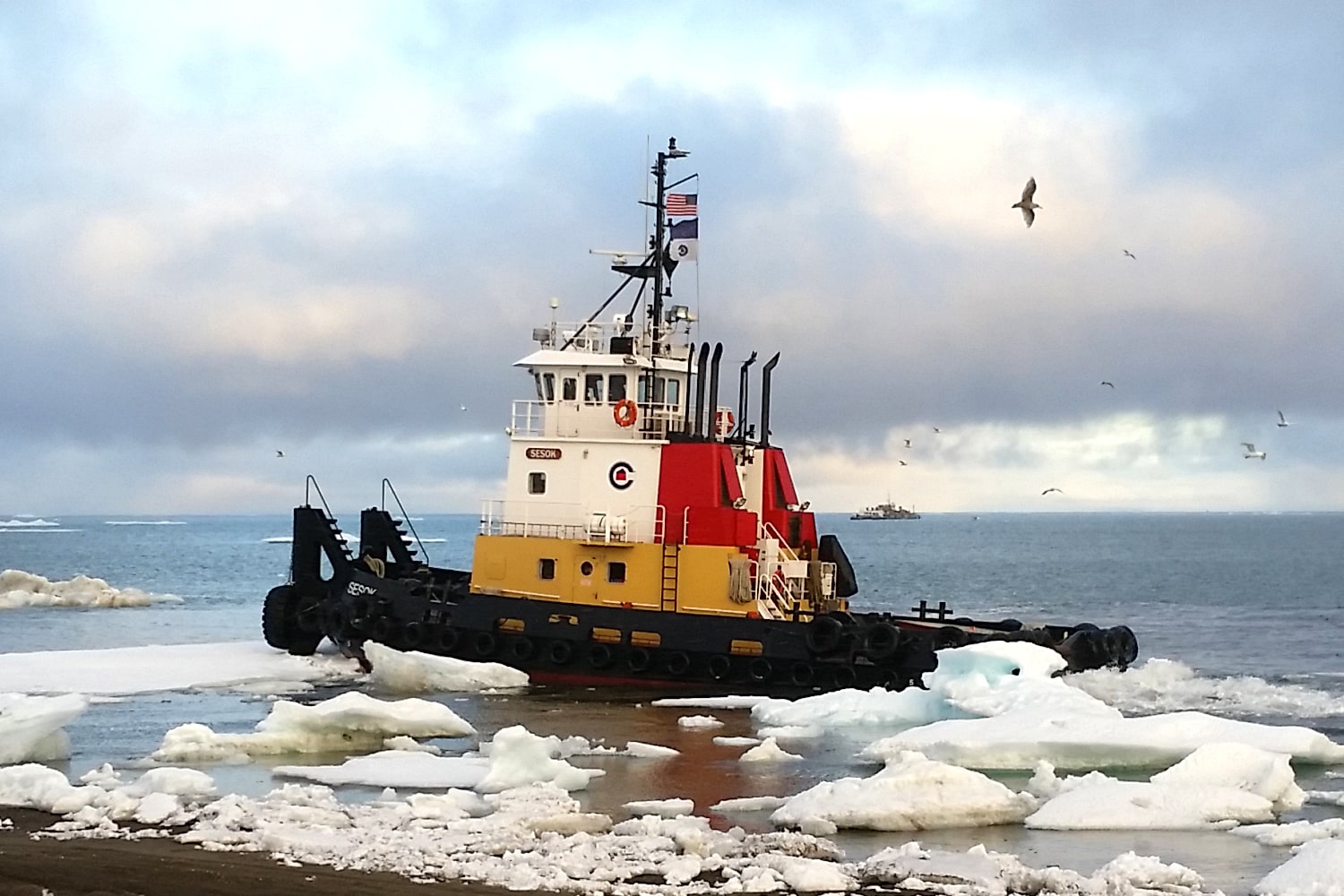 ---
Marine Operations and Heavy Lift
When your projects have some of the biggest and most complicated engineering and marine transportation requirements imaginable, Crowley's marine engineers will do the heavy lifting for you. Whether it's transporting a land-based oil rig to its final location over water, or a simple towing resistance analysis, our heavy lift experts provide customized solutions.
Our decades of experience coupled with a diverse fleet of marine assets, provide you a single-source for safely and reliably executing extraordinary, complex cargo projects. See an example of our success.
Featuring high deck strength, heavy-lift barges and state-of-the-art, high-bollard pull and dynamic positioning tug boats to tow them, we specialize in offshore transportation, cargo operations, offshore construction and module unit support. We provide you access to the most comprehensive solutions in the industry.
Cargo Integrity Studies
Motion Studies
Seakeeping Studies
Met-Ocean and Ice Data Analysis
Towing Resistance Studies
Seafastening Design
Project Management
Barge Stow Plans
Mooring Plans
Barge Strength Studies
Local and Global Structural Analysis
Stability and Hydrostatics Analysis
Ballast Plans
Marine Warranty Surveyor Liaison Services
Regulatory Assessment & Liaison Services
Emergency Response Planning
We have decades of experience with vessel design and understand the loading capabilities of marine vessels. We provide comprehensive solutions for vessel load and cargo fastening plans, and utilize 3D modeling and Finite Element Analysis (FEA) software to ensure the design and safety will exceed expectations, while helping to limit project costs. Our services include:
Barge Stow Plans
Mooring Plans
Barge Strength Studies
Local & Global Structural Analysis
Stability & Hydrostatics Analysis
Ballast Plans
Seafastening Design
Finite Element Analysis
Load and Offload Calculations
3-D Load and Offload Renderings