Comprehensive Pandemic Support Capabilities: COVID-19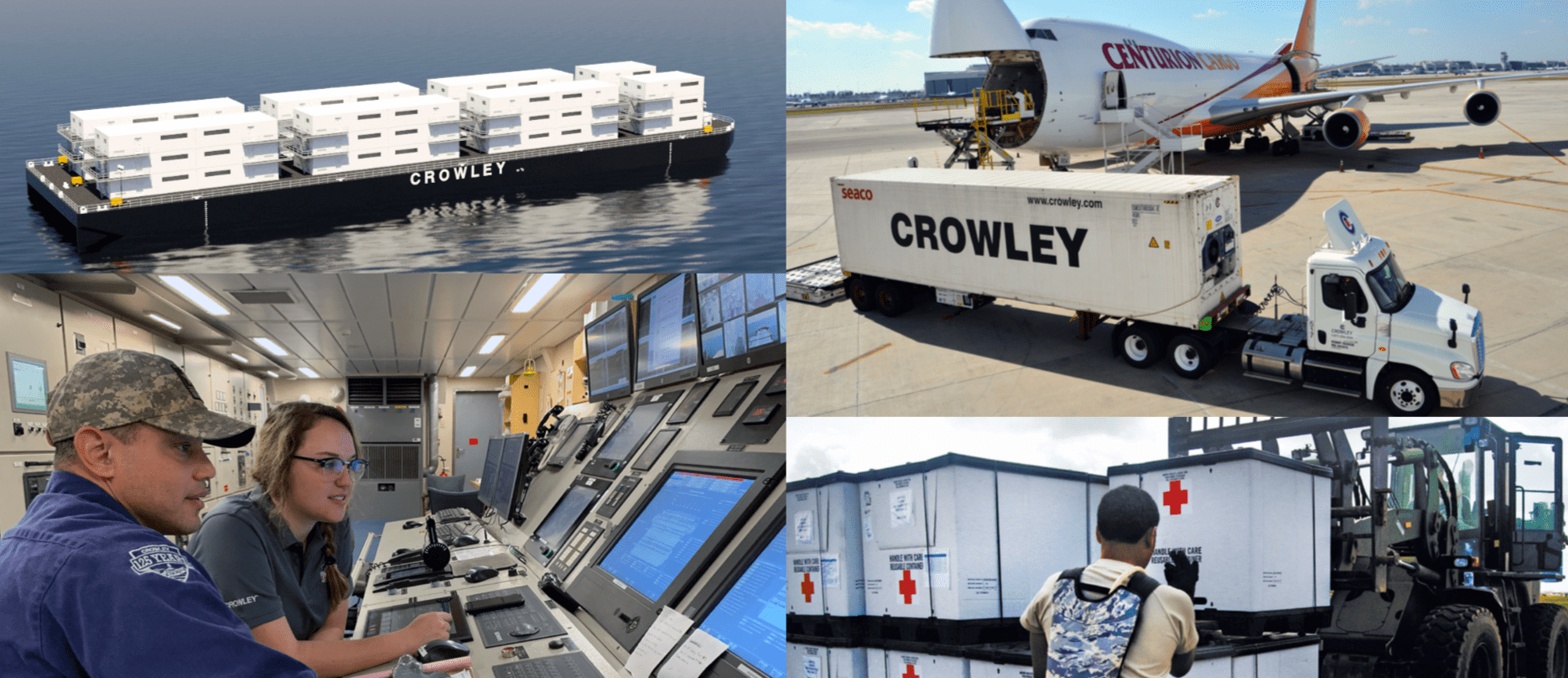 Crowley Solutions
Comprehensive Pandemic Support Capabilities: COVID-19
Dedicated 24/7 control tower with the ability to coordinate information, manage shipments, manage suppliers, and provide real-time/actionable information.
24/7 dedicated control tower with over 80+ personnel
Ability to seamlessly manage information, manage suppliers, source/ procure, transport and deliver products via multiple modes
Advanced analytics capability using state of the art IT systems with data visualization/decision tools to optimize shipments/on-time delivery
Real-time visibility of cargo with the added ability to adapt, given dynamic situation parameters
Time definite delivery of supplies via air, ocean (with Jones Act carriage, and truck, with real-time tracking and monitoring.
Scheduled or Chartered Air Service
On-Demand Trucking
Scheduled Ocean Service
Time Definite Delivery
LNG tankload deliveries by land or sea
GDP compliant storage of Medical/ Pharmaceutical products via standard warehousing or "warehousing in a box".
Nationwide network of mobile and fixed warehouses with the ability to scale up or down on short notice based upon storage requirements.
Understanding and experience with GDP compliant storage and transportation of medical/pharmaceutical (ambient and temperature controlled) products
Ability to align and optimize warehousing along with the other components of the supply chain to ensure the best overall solution at the best overall cost
Ability to enable and maintain quick inventory accuracy and turns while maintaining temperature sensitive product
Ships, structured facilities, meals, and security that follow required quarantine protocols.

Ability to quickly source and deliver numerous living arrangements, including medical/hospital facilities
Arrangements include not only housing but also additional items including security and meals according to the required quarantine protocols
Various options available according to requirements, including geography, quality of life and length of stay
Marine engineering and naval architecture services to design solutions
Our solid business performance and keen understanding of quality PPE demands, combined with our ability to procure the type and quantity of equipment required, while reliably delivering the product, make us the trusted source for local, state and federal government agencies.
Past performance includes the successful sourcing and delivery of 5 million N95 masks for the State of Maryland, working in concert with partners to provide fully financed procurement with access to approved product manufacturers.
Equipment Availability
Masks (NIOSH-Approved N95, KN95, 3 and 5-Ply, Children's Sizes)
Face Shields
Gloves
Gowns
Services
Sourcing (any quantity)
Procurement
Certification (FDA/CDRH)
Expedited Transportation from Manufacturer (land, air, sea)
Customs Clearance
Final Delivery to Customer Facility or Distribution to Multiple Sites
Features
Stringent Quality Controls including SGS Inspection
Full Financing Available
Approved Product Manufacturers – No Counterfeits
Direct Sourcing
510K Products
U.S. Top Secret Clearance
Why Crowley?
Crowley has been a consistent, responsive partner of the United States government for more than 100 years. We stand ready to support your COVID-19 response mission by providing you with speed to market, 24/7/365 readiness, experience, high performance and best-in-class technology.
Long history and experience in supporting humanitarian, disaster and pandemic responses.
Delivery of critical services to FEMA, DLA, USTRANSCOM, USAID, and WFP among others.
Available contract vehicles that are active, accountable, quick, and audit proof.
Crowley has a dedicated and fully operational distribution infrastructure with the Defense Freight Transportation Services (DFTS) contract.
Dedicated personnel, American mariners to crew vessels, innovative ideas and enabling technologies to ensure operational success.
Critical understanding and practice with Pharmaceutical Good Distribution Practices (GDP) and cold chain storage.
On-site logistics support and shipping services in support of the U.S. military's Operation United Assistance to fight Ebola in West Africa.
Crowley offers a full range of flexible and customizable services to federal, state and local governments in response to COVID-19.
These solutions can be leveraged individually or scaled comprehensively for best response.
Active Contracts
DFTS – HTC71117DR003, United States Transportation Command (USTRANSCOM)
USC-09 – HTC71119DW019P00003, Surface Deployment Distribution Command (SDDC)
RCTSD – 70FA3019D00000001, Federal Emergency Management Agency (FEMA)
GAA – DTMA1H10001, Maritime Administration (MARAD)
Get In Touch With Our Team of Experts