Crowley Expands Government Supply Chain Services with New Cross-Dock Facility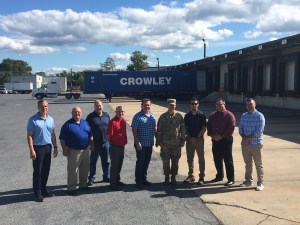 Crowley Solutions has expanded its supply chain services with the opening of a 30,000-square-foot cross-dock with warehousing capabilities in Camp Hill, Pa.
The new cross-dock will increase the efficiency, lane density and volume of freight transportation serving government customers in the area, including Defense Logistics Agency (DLA) Distribution Susquehanna in New Cumberland, Pa. The services are delivered under the Defense Freight Transportation Services (DFTS) contract.  A cross-dock allows transfers among trucks and trailers with little or no storage requirements.
The 55-door cross-dock operation will be a consolidation point for multiple modes of transportation, including less-than-truckload (LTL) cargo, and will help streamline flow and inventory for final-mile deliveries into government facilities. The facility has capacity to support an additional 100 trailers in the yard, bringing total capacity to 155 units.
Initial operations will focus on government services for U.S. Transportation Command (USTRANSCOM) and the DLA. In the future, the cross-dock facility can support more commercial and public sector customers, including other services of the military.
To operate the facility, Crowley has partnered with Maintenance and Logistics Management Services, Inc. (MLM), a woman-owned and service-disabled veteran-owned company in Sauk Centre, Minn.
"Crowley's new cross-dock facility will enhance our ongoing services for U.S. warfighters in partnership with the government," said Crowley's Patrick Wallace, vice president, supply chain services in Solutions. "Deliveries will be consolidated to maximize flow and timing of cargo and freight into various delivery locations to support the Department of Defense's important operations. We can also expand our services to meet future needs."
As part of operations, the new facility will leverage technology. This will offer better tracking, visibility and supply chain management to ensure freight transportation moves efficiently and on time. The cross-dock operations will use the transportation management system built by 3Gtms for Crowley's government supply chain service.
DFTS, managed by Crowley Solutions, offers the Department of Defense (DoD), other government agencies, customers and vendors a single touch point for transportation services. The $2.3 billion, freight all kinds (FAK) contract encompasses all forms of surface transportation throughout the continental U.S., Alaska and Canada. This includes LTL, full truckload (FTL), expedited, time-critical and rail services.
Crowley Solutions provides freight transportation and management services in North America for public sector customers, including DFTS. In addition, Crowley provides government ship management services, such as crewing, operational and technical services. The company also is a proven leader in expeditionary logistics, including relief and response services for FEMA and other agencies and commands. Furthermore, Crowley provides energy solutions, including marine and inland transportation and distribution of fuels for local, state and federal customers.
Pictured (L to R): Dave Touzinsky, director, business development, Crowley; John McAlister, director, operations, MLM; Ron Harper, consolidation center manager, MLM; James Whitehead, director, government operations, Crowley; Brent Barnes, deputy commander, DDSP; Cpt. Brown, transportation manager, U.S. Army; Brian Flynn, deputy support operations, DDSP; Tim Madole, deputy transportation officer, DDSP; John Egner, freight operations chief, DDSP