Crowley team of military veterans provides government fueling support during Polar Force and Northern Edge exercises in Alaska
---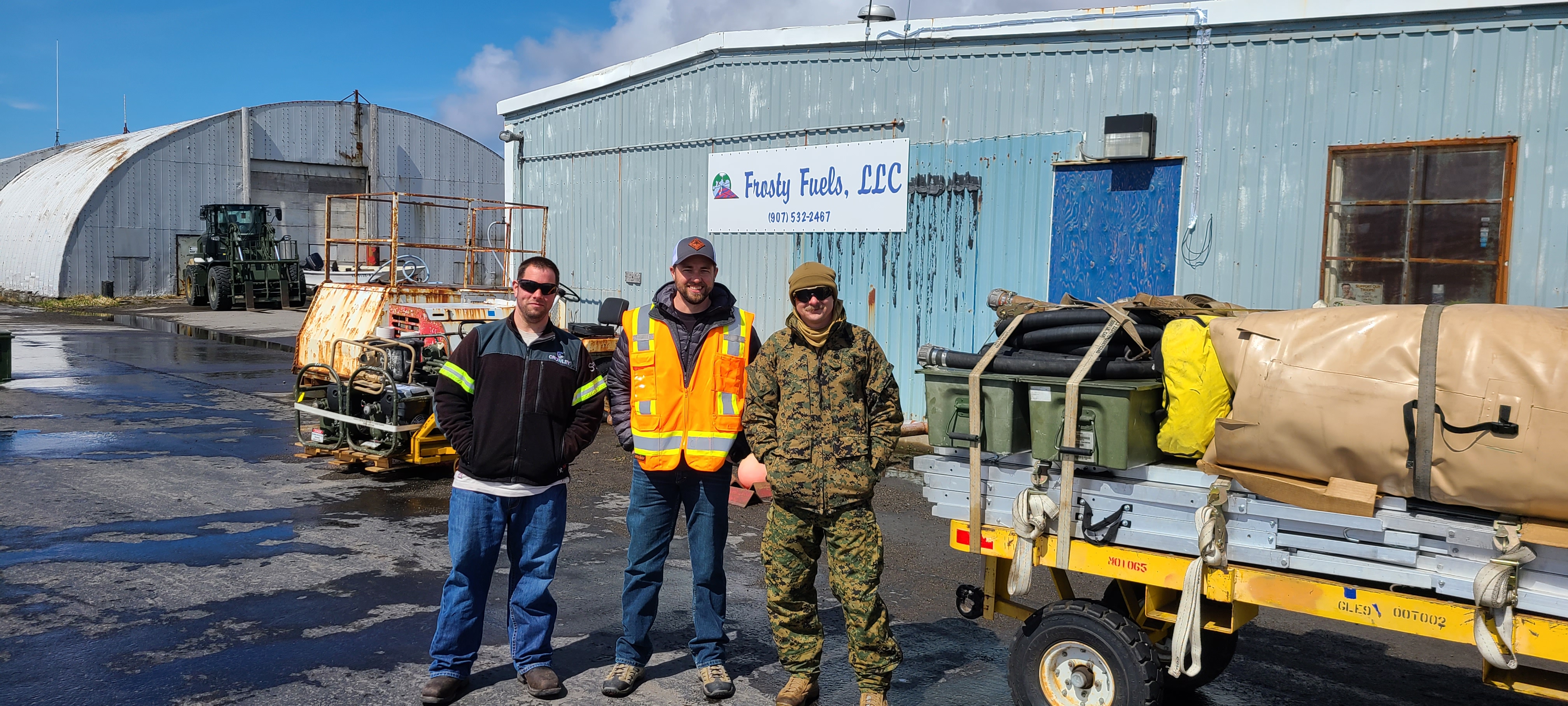 Crowley's solutions team, led on the ground by a team of military veterans, recently supported the energy needs of military aircraft during major exercises this spring, the way only Crowley can.
The team faced simultaneous challenges in remote and austere locations throughout Alaska. Merging energy expertise, commercial resources, and logistics know-how, they fulfilled Crowley's commitment to support the men and women in uniform and helped fuel the success of Polar Force, Northern Edge and other ongoing operations on the Aleutian Island of Shemya.
Battles are won with jet fuel
Today's Agile Combat Employment practices hinge on rapid deployment of airpower to austere airstrips anywhere in the world. Getting jet fighters to hotspots is only part of the challenge. Getting military-grade jet fuel to forward air bases is a formidable feat that was a focus of recent Alaska wide joint training exercises at Cold Bay Air Field and at King Salmon Air Station.
Finding a partner who can navigate the government contracting process and then execute a plan in a matter of days is not easy. In recent military exercises, Crowley proved to be the agile option to lead several fuel-related missions crucial to the success of the exercises and their objective of warfighter readiness.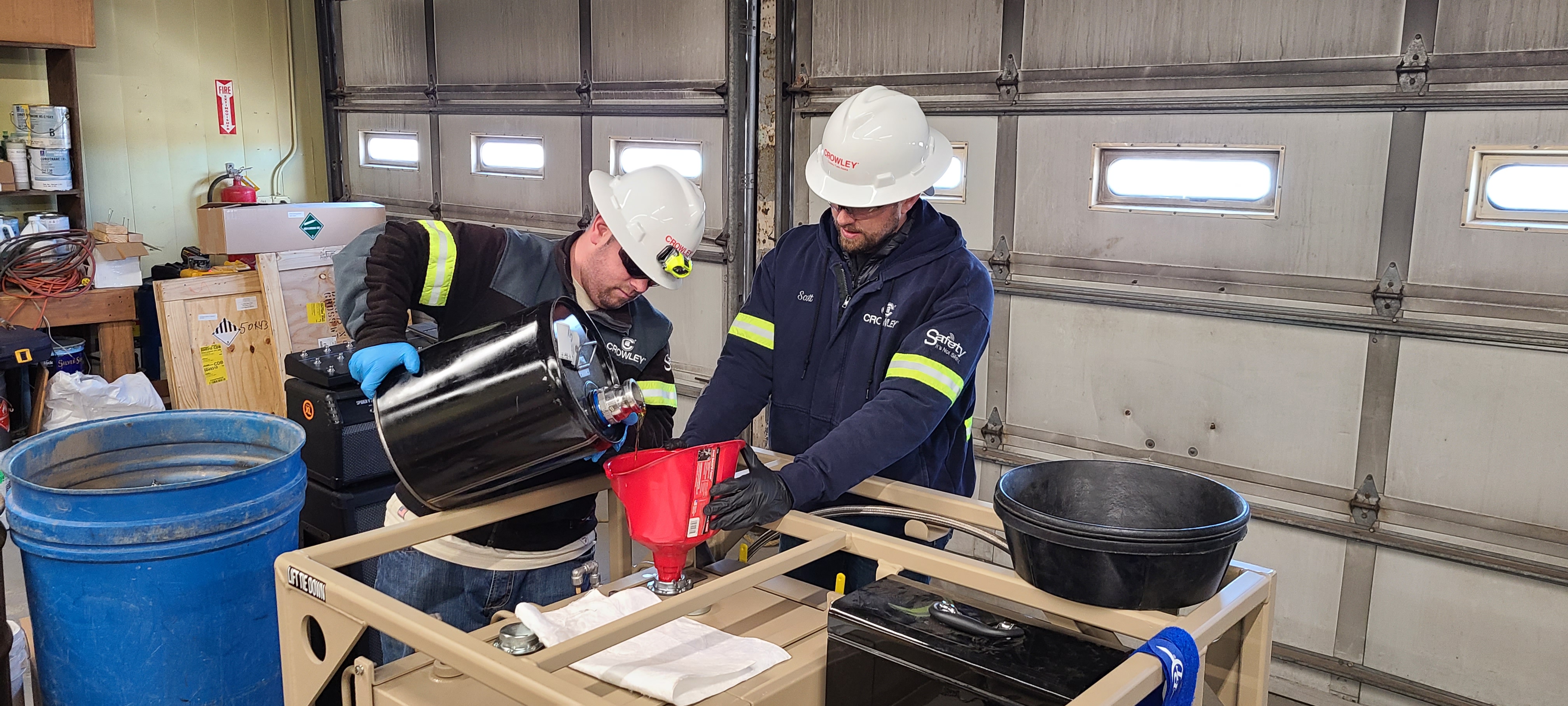 "Our success comes from being able to solve those commodity problems that the military can't solve for themselves in two weeks," says Dan York, a project manager for Crowley's solutions group. "The agility that Crowley provides through their acquisitions and procurement solutions are almost turnkey."
During multiple missions this spring, Crowley combined their global network with the logistics expertise of a team of military veterans working hand in hand with their counterparts to meet and exceed our customer's expectations.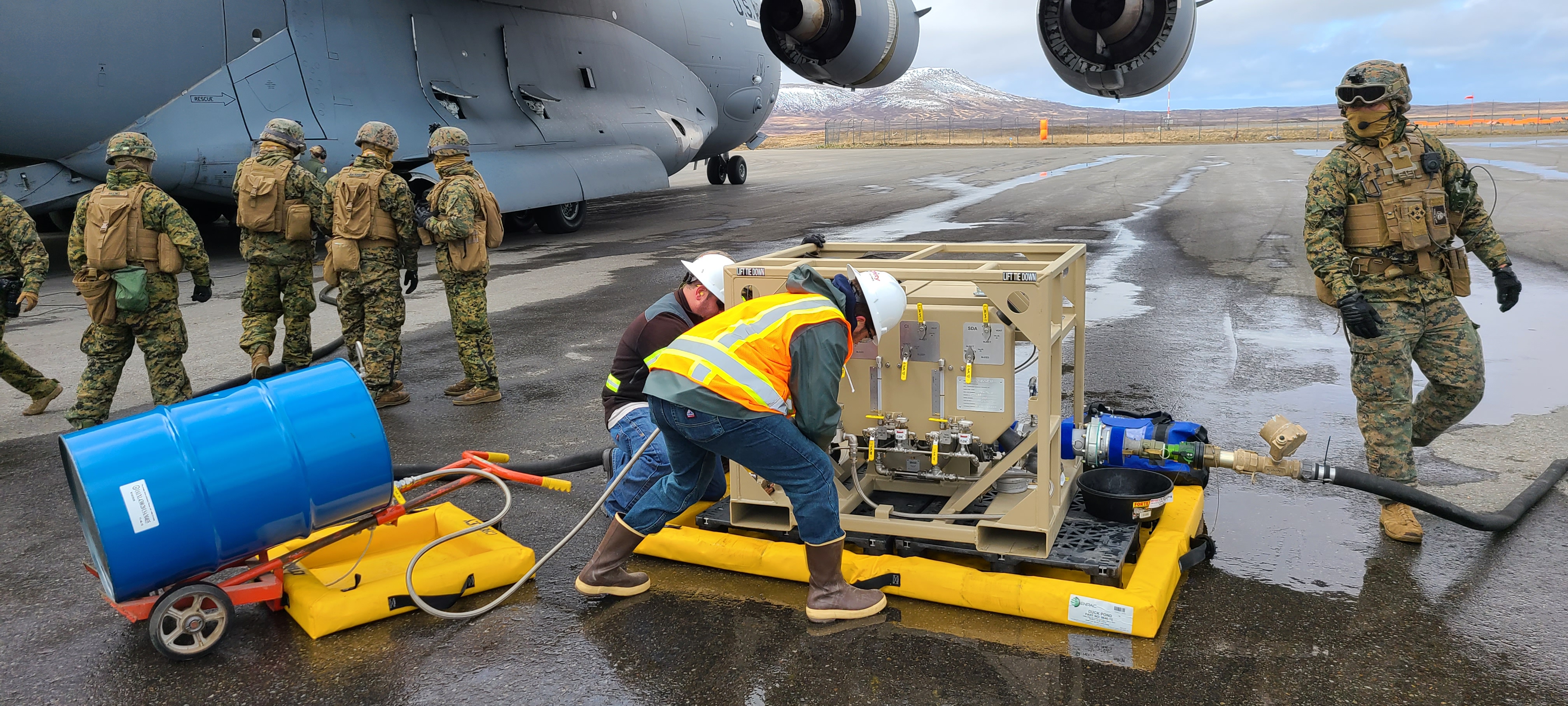 Military-grade fuel is often limited in availability. As Crowley Vice President Sean Thomas explains, refineries making military-grade jet fuel are few, and the supply lines used to get that fuel to forward air bases can be vulnerable in the event of conflict. In response to this logistics challenge, Crowley utilized their fuel additive injector to ensure the jet fuel was compliant with military specifications support Northern Edge 2021.
The mobile additizer, a 4-foot-by-4-foot box weighing 1,000 pounds with the capability to pump up to 700 gallons per minute, is both modular and scalable. "You can deploy it anywhere in the world within 24 hours, hook it up, turn it on and let it run," Thomas says. "If you have the ability to turn regular fuel into mil-spec fuel on-site at rates conducive to support a kinetic operation—you change the game."
Vets deliver in a tight timeframe
Winning government contracts can be a waiting game, but once the contract is awarded, it's go-time. In the case of the Crowley's exercise support activities, 36 hours after contract award, Crowley's team was deploying, and only days later, they had boots-on-the-ground, executing the solution.
Crowley's team calibrated and prepared the mobile additizer at Crowley's DFSP Anchorage, before mobilizing to Cold Bay. Team members Scott Mulvihill, Alex Bittner, Dan Wiggers and York are credited with deploying and setting a forward-deployed capability, one day ahead of schedule, despite last-minute air transportation challenges, including an emergency divert.
The remote and austere environment of Cold Bay simulated the extreme Arctic environments the U.S. military and their sustainment support would need to successfully operate in. At Cold Bay, commercial jet fuel is available, but not the military-grade product that was required. Simulating an actual conflict situation in a remote and austere location, the Crowley team sourced the required additives, the jet fuel and integrated the various supply streams and equipment necessary to convert jet fuel into military grade fuel in support of forward deployed forces.
"All this is expeditionary in nature, and we used a unique approach involving a temporary bladder and secondary containment," York explains. "We were able to additize in-line as the jet fuel came out of the hose from the supplier, inject it to meet military specs, and then get that high grade jet fuel into storage so the military can use it."
Taking mobile additizing to the extreme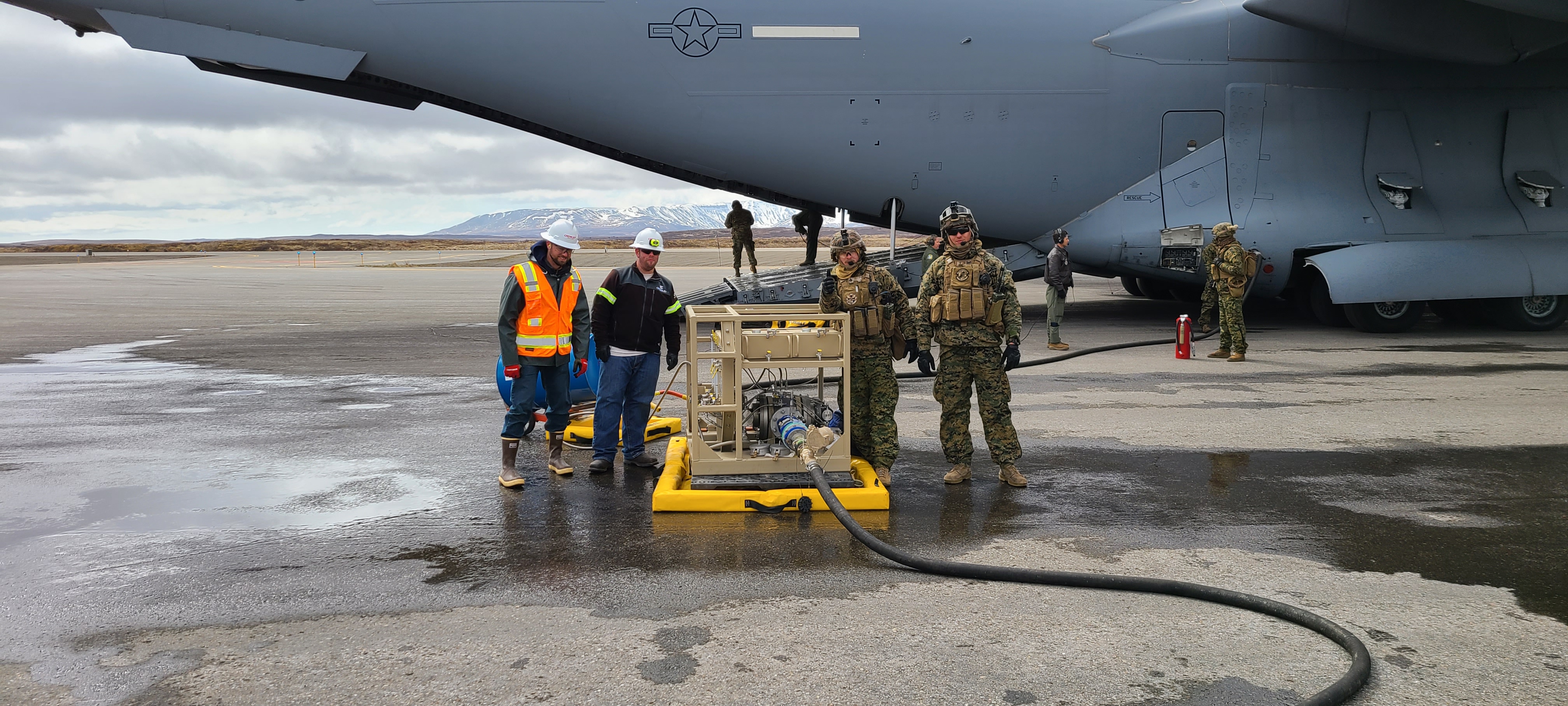 The search for solutions that could make military-grade jet fuel anywhere led to another first-ever technique that enabled Marine and Air Force units to collaborate in a new way in Cold Bay. Bittner, York and Mulvihill assisted the U.S. Marines' 15th Marine Expeditionary Unit in downloading fuel from a U.S. Air Force C-17, running it through the mobile additizer and injecting it into a bladder FARP (forward arming and refueling point) for the Marines to use at a later date.
"It was sort of like multi-force jet regeneration there. Now we know, we can use fuel that's already being used onboard an aircraft. Those big C-17s have a 60,000-gallon maximum capacity. So that's a significant leverage point that we have. And to our knowledge, no contractor has ever done this live like this before," York says.
Business and military in step
Operation Northern Edge 2021 is a major exercise involving the joint forces of the U.S. Indo-Pacific Command and a prime opportunity for Crowley to prove its ability to support warfighters globally.
That mindset of taking the best of the private sector and applying it to military challenges drove the team's innovation. The idea for the equipment is credited to York, a former army engineering officer and Green Beret. "We took a commercial off-the-shelf product and we deployed it in a way that would make a difference," he says. "It's the application of that product that is unique."
Thomas adds, "Dan has served around the world and spent considerable time thinking about how his job as a military officer could be more efficient and more resilient with better contractor support. Marrying those two worlds together is what led to this idea."
Close collaboration and Crowley's network of equipment, infrastructure and partnerships, enabled the team to successfully battle fuel challenges on three concurrent fronts. Crowley had teams in Cold Bay additizing commercial jet fuel from local supplier inventory, and coordinating the delivery of multi-modal logistics, including fly-in, of fully additized product to King Salmon.
Meanwhile, Crowley executed another unique, large marine vessel delivery of military grade fuel over the shore on the remote island of Shemya. Distributing nearly two million gallons of military-grade fuel pumped ashore despite harsh weather and a dilapidated dock—a repeat performance of a similar operation less than a year ago, Crowley continues to provide innovative solutions done right.
The right stuff to support military success
Crowley's veteran team provided an end-to-end solution that stretched from the Fuel Support Facility in Anchorage to the FARP at remote bases in Cold Bay, King Salmon and Shemya Island.
Looking back Thomas reflects, "The team ran these operations through through their paces and got each dialed in, in quick order. Those four veterans were absolutely key to the success of the operations. They received and field calibrated the additive injector unit at DFSP Anchorage only a day before it had to be shipped. They ran 30,000 gallons of fuel through it.
"They additized product. They ensured it was working. They packaged it up, got it delivered to the air freight forwarder, managed the sudden changes in air transport capabilities and ultimately got on the ground in Cold Bay, all while continuing to coordinate operations in King Salmon and Shemya, concurrently."
"Crowley recognizes the inherent value of the men and women that have served our nation in uniform," he adds. "Their strength, creativity and ability to adapt and overcome was in full display right here; serving those that serve us all."
Learn more about Crowley's specialized energy services for government agencies here.