Industry Veterans John Abisch and Bob Goldenberg Join Crowley Logistics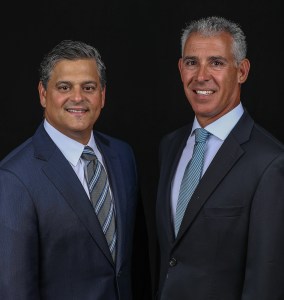 To better serve customers with integrated supply chain solutions across the globe, Crowley Logistics announced today that John Abisch (shown right) and Bob Goldenberg (shown left) have both joined the company as vice presidents. Abisch, vice president of global supply chain solutions, and Goldenberg, vice president, global business development, will be based in the company's Miami office.
Abisch will report to Steve Collar, Crowley's senior vice president and general manager, logistics, while Goldenberg will report to Abisch. Ken Black, Crowley's Miami-based vice president, NVOCC and warehousing, will also report to Abisch.
"Both of these men are industry veterans with stellar reputations for adding value to their customers' supply chains," said Collar.  "Their addition to our team will allow us to further realize our global growth opportunities while continuing to provide an elevated level of service to our customers throughout their logistics processes." 
Abisch joins Crowley following a successful career with Econocaribe Consolidators in South Florida. During his 30-year tenure, he served in accounting, operations and sales before becoming president of the company in 1999. Subsequently, he was part of a management buyout of the company that made him part-owner. In 2013, Econocaribe was acquired by ECU Worldwide. At that time, Abisch was named regional chief executive officer of USA, Caribbean and Central America, the position he held until his move to Crowley. 
Abisch has also served the industry as past president of the Florida Customs Brokers & Forwarders Association (FCBF), for which he was later inducted into its Hall of Fame;
Southeastern Representative and NVO Committee Co-chair for the National Customs Brokers & Forwarders Association of America, Inc., (NCBFAA); and NVO Chair for the Caribbean Shipping Association. 
Goldenberg also joins Crowley following a successful 30-year career with Econocaribe. He began in the traffic department before advancing to operations and sales, including national accounts. He became chief operating officer for the export division, a position he kept after the management team buyout that also made him part-owner. In 2013, following the ECU Worldwide acquisition, he was named chief procurement officer, the position he held until his move to Crowley.
Both men hold bachelor's degrees from the University of Florida – Abisch in finance and Goldenberg in management.
During their tenure at Econocaribe, Abisch and Goldenberg helped to expand the business beyond limited warehousing and less-than-containerload (LCL) ocean exports within a small Caribbean footprint to global imports and exports for both full and LCL cargo, airfreight, customs brokerage and truck brokerage. Additionally, the company expanded from a single office to nine across the U.S.
"The addition of Abisch and Goldenberg provide Crowley the opportunity to offer a wide variety of global supply chain solutions to our customers," said Frank Larkin, senior vice president, commercial services. "Their experience will have an immediate impact on the velocity with which our customers move their goods to market around the world."
Shipping & Logistics Announcements
Terminal Escort Fee and Seal Fee at Port Everglades and Jacksonville – Updated!
We want to clarify a recent update we shared concerning Seal Fees. We aim to decrease the number of non-compliant seals on containers showing up in our terminals, which we then must replace. If you are shipping internationally, you must affix a compliant high security seal on your containers that meets the International Organization for […]
Read More
Shipping & Logistics Announcements
Terminal Escort Fee and Seal Fee at Port Everglades and Jacksonville
To Our Crowley Partners, We have some important updates to share: Terminal (TWIC) Escort Fee:Effective January 1, 2024, a $75 per instance Terminal Escort fee will be assessed to all trucks requiring an escort in line with U.S. Customs and Border Protection (CBP) requirements regarding port access under the Transportation Workers Identification Card (TWIC) regulation. […]
Read More