Port Terminal Locations and Information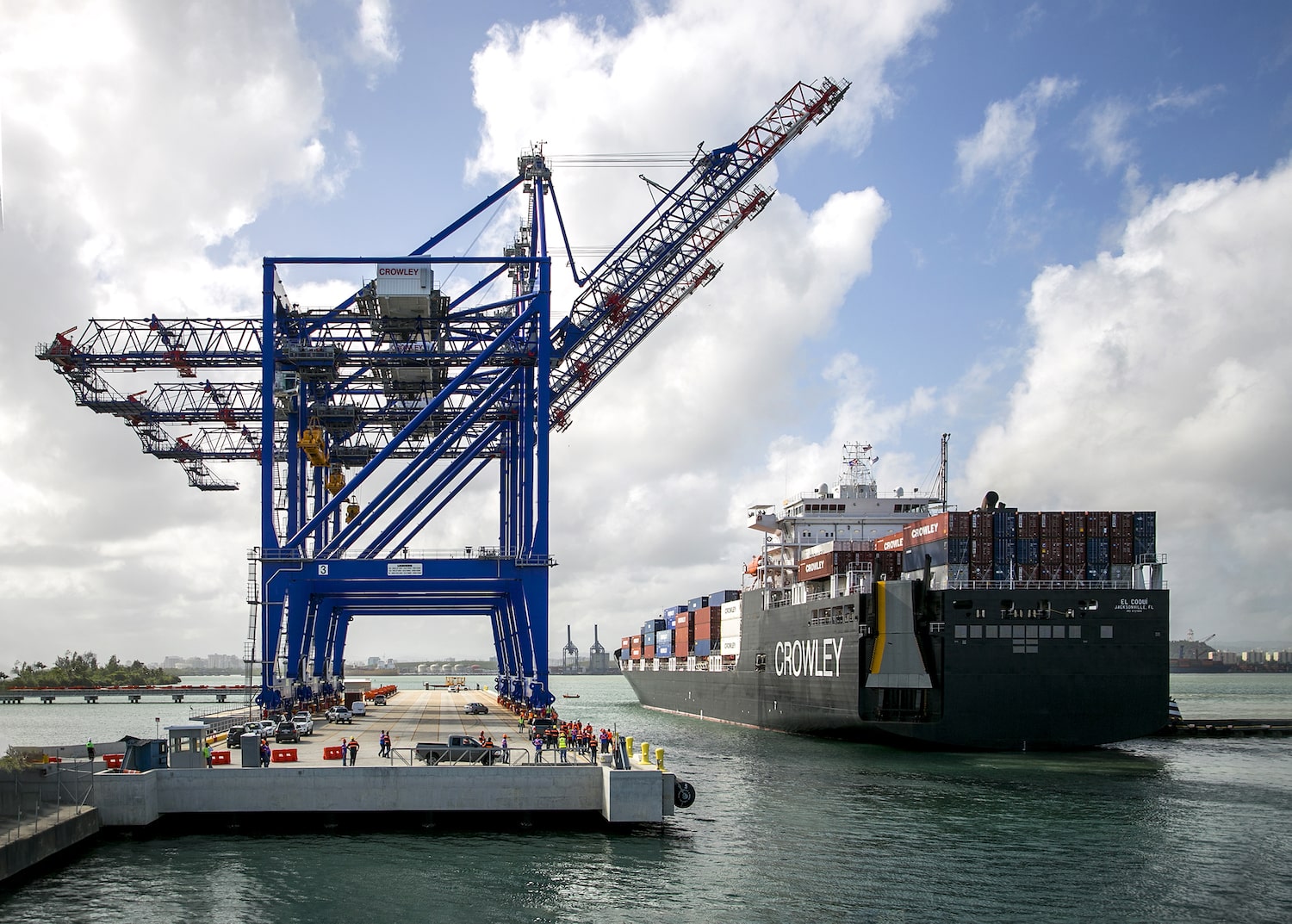 Crowley Logistics
Port Terminal Locations and Information
U.S. Mainland
Address: Penn Terminals, Inc., 1 Saville Ave., Eddystone, PA 19022
Sailing Schedule
Weekly service each Thursday
Transit time is 6 days
Arrival day in San Juan is Wednesday
Documentation Cut Offs
ITN: 24 hours before arrival at port of destination/San Juan.
Vehicle Shipping Instructions: At least 4 hours before arrival to Penn Terminals. This is based on the terminal rule that shipping instructions are required before arrival to the terminal.
Hazardous / Reefer Information: Final Hazardous information – 4 hours before arrival to Penn terminals
General Containerized Cargo Shipping Instructions: 1200 day prior to sailing
Cargo Cut Offs
Containers (dry & reefer cargo) – 1200/Noon-Thursday (same day of sailing)
Non-Containers (vehicles and break bulk) – 1500 Wednesday
Hazardous Cargo – 1200/Noon-Thursday (same day of sailing, as long as Haz documents are received prior)
Cargo Drop off & Pick Up
All Master Bills of Lading and related documents (including ITN number) for loaded containers must be submitted electronically to caribbeandoc@crowley.com by the voyage documentation cut-off.
Documentation for all hazardous commodities must be submitted as far in advance as possible to bookingrequests@crowley.com as approval is required prior to in-gating.
Upon entry to the port, the placarded IMO classes must match the classes submitted prior to dispatch, or the container will be rejected, potentially leading to additional charges at the port.
Vehicle shipping customers will now have to provide Vehicle Identification Numbers (VINs) as part of the booking process.
All non-container cargo (vehicles and break bulk) require an appointment for delivery or pickup.

Email PTICSBreakbulk@PennTerminals.com to make an appointment by 1500 the day before the cargo will be picked-up or delivered.

Phone calls cannot be accepted for making appointments as there is no record of the request.

Appointments are made for a specific day but are "first come-first served" during that day.
A template can be provided for requesting an appointment or multiple appointments for those customers who regularly pick up cargo.
Missed appointments ("no shows") and unplanned arrivals for delivery or pick-up may be subject to a $100 per truck penalty to curb repeated abuse of the appointment system.

Payments can be made by cash or credit card. No checks.
Vehicle Payments: Payment is required prior to making your appointment for vehicle delivery.
Non-TWIC Escort Fees: The Penn Terminals security contractor provides an escort service for drivers of non-containerized cargo only for a fee of $80 payable by cash or credit/debit card. No checks. All drivers moving containerized cargo must have a valid TWIC.
Gate Hours
Containers: Monday through Friday, 0600 – 1630
Non-Container: Monday through Friday, 0700 – 1500
Address: 1163 Talleyrand Avenue, Jacksonville, FL 32206
Phone: (904) 727-2646
Hours of Operation
Monday through Friday: 0900 to 1300
Saturday & Sunday: Closed
Vehicle Receiving & Delivery
Monday through Friday, 0800 – 1600
Closed (1200 – 1300)
Hours subject to change based on operational needs.
Arrangements outside of normal operating hours must be made during normal working hours with terminal personnel.
Gate subject to closing for meals outside of normal business hours.
Available Support Services
Maintenance & repair
Reefer washing
Customs inspections
USDA inspection
Countries Served
Puerto Rico
Terminal Facts
Terminal area size: 67 acres
Warehouse: 10,000 square feet
Lanes: 4 full pass-through
Scales: 3
Yard capacity: 1,500 trailer spaces
Berths: 1
Rail access: Yes
Ramp: Triple deck
Driving Directions
From I95 take Exit 354A.
Go east on ML King Jr. Parkway 4 miles to 8th Street.
At exit ramp stop sign, turn left.
8th Street ends at Talleyrand Avenue.
For 1163 Talleyrand terminal
Turn right, cross train tracks
Go 1/4 mile, terminal on left.
Truckers with over-dimensional loads must contact the Department of Transportation for directions.
Caribbean
Central America