Environmental Compliance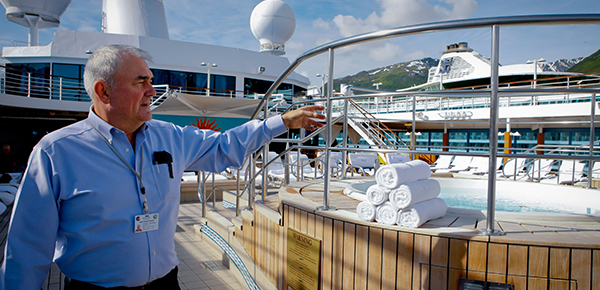 Documented Management System
Successful operations are built upon well documented Management Systems, with clear procedures and guidelines. Crowley has extensive experience in developing and implementing systems for its own large commercial fleet and U.S. government customers. Our vessels and operations are regularly recognized with some of the leading safety awards in the industry – systems that meet the requirements of ISO 9001 and 14001, ISM Code, and Responsible Carrier Program. We provide our customers with the experience and available qualified personnel to successfully perform the requirements of the Third Party Auditor (TPA) as laid out in the Environmental Compliance Plan (ECP).
Alaska Ocean Ranger Program
The Alaska Ocean Rangers Program is implemented by a group of highly trained engineer-and-environmental-watchdog hybrids, who each have expertise, and a passion, for environmental safety in Alaska. They spend months at a time riding commercial cruise vessels during the state's busy tourist season. Rangers act as independent observers who assure compliance with federal and state environmental health, sanitation and safety requirements. Through their professional oversight, the Rangers help customers meet the regulations and standards set forth by the Alaska Department of Environmental Conservation (ADEC).
Environmental Safety Programs
Environmental threats are identified and controls are put into place to mitigate the potential for pollution. To achieve the goal of zero damage to the environment, the company has implemented the controls below and can provide the same environmental protection programs for U.S. government customers, including:
• Environmental Protection Program
• Hazardous Waste Reduction Procedures
• Ballast Water Management
• Emergency Environmental Response Training and Drills
• Pollution Prevention Plans
Government Customers
State of Alaska
Commercial Fleets Complying with State Regulations