Grupo Infrasal Trusts Crowley with Pandemic Response Equipment Manufactured to Help Salvadorians Breathe Easier
With the impact of the coronavirus (COVID-19) this year, many manufacturers and production facilities retooled or refocused to contribute to the public health response. And, while not astray from their typical operations, Grupo Infrasal found themselves in a position to contribute to hospital enhancements in El Salvador.
The company installed two 15,000-gallon oxygen tanks and the accompanying pipeline at the country's newly inaugurated Hospital El Salvador to provide high-quality, medicinal oxygen and compressed air equipment for the 1,000-bed hospital built exclusively to assist Salvadorians during the pandemic. The oxygen is produced at Infrasal's San Bartolo plant in San Salvador, El Salvador, and supplies to the hospital, which was a conversion of the International Fair and Convention Center. The hospital was originally intended to be temporary but has since become permanent, making it one of the largest in Latin America.
To ensure the tank and pipeline equipment arrived safely and on time, Grupo Infrasal entrusted Crowley with the critical door-to-door, ocean and truck transportation from origin in Minnesota to Port Everglades, then again upon arrival in Central America to destination, along with Customs clearance services for the enormous tanks. Executing the operation required comprehensive and carefully planned supply chain services.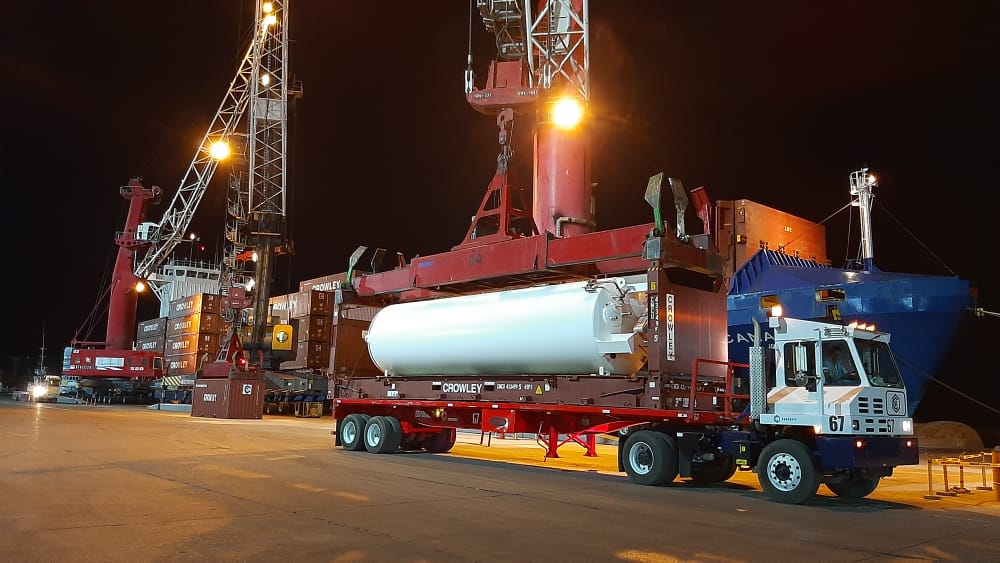 "This was a very complex and detailed project," said Sergio Bará, general manager, Grupo Infrasal. "As I considered moving the cargo from origin to final destination, including all the required permits for handling the cargo on the road and the necessary paperwork at port and customs – Crowley's service fulfilled all the expectations of time, costs, and attention."
The two companies have a professional relationship spanning over 15 years. Crowley has provided both export and import logistics services to Grupo Infrasal during that time, cementing a partnership that Bará considers fulfilling the "essential criteria for selection in the service."
Shipments of this size notoriously present challenges. Crowley's team has the expertise, assets, and over 50 years of experience shipping project cargo between the U.S. and Central America. In this case, the oversized oxygen tank presented two major challenges for both companies.
First, the tank's length exceeded the average length for a standard chassis or platform. So special equipment and the corresponding transport permits had to be acquired at both origin and destination. Second, time was of the essence. Not only did the tank have to be transported to Hospital El Salvador, but they had to be installed promptly so that the hospital could begin accepting and treating patients.
While challenging, neither of these things prevented Crowley from doing what they do best-providing reliable, efficient supply chain solutions. For this move, Crowley's team provided a special platform upon which the 2.9-meter (9.5 feet) by 8.9-meter (29 feet) tank was loaded. The company then moved the tank door-to-door, acquiring special permits for the oversized load where required.
"This tank provides a large storage capacity in the hospital and its timely installation has allowed the care and recovery of many patients"

— Sergio Bará, general manager, Grupo Infrasal
"Crowley has always provided us with comprehensive logistics solutions, including ocean freight and ground transportation, vendor arrangements, document handling, and customs services," he continued. "This integration of operations constitutes a competitive advantage that favors customers in time and costs." 
If you have large, unusual, valuable, or time-sensitive project cargo to ship, Crowley's logistics solutions experts can answer your questions to make your shipment move. By providing one point of contact for the various requirements across the supply chain, you can lower your risk, maximize efficiencies and be fully in the know – no matter where your cargo is in the journey.