The Ultimate Guide To Shipping Your Car
Crowley Logistics
The Ultimate Guide To Shipping Your Car
For many people, shipping a car between Puerto Rico and the US mainland may seem like a difficult and complicated task. However, that doesn't need to be the case when you select the right shipping line to help you every step of the way. The key element to success is doing your homework and following the instructions for preparing your vehicle for shipping, delivering it to the port and receiving it at destination.
Working with a trusted, knowledgeable, experienced carrier can make all the difference. When you are considering the selection of a transportation provider, here are a few questions you should ask, or consider.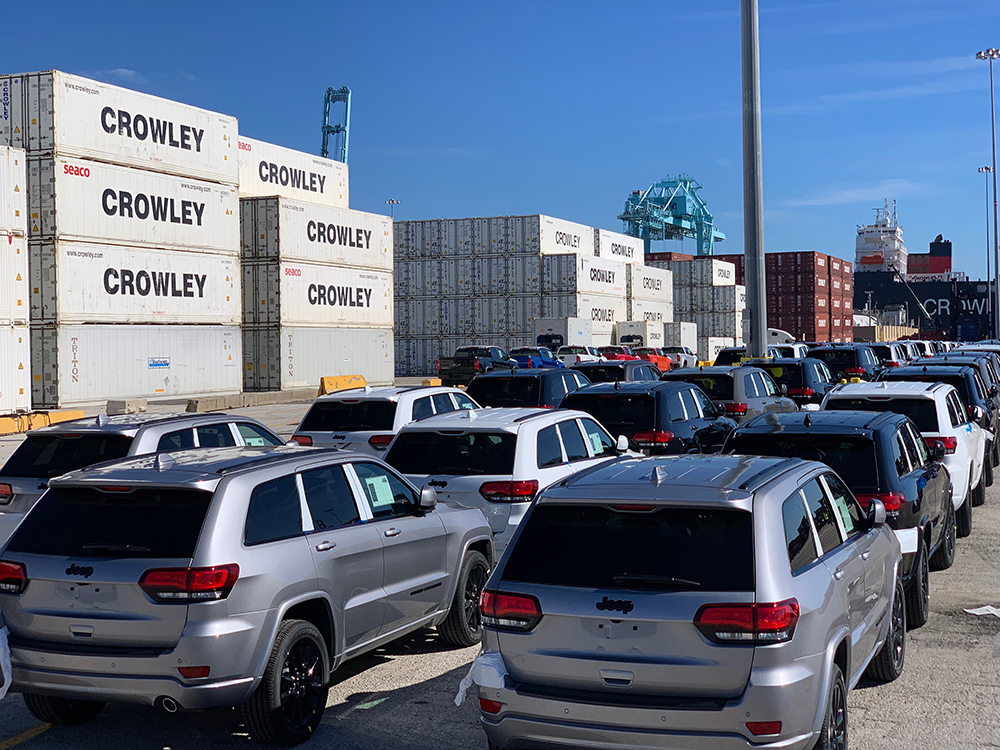 Many auto transport companies advertise the ability to ship a car from Puerto Rico to the US mainland. But, very few own the vessels in which your vehicle will be transported. Instead, they serve as a middleman between you and the ocean carrier. Crowley does own their ships, and is one of only three shippers in the US mainland to Puerto Rico trade lane.
If issues occur, a carrier who owns their ships is in a far better position to solve them quickly. This includes situations where the middleman has not paid the carrier for the ocean transportation on time, which prevents the car owner from picking up his or her vehicle at the destination port.
Other service failures have been reported where the broker has failed to provide customers with detailed information about the right way to prepare the vehicle for exportation based on the ocean carrier's actual requirements. This can result in their customers arriving at the ocean carrier's terminal with incomplete documentation. In turn, this can cause delays and long wait times. Because of this, customers often have to begin the process all over again.
Using carriers who own the ships, such as Crowley, ensures professional guidance will be provided every step of the car shipping process.
While Crowley does its part to ensure excellent service is provided, you as a client have responsibilities to address before your tires touch the ship. To assist, we have created a step-by-step guide: How to Ship a Vehicle from Puerto Rico to the US Mainland. In this guide, we provide detailed instructions on the end-to-end process to guarantee shipping a car to the US is quick and simple.
There are several ways to secure a car for transport. Dock workers with some carriers drive cars into shipping containers, roll down the windows and climb on the roof and trunk of the cars to exit the container. When the container arrives at destination, they do the same thing in reverse to get the car out.
Some carriers load multiple vehicles into open-air skeletal steel car racks. They lift these container racks on and off the vessel. These racks are often stowed on the vessel above deck, exposing vehicles to weather and marine elements. Crowley is the only vehicle carrier in the trade that transports cars in secure, enclosed, weather-proof auto garages aboard its ships. Vehicles are driven aboard, secured with lashings, and then driven off at the destination port.
If you use a carrier with ships, such as Crowley, the voyage from San Juan, Puerto Rico to Jacksonville, Florida takes about two and a half days. If you use a barge carrier, the trip will take six days to a week.
For most people, their car, truck or SUV, is the second biggest investment they will make after their homes. Many also have a personal or emotional connection to their cars. They are wary to turn the keys over to a valet, let alone a shipping line at a port. If you want the best for your vehicle, you want an experienced service provider who truly knows car shipping. In the Puerto Rico market, that carrier is Crowley.
The company has been transporting vehicles for more than 65 years, longer than any other carrier in the trade. With Crowley, personalized customer service is included with every car shipment.
Of course.
First, after reviewing our how-to-ship-a-vehicle guide, give yourself ample time to ensure everything gets done. Waiting until the last minute to complete the paperwork is a decision that can delay the transport process.
When planning to drop off your vehicle at the port, you need to give yourself some time. Due to the requirements of both federal and local law, the processing of paperwork typically takes a minimum of 45 minutes for each customer waiting in line. Early arrival at the terminal is recommended for same day processing, as customers are handled on a first-come, first-serve basis.
"Clients can make the booking ahead of time, before arriving at our facilities to make the process easier. But it is important to have the required documentation ready to ensure processing. It is not advisable to drop-off the vehicle on the same day you are flying out of Puerto Rico,"

Jorge Escoda, car division manager for Crowley Logistics in Puerto Rico
In 2018, Crowley moved nearly 59,000 vehicles. This includes cars, trucks, vans, SUVs, heavy equipment, construction machinery, recreational vessels and mobile homes between Puerto Rico and ports in the US mainland.
Frequently Asked Questions About Vehicle Shipping
If you did not receive the ownership title of your car, you must contact the bank or lending institution and request them. If the vehicle has a conditional sale or an active loan, the bank or lending institution must provide a letter, original and notarized, authorizing the vehicle's shipment.
If the vehicle has had any type of repair or accident that required replacement of any part, the owner must include documents for each replaced item. For example, if your car has had its bumper replaced, the owner must request DTOP to reassign the new bumper to the vehicle. This must be done prior to inspection from the Puerto Rico Police Department, Stolen Vehicles Division.
No. No personal items will be accepted inside the vehicle, including umbrellas, visor shades, CDs, boxes, suitcases, etc. All vehicles will be inspected by a Crowley professional before accepting the unit.
No. The U.S. Department of Agriculture (USDA) requires owners to provide an original receipt from a car wash. It is recommended that you confirm with the business that you will be shipping your vehicle overseas, and that the receipt must specify that the unit's exterior, engine, chassis and wheel well area have been pressure washed.
To calculate your car's cubic feet, multiply the unit's length, width, and height – in inches. Then divide the total by 1,728, and this will give you its dimensions in cubic feet.
It is not required to create a booking before shipping your vehicle with Crowley. But, given the high demand of vehicle shipping services from Puerto Rico to the U.S., we recommend doing so prior to delivering the car at the terminal. Due to the high volume of vehicles being shipped, customers are encouraged to arrive early to ensure same day processing. Customers will be handled on a first-come, first-serve basis.
To make a reservation, customers can visit Crowley's vehicle shipping page and click on the Request a Booking tab, and complete the form with contact information, and provide the vehicle's make, model, year, its current market value, as well as its weight, and measurements in cubic feet.
Make sure the port of origin is set to San Juan, PR, and the port of destination is Jacksonville, Florida or Eddystone, Pennsylvania. You'll need to click on "Get Rates" to refresh the feed.
Federal law requires vehicle shippers to provide Social Security number (SSN). If no SSN is offered, customers must provide an Employer Identification Number (EIN). The EIN number replaces the Social Security number, and it is also recommended when a person starts a new business, purchases a going business, hires or will hire employees, etc. To apply for an EIN, visit the IRS EIN Assistant.
Although cargo insurance is not required by Law, optional cargo insurance is available at an additional cost for different levels of coverage: $25,000, $50,000; both with zero deductible. If the customer declines this coverage, a Cargo Insurance Opt-Out Form must be signed. Crowley's liability for cargo loss or damage will be limited to a maximum of $500 per vehicle, in accordance with Section 4-(5) of the U.S. Carriage of Goods by Sea Act, 1936 COGSA, and in accordance with the terms and conditions of the Bill of Lading. To get an insurance quote, please contact your Crowley representative.
Like the quote says: "It is better to have it and not need it, than need it and not have it!".
No. Vehicles to be shipped to the mainland do not need a U.S. Customs and Border Protection's (CBP) inspection. Only vehicles destined to a foreign port, including the U.S. Virgin Islands, must be inspected by CBP and its Bill of Lading (BOL) document stamped and signed by the federal agency. A BoL is a legally binding contract between a freight carrier and shipper. It is issued by the carrier to acknowledge receipt of cargo for shipment.
CBP's offices are located at the International Trade Center, San Juan Foreign Trade Zone, Bldg. #2, Local #3, Road #165, Km. 2.4 Pueblo Viejo, Guaynabo, Puerto Rico. For additional information, customers can call (787) 774-4101. CBP's inspection days are Tuesday and Thursday from 1:00 pm to 3:00 pm.
Please be advised due to the requirements of both Federal and Local law, the processing of paperwork will take a minimum of 45 minutes per customer, and may take longer depending on the number of customers already waiting in line. Unfortunately, we cannot expedite the delivery process. Please consider the potential wait at the terminal if scheduling a flight for the same day, as you may risk missing your flight if you do not plan for sufficient time.
**Due to the high volume of vehicles being shipped, customers are encouraged to arrive early to ensure same day processing. Customers will be handled on a first come, first serve basis or until the assigned turns run out.
Yes. To find the status of your shipment, visit Crowley's Liner Shipment Tracking page and provide the booking number or Customer ID number.
For a comprehensive guide to shipping a vehicle from Puerto Rico to the US Mainland, please visit the below resource.