Crowley Honors Military Through Wreaths Across America Sponsorship
Financial, in-kind contributions equate to more than $40,000 to honor veterans.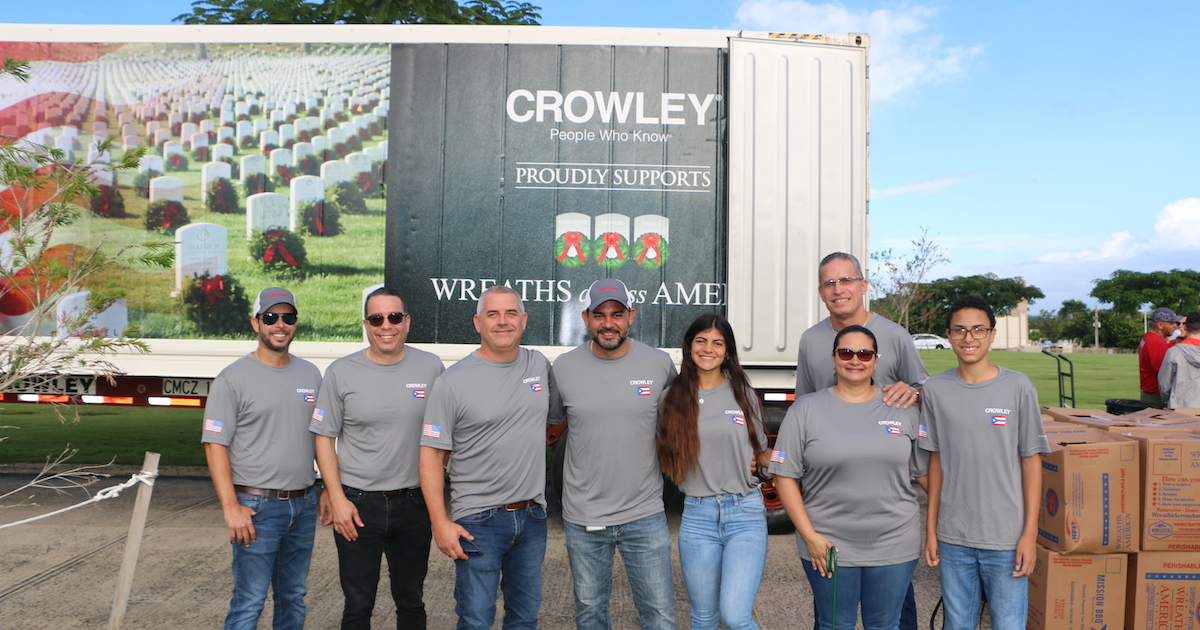 Crowley will continue to honor U.S. military members and veterans during this holiday season by donating transportation and logistics services to Wreaths Across America (WAA).
For its third consecutive year supporting the organization, Crowley will serve as the primary sponsor for Wreath Across America's Puerto Rico ceremonies at the island's veteran cemeteries, ensuring veterans buried there are honored and continuing the company's commitment to the island and its people.
As a part of Crowley's support, valued at more than $40,000, the company will provide ground and ocean transportation for thousands of wreaths headed to Puerto Rico to be laid at the graves of service members at the island's national cemetery in Bayamón as well as the Atlantic Gardens Veterans Cemetery in Aguadilla. Crowley will also provide ground transportation for wreaths to be placed at veteran gravesites at the Jacksonville National Cemetery.
"Our partnership with Wreaths Across America represents our appreciation and recognition of the valor of military service members here and abroad, both past and present," said Shiju Zacharia, senior vice president, and general manager, Crowley Solutions, the company's government services business unit. "Having this opportunity to be a part of paying tribute to our military, veterans and the generations who have served before them is an honor and a privilege. To all of them, we say a heartfelt thank you for your service."

In addition to its in-kind services, Crowley Solutions, and the company's charitable and volunteerism program, Crowley Cares, will make a combined financial donation of $22,500.
Formed in 2007, Wreaths Across America carries out its mission to "remember, honor and teach" in part by coordinating wreath-laying ceremonies at veterans' cemeteries and other locations throughout all 50 states. Crowley's sponsorship expands the organization's mission in Puerto Rico and serves as the only ocean transportation provider for the organization.
"Wreaths Across America's mission to Remember, Honor, Teach, continues to grow across the country each year thanks to the dedication of local volunteers and transportation partners like Crowley," said Don Queeney, director of transportation and mobile education exhibit, Wreaths Across America. "Through their continued commitment to helping us move the mission, service members laid to rest in Puerto Rico will be honored this year with the placement of a veteran's wreath and their name said out loud, keeping their memory alive."
Members of the community and business partners may contribute to Wreaths Across America by visiting this page: www.wreathsacrossamerica.org/crowley.