State Board Should Sink Pilotage Fee Hike in Port Everglades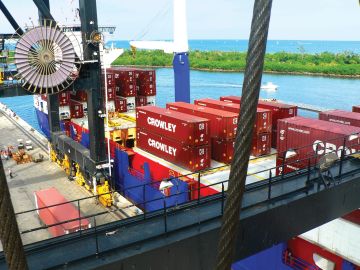 A proposed fee increase for harbor pilot services at Port Everglades will unfairly raise average pilotage costs more than 100 percent for shipping lines that call frequently at the port, according to an analysis by Crowley Maritime Corporation, the port's largest tenant. The company is urging the Florida Board of Pilot Commissioners to reject the proposed increase.
Bar pilots board incoming and outgoing vessels to direct their movements in and around the harbor. Carriers are required by law to pay fees for pilots' services, which help ensure ships get in and out of the port safely. 
While the proposed fee structure would decrease fees for cruise ships, it would hike the costs to Crowley and similar companies that operate smaller ships, referred to as frequent-call, feeder vessels, that sail in and out of Port Everglades. 
"The Board of Pilot Commissioners' proposal slashes charges for massive cruise ships, then unfairly overcharges cargo ship operators, the backbone of the port, to make up the difference," said Steve Collar, senior vice president and general manager of Crowley's international services.
In 2016 Crowley entered a new 10-year lease and operating agreement with Broward County for a 99-acre marine terminal at Port Everglades. Under this agreement, Crowley guarantees significant volumes of container moves each year. In fact, Crowley expects to make 414 vessel calls at its terminal in Port Everglades in 2018, an increase from 384 in 2017.
Overall, the pilotage fees will soar between 88 to 139 percent depending on the size of the vessel, leading to an unjustified average increase of 108 percent for Crowley. Crowley is the leading ocean shipping and logistics solutions provider in the U.S., Caribbean and Latin America and operates container ships and petroleum tank vessels in Port Everglades.
"Pilots serve the public interest by ensuring the safe and orderly arrival and departure of vessels from our ports. The current rates for pilotage services at the port are fair and fairly apportion financial responsibility for pilotage fees among the various operators at the port based on their risk profile and financial capacity. There is no reason to disturb the status quo and ocean carriers should not be hit with such an exorbitant increase that is unjustified, arbitrary and capricious," said Crowley's Alan Twaits, vice president and chief counsel.
The state Board of Pilot Commissioners is scheduled to consider the proposed increase at a public rate hearing Oct. 24-26 in Fort Lauderdale.
 
About Crowley
Jacksonville-based Crowley Holdings Inc., a holding company of the 126-year-old Crowley Maritime Corporation, is a privately held family and employee-owned company that provides marine solutions, energy and logistics services in domestic and international markets. Crowley operates under four business units: Crowley LOGISTICS, a singular ocean liner and logistics supply chain division; Crowley SHIPPING, which encompasses ownership, operations and management of vessels, including tankers, container ships, tugboats and barges; Crowley FUELS, a fuel transportation, distribution and sales division that also provides liquefied natural gas (LNG) and related services; and Crowley SOLUTIONS, which focuses on government services, including vessel management for government agencies, as well as engineering, project management, naval architecture through its subsidiary Jensen Maritime, and marine salvage and emergency response through its 50 percent ownership in Ardent Global. Additional information about Crowley, its subsidiaries and business units may be found at www.crowley.com.