Land N' Sea Apparel Company Chooses Crowley Logistics as Customs Clearance and Supply Chain Services Partner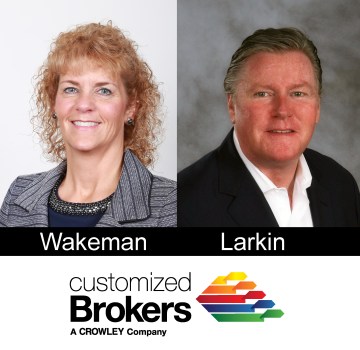 Crowley Logistics has announced that Customized Brokers, its customs brokerage subsidiary, has begun servicing private-label women and children's apparel manufacturer Land N' Sea with expanded supply chain services. Through the new agreement, Customized Brokers will add additional velocity to the Land N' Sea supply chain by providing U.S. Customs clearance services and cargo insurance coverage.
"Crowley builds value by partnering with businesses for the entirety of their supply chain, not just individual components like ocean transportation," said Frank Larkin, senior vice president and general manager, logistics. "In doing so, we are able to increase the velocity with which their goods move to market, which has a direct linear impact on total landed costs."
"This optimization of services for an apparel customer like Land N' Sea, demonstrates Customized Brokers' ability to add value to a customer's supply chain, regardless of the commodity," said Kimberly Wakeman, vice president, Customized Brokers.  "As a single-source, total supply chain solutions provider, we have developed ways to more efficiently manage the complexities of importing both textiles and apparel along the supply chain. We have dependable, compliance-driven teams that keep abreast of regulations on this constantly evolving market."
Of the new partnership, Land N' Sea's CEO Eric Sobel commented, "In today's competitive retail landscape, we are constantly looking for new and innovative ways to improve the efficiency of our supply chain. Ultimately, greater efficiency results in faster speed-to-market, enabling us to get our product to the retail floor more rapidly. To provide our customers with the highest level of service possible, we have to always be examining our own internal processes and seeking out partners that can help us raise the benchmark even higher than it was before."
Jacksonville, Fla.-based Crowley and its subsidiary Customized Brokers  can prepare and submit any and all customs documentation for imports of any kind coming into the U.S. The company's strong knowledge of compliance and excellent relationships with regulatory trade authorities combine to allow for expedited client service at seaports, airports and at border crossings. Together, the companies handle fresh fruit and produce clearance including fumigation and transportation coordination; textile 807 handling; foreign trade zones; in-bonds; quota/visa requirements; duty preference programs; drawback services; U.S. goods returned; warehouse reconciliation; and mail/informal entries.
For more information, visit www.customizedbrokers.net.
For more information about Crowley, the 126-year-old marine solutions, energy and logistics services company, please visit www.crowley.com.