Crowley's Liner Services Teams Announce Organizational Changes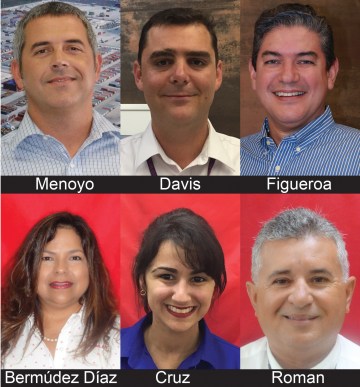 To improve operational efficiency and service within its international shipping and logistics businesses, Crowley Maritime Corp.'s liner services teams announced several organizational changes today impacting the Caribbean and Central America markets.
Sal Menoyo has been promoted to vice president, vessel operations, international services, reporting to Steve Collar, senior vice president and general manager, international services. Menoyo now has responsibility for developing the vessel service strategies, chartering and operations, terminal coordination and safety programs for involved vessels and stevedoring operations across the company's international shipping markets. Menoyo will relocate from Port Everglades to Jacksonville, Fla., later this year.
Menoyo most recently served as vice president, operations, Caribbean services. He joined Crowley in San Juan, Puerto Rico, in 1995 as a senior port captain. In 2000, he transferred to Crowley's liner services team and held successive roles of increasing responsibility across several locations, including St. Thomas, Puerto Rico and Port Everglades. He has a bachelor's degree in marine transportation from the Maritime College at Fort Schuyler, State University of New York. He is also a certified facility security officer.
Andrew Davis has been promoted to vice president, equipment and maintenance, jointly reporting to Collar and John Hourihan, senior vice president and general manager, Puerto Rico services. In this new role, Davis will develop an equipment and maintenance strategy for the liner and logistics business units, and will provide oversight of the equipment fleet, repairs and maintenance required, positioning and cost containment plans. Davis remains based in Jacksonville.
Davis most recently served as general manager, corporate equipment. He joined Crowley in 2005 as a dispatcher, and quickly worked his way up to senior dispatcher, then was promoted several times from pricing analyst to pricing director in just a few years. Davis has bachelor's and master's degrees in business administration from the University of Florida and University of North Florida, respectively.
Enrique Figueroa has been promoted to senior director, operations, Caribbean services, reporting to Menoyo. In this role, he has responsibility for the company's feeder operations and U.S. Virgin Islands terminals, in support of Crowley's Caribbean liner services. This position will also play a critical role in the ongoing integration of the company's Caribbean services with Puerto Rico facilities, including the Isla Grande Terminal in San Juan, as a new hub. The company is completing a major investment in the terminal, including a new pier; three new specialized gantry cranes; expanded capacity for handling refrigerated containers; new containers and container handling equipment; and a modern, new terminal operating system that is enhancing truck turn times to benefit customers. Figueroa remains based in San Juan.
Most recently, Figueroa served Crowley as the director of human resources and labor relations, Puerto Rico, a position he has held since 2011. He first joined the company in 1992 as a yard supervisor before being promoted several times to the position of manager, materials and office services, in 2006. 
Replacing Figueroa as the director of human resources and labor relations in Puerto Rico is long-time employee Samantha Bermúdez Díaz, who most recently served as director, equipment control and freight services. For the role, she remains based in San Juan, and now jointly reports to Rudy Leming, vice president, labor relations, and Tiffanny King, director, human resources. Bermúdez Díaz joined Crowley in 1998 as a senior account executive for the liner services team. She holds a master's degree in human resources from Universidad Metropolitana (UMET) in San Juan.
Jennifer Cruz replaces Bermúdez Díaz as director, equipment control and freight services. She now reports to Jose Nazario, director, finance, Puerto Rico liner services, and remains based in San Juan. Cruz joined Crowley in 2011 in an entry-level position for the company's Caribbean logistics team in Guaynabo, Puerto Rico. In less than a year, she was reassigned to the sales team where she gained roles of increasing responsibility, including supervision for the company's terminal operating system (TOS) implementation project in 2017. Most recently, she served Crowley as supervisor, equipment control. Cruz has a bachelor's degree in business administration from the Universidad de Puerto Rico recinto Rio Piedras, and a master's degree in advertising from the Universidad Sagrado Corazón, in Puerto Rico.
Renzo Roman has been promoted to director, terminal operations, with responsibility for all stevedoring and yard operations at Crowley's Puerto Rico terminal, reporting to Nazario. Roman joined Crowley in 2016 as director, cargo operations, bringing to the company more than 30 years of shipping industry experience, including in-depth knowledge of lift-on/lift off (Lo/Lo) cargo operations. He holds a political science degree from the University of Puerto Rico and remains based in San Juan.