Crowley to Launch Weekly Ocean Cargo and Logistics Solutions Between Wilmington, N.C., and Central America Nov. 21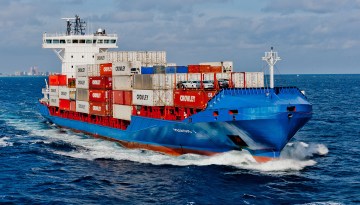 Crowley Maritime Corporation announced today that it will begin offering weekly, fixed-day, full and less-than-container-load (LCL) shipping and logistics services between Wilmington, N.C., Guatemala and Honduras, effective with the northbound sailings on Tuesday, Nov. 21 and Wednesday, Nov. 22, respectively. The new lift-on/lift-off (LO/LO) service is designed to give customers an additional, more northwardly Atlantic Coast destination for cargo entering the U.S. from Central America, ultimately adding flexibility to the supply chain while reducing total landed costs.
"We have served the cargo transportation needs of our customers shipping to and from Central America for more than 50 years," said Steve Collar, senior vice president and general manager, international services. "We continue to listen to their needs, then amend or expand our offerings appropriately."
 "Adding this new port of entry as an option for our customers is part of our overall strategy to offer customizable and complete supply chain solutions," said Frank Larkin, senior vice president and general manager, logistics services. "We offer reliable and scalable transportation and logistics solutions with a single point of accountability."
In addition to ocean transportation utilizing Crowley's full complement of 40-foot refrigerated and dry containers and specialized 45-foot by x 102-inch dry containers, this new entry point also benefits from the company's suite of third-party logistics services including: shipment coordination, freight forwarding, import/export documentation, last-mile delivery, cargo insurance and customs brokerage services for cargo of all types and sizes.
The Port of Wilmington is strategically located on the East Coast of the United States within 700 miles of more than 70 percent of the U.S. industrial base. Recent and ongoing improvements to regional and national highway networks in the area provide upgraded access to Interstates 95 and 40. On terminal, daily train service is also available.