Crowley Providing Logistics Support for Equipment and Supplies Critical to First Responders Battling California Wildfires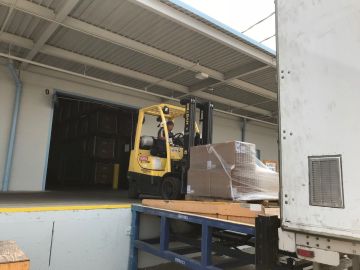 (JACKSONVILLE, Fla.; August 13, 2018) — Crowley LOGISTICS is providing logistics management and transportation of supplies and equipment needed by first responders battling the devastating wildfires in California.
In 2018, Crowley began executing a $2.3 billion Defense Freight Transportation Services contract that calls for the company to move cargo from thousands of suppliers through 41 major depots around the U.S. Now, under terms of that contract, Crowley is aiding state and federal agencies responding to the Mendocino Complex wildfires by trucking in supplies – such as hoses, boots, MREs (meals ready to eat), personal protective equipment (PPE), batteries, water canteens and fuses – all critical to the response.  
"Our purpose statement as a company is 'enriching lives through innovative solutions done right'. We understand how crucial it is to the first responders, that they have the equipment and supplies they need daily to battle these fires," said Frank Larkin, senior vice president and general manager, logistics and commercial services. "Our local team is working tirelessly with our regional trucking partners to ensure that these critical shipments are top priority and are moved with the greatest velocity possible in keeping with our purpose." 
Operating 24/7 out of Tracy, Calif., Crowley's logistics team has completed nearly 100 full trailer-load (FTL) deliveries since late May and anticipates that 180 FTLs will be transported to hot zones by the end of September. The team ensures the supplies are picked up at the Defense Logistics Agency's (DLA's) distribution center in San Joaquin and delivered by truck to multiple drop-off locations under the U.S. Forest Service's nationwide National Interagency Support Cache system. Crowley arranges for truck transport and manages the routing and timing of trucks to ensure the most efficient supply chain services.
"We're living it, and we can smell the fire every day," said Crowley's Anthony Marinaro, field service manager. "We understand the importance of every load. Every shipment we get out could essentially save someone's life."
"This is a 24/7, around-the-clock mission to ensure DLA receives the logistics services it needs," continued Marinaro. "As a team based in California, you never know who could be impacted next – it may be your own house or family. That definitely makes this a personal mission for us."
Crowley has a long history of supporting the U.S. government's disaster and humanitarian response efforts. Throughout the years, the company has provided varied services including scheduled and rapid response logistics solutions for the 2010 Haiti earthquake, the 2015 Ebola crisis in Africa, and most recently hurricane response efforts in Florida, Puerto Rico and the Caribbean.
About Crowley
Jacksonville-based Crowley Holdings Inc., a holding company of the 126-year-old Crowley Maritime Corporation, is a privately held family and employee-owned company that provides marine solutions, energy and logistics services in domestic and international markets. Crowley operates under four business units: Crowley LOGISTICS, a singular ocean liner and logistics supply chain division; Crowley SHIPPING, which encompasses ownership, operations and management of vessels, including tankers, container ships, tugboats and barges; Crowley FUELS, a fuel transportation, distribution and sales division that also provides liquefied natural gas (LNG) and related services; and Crowley SOLUTIONS, which focuses on government services, including vessel management for government agencies, as well as engineering, project management, naval architecture through its subsidiary Jensen Maritime, and marine salvage and emergency response through its 50 percent ownership in Ardent Global. Additional information about Crowley, its subsidiaries and business units may be found at www.crowley.com.
#     #     #