Crowley Opens New Retail Shipping Service Center in Miami for Consumers Shipping to Puerto Rico, the Caribbean and Central America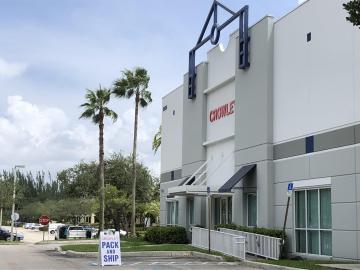 (MIAMI; September 17, 2018) – To better serve consumers shipping small parcel and retail cargo to Puerto Rico, the Caribbean and Central America, Crowley LOGISTICS announced today the opening of a new, walk-up retail shipping service center in South Florida. This new space, devoted to less-than-container load (LCL) shipments, is housed within the company's expanded Medley warehouse in Miami. Catering to non-commercial shippers, the retail center is staffed with service-oriented team members who will clearly guide consumers through the packing, preparation of export documentation and shipping steps.
"Customers who are unfamiliar with the commercial shipping process will find the retail service center helpful, comfortable and convenient to use," said Crowley's Frank Larkin, senior vice president and general manager, logistics. "It's Crowley's view that shipping retail cargo throughout Latin America and the Caribbean shouldn't be confusing or intimidating. We're taking our decades of shipping and logistics knowledge, simplifying it and providing an easy option for consumers shipping all types of goods to friends or family in the islands."
The center's full package of retail services includes: ocean shipping; air and ocean cargo consolidation/deconsolidation; pool-point distribution; pick, pack and sorting; labeling; packing and crating; inventory management; and customs brokerage – each offered from the comfort of an air-conditioned, customer-focused environment. Crowley can also arrange for local pick-up of cargo in the Miami area for delivery to the retail center.
"Whether a customer is shipping locally bought holiday gifts, appliances, art or furniture, or any number of other retail items, Crowley's new service center will make shipping items to these locations easy and convenient," continued Ken Black, vice president, logistics. "Most customers will find that they are in and out of the office in 15 minutes or less."
To send a shipment via Crowley's new retail service center, consumers may visit Monday through Friday, from 8:30 a.m. to 5:00 p.m., at the following address: 
10205 NW 108th Ave 
Medley, FL 33178
The retail service center may also be contacted by clicking here or calling +1-888-246-9928.
Earlier this year, Crowley opened the expanded Medley warehouse to provide seamless and efficient supply chain services to South Florida customers. The facility offers 180,000 square feet, double the previous number of receiving doors, more than 5,000 pallet rack positions and 95 container parking spots along with an improved, single-direction truck flow to prevent cross-traffic and increase safety. A section of the warehouse has been activated as a Foreign Trade Zone (FTZ). Read more about this expansion here.
About Crowley 
Jacksonville-based Crowley Holdings Inc., a holding company of the 126-year-old Crowley Maritime Corporation, is a privately held family and employee-owned company that provides marine solutions, energy and logistics services in domestic and international markets. Crowley operates under four business units: Crowley LOGISTICS, a singular ocean liner and logistics supply chain division; Crowley SHIPPING, which encompasses ownership, operations and management of vessels, including tankers, container ships, tugboats and barges; Crowley FUELS, a fuel transportation, distribution and sales division that also provides liquefied natural gas (LNG) and related services; and Crowley SOLUTIONS, which focuses on government services, including vessel management for government agencies, as well as engineering, project management, naval architecture through its subsidiary Jensen Maritime, and marine salvage and emergency response through its 50 percent ownership in Ardent Global. Additional information about Crowley, its subsidiaries and business units may be found at https://www.crowley.com.