Crowley Logistics Expands Miami Warehouse Operations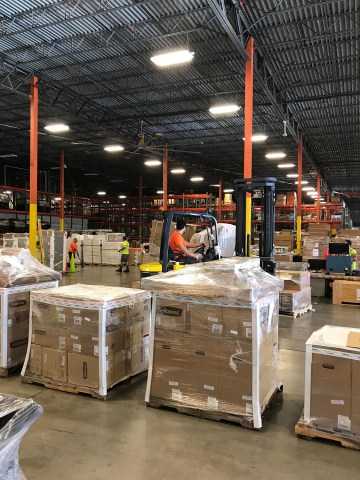 Crowley Logistics opened its newly expanded Medley warehouse in Miami this week to provide more seamless and efficient supply chain services to South Florida customers. The project, which began in November 2017, consolidates the company's Medley and Doral facilities into the Medley warehouse (10205 NW 108th Ave.), after adding 60,000 square feet to the location. 
Now at 180,000 square feet, the warehouse has double the previous number of receiving doors, and features over 5,000 pallet rack positions and 95 container parking spots along with an improved, single direction truck flow to prevent cross-traffic and increase safety.
A section of the warehouse has been activated as a Foreign Trade Zone (FTZ). This allows the facility to receive, store and process cargo without it being subject to formal U.S. Customs entry procedures and payment of duties until the cargo enters the U.S. and is made available for domestic use and consumption – all services which Customized Brokers, Crowley's in-house customs brokerage subsidiary can help customers navigate. No duties, quota charges, state inventory tax, ad valorem or personal property taxes are assessed until the product is withdrawn from the FTZ. Additionally, cargo can now remain in Crowley's FTZ facility for an unlimited amount of time, which is a significant change from the previous 14-day deadline associated with bonded cargo.
 "This improved consolidation facility is designed to enhance the customer experience, increase the velocity of our customers' supply chains, decrease total landed costs and offer seamless and reliable collaboration among the varying components of transport," said Frank Larkin, senior vice president and general manager, logistics and commercial services. "Our warehousing and distribution experts can now utilize the additional features of this space to develop quality solutions for shippers who have full or less-than-container loads of cargo moving though the South Florida area."
During the expansion and remodel, all pallet racking was upgraded to the newest, safest system on the market today – Rack Avengers. This system uses high-grade structural steel to re-enforce the base of each rack, allowing it to withstand a forklift impact up to 14,000 pounds at 14 mph, preventing catastrophic racking collapse.
Additionally, to meet the demands of the growing e-commerce market, a devoted receiving area has been constructed to ensure same day, expedited processing of approximately 1,000 small packages received from online shopping. The IT infrastructure, lighting and other safety points across the facility have also been upgraded to keep warehouse staff and visitors safe in the fast-moving work environment.
"The new racking systems, traffic patterns, yard improvements, lighting and safety planning demonstrates Crowley's commitment to have our employees working in the safest, most technically advanced environment possible," said Ken Black, vice president, NVOCC and warehouse services.
A devoted walk-up retail service area has also been added. Customers can bring in local purchases for packing, preparation of export documentation and shipping to Cuba, the Caribbean and Central America, and will receive face-to-face assistance, from a focused customer service representative.
In this location, Crowley provides a full package of supply chain services, including air and ocean cargo consolidation/deconsolidation; pool point distribution; pick, pack and sorting; labeling; packing and crating; inventory management; and customs brokerage.
Jacksonville-based Crowley Holdings Inc., a holding company of the 126-year-old Crowley Maritime Corporation, is a privately held family and employee-owned company that provides marine solutions, energy and logistics services in domestic and international markets. Six operating lines of business provide logistics and supply chain management, including liner container shipping; government services; contract marine towing and transportation; ship assist and tanker escort; offshore engineering and upstream project support; deep sea petroleum and chemical transportation; liquefied natural gas (LNG) transportation, distribution, engineering and consulting services; Alaska fuel sales and distribution; vessel management; vessel construction and naval architecture through its Jensen Maritime subsidiary, and salvage and emergency response through its 50 percent ownership in Ardent Global. Additional information about Crowley, its subsidiaries and business units may be found at www.crowley.com.
#     #     #