Crowley Logistics Expands Cold Storage Operations into Jacksonville with Opening of Second, Temperature-Controlled Florida Warehouse
Crowley Logistics has announced the opening of its second CrowleyFresh cold storage facility in Florida, this one within its West 30th Street distribution center in Jacksonville. This strategically positioned warehouse further expands the company's cold-chain services from South Florida into Northeast Florida, providing another gateway in the Southeast.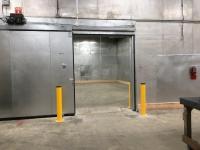 The newly renovated facility features humidity and temperature-controlled coolers capable of receiving, storing and otherwise handling perishables transiting between the U.S., Latin America and the Caribbean, with a host of other value-added services, including export processing. It's uniquely suited as an in-transit consolidation/deconsolidation point for customers with fully perishable loads, or for those looking to combine perishable and dry loads together for more economical and reliable transit. While it is conveniently located to service multiple trade lanes, it is ideally situated to support customers utilizing the company's forthcoming, LNG-powered combination container/Roll-On Roll-Off (ConRo) ships between Jacksonville and San Juan, Puerto Rico.
"This second cold storage facility in Florida represents the latest in a series of service enhancements designed to increase the velocity of our customers' supply chains, decrease total landed costs and offer seamless and reliable collaboration among the varying components of transport," said Frank Larkin, senior vice president and general manager, logistics and commercial services. "Our cold-chain experts can develop quality solutions utilizing this new facility for shippers who have full loads of perishables or for those who want to combine smaller loads to create economies of scale."
The facility features high-tech cooling and monitoring equipment in two separate chambers. The chambers can be adjusted to meet and maintain varying temperature requirements and offers additional options for frozen goods, temporary or overflow storage. Cooler chambers are all tightly sealed and insulated to maintain food safety and avoid cross-contamination within a controlled receiving dock area. Customers can also capitalize on the dry side of the warehouse, which offers over 100,000 square feet of storage space for cargo supplies and non-refrigerated materials.
CrowleyFresh is a partnership between Crowley Logistics and Customized Brokers that bundles individual cold-chain storage and logistics offerings into one comprehensive solution, including customs brokerage, ocean and air-freight and trucking services. With two locations in Florida, one in Jacksonville and one in Miami, the warehouses offer over 400,000 total cubic feet of refrigerated space and about 117,000 square feet of dry storage space for non-perishables. The facilities offer warehousing options for a diverse array of cold-chain management services. For more information please visit www.crowleyfresh.com.