Crowley Launches New Direct, Weekly Shipping Service from Puerto Plata to Port Everglades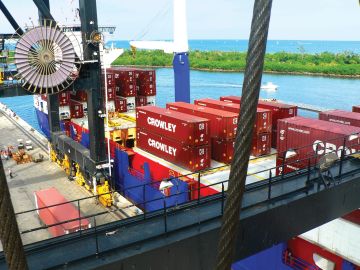 (PORT EVERGLADES, Fla.; May 17, 2018) – To better serve customers shipping from the Dominican Republic to South Florida, Crowley Maritime Corp.'s liner services group announced today that it has launched a new direct, weekly shipping service from Puerto Plata to Port Everglades, Fla. Crowley is the only ocean carrier that provides a direct shipping service connecting these two locations.
This fast, two-day northbound sailing complements the company's existing cargo transportation services connecting Santo Domingo and Rio Haina, Dominican Republic, with South Florida, Central America and the surrounding Caribbean. Customers can ship cargo in all types of equipment, including 20- and 40-foot refrigerated (reefer) and dry containers. Once cargo arrives in South Florida, employees at the company's Port Everglades facility can streamline the handling and delivery of goods to their final destinations using a full portfolio of supply chain services.
"Crowley is pleased to offer shippers a much-needed, fast and direct service from Puerto Plata to Port Everglades," said Nelly Yunta, vice president of Crowley's Dominican Republic liner services. "Adding Puerto Plata to the company's existing lineup of Dominican Republic port calls not only enhances our ability to support customers with highly convenient shipping options, but also strengthens our presence as a market leader in the Caribbean Basin."
Making the service possible are two container ships which will alternate carrying cargo northbound from Puerto Plata on Mondays, with arrival in Port Everglades on Wednesday mornings.
Customers who want to learn more about this new weekly sailing should contact Crowley's customer care team by calling 1-800-CROWLEY, and selecting option two.
Southbound sailings from Port Everglades for Puerto Plata are routed and scheduled differently. More information on these sailings may be found online at Crowley's Find a Route webpage.
About Crowley
Jacksonville-based Crowley Holdings Inc., a holding company of the 126-year-old Crowley Maritime Corporation, is a privately held family and employee-owned company that provides marine solutions, energy and logistics services in domestic and international markets. Crowley operates under four business units: Crowley LOGISTICS, a singular ocean liner and logistics supply chain division; Crowley SHIPPING, which encompasses ownership, operations and management of vessels, including tankers, container ships, tugboats and barges; Crowley FUELS, a fuel transportation, distribution and sales division that also provides liquefied natural gas (LNG) and related services; and Crowley SOLUTIONS, which focuses on government services, including vessel management for government agencies, as well as engineering, project management, naval architecture through its subsidiary Jensen Maritime, and marine salvage and emergency response through its 50 percent ownership in Ardent Global. Additional information about Crowley, its subsidiaries and business units may be found at www.crowley.com.
# # #