Crowley Establishes an New Shipping Service Between Puerto Rico, the Dominican Republic and USVI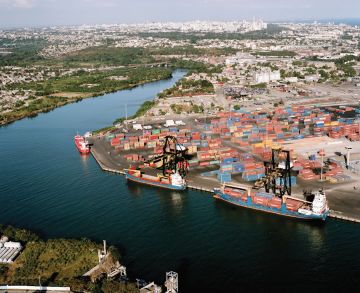 (SAN JUAN, PUERTO RICO; May 29, 2018) – To better serve customers shipping in the Caribbean Basin and beyond, Crowley Maritime Corp.'s liner services group announced today that it has launched a new feeder shipping service connecting San Juan, Puerto Rico; Rio Haina, Dominican Republic; and St. Croix and St. Thomas in the U.S. Virgin Islands (USVI). 
With the new service, vessels depart Rio Haina on Sundays and arrive in San Juan on Tuesdays. After departure on Thursdays, cargo arrives in St. Thomas and St. Croix on Fridays, before the vessel moves to the Dominican Republic again for Sunday operations. This fast, reliable schedule also provides customers shipping time-sensitive cargo the advantage of end-of-week departures with early-week arrivals in Puerto Rico and the Dominican Republic.
Customers can ship cargo in all types of equipment, including 20- and 40-foot refrigerated "reefer" and dry containers, 45-foot by 102-inch dry containers and flat racks. Supporting the ocean freight services are employees at the company's San Juan, Rio Haina and USVI facilities, who can streamline the handling and delivery of goods to their final destinations using a full portfolio of supply chain services, including warehousing, Customs clearance and trucking.
"We are pleased to offer customers yet another innovative service connecting key trading markets throughout the Caribbean Basin," said Steve Collar, senior vice president and general manager, Crowley international services. "The addition of this service helps us to remain focused on providing customers long-term competitive and reliable supply chain solutions by leveraging our expanded capabilities. It's yet another way we're strengthening our reputation as a market leader in the Caribbean."
This fast and reliable feeder service complements the company's existing cargo transportation services linking Puerto Rico, the Dominican Republic and the USVI with the surrounding Caribbean (including the Leeward, British Virgin and Windward Islands), Central America and the U.S. Mainland. Earlier this month Crowley announced a new, direct northbound sailing between Puerto Plata, Dominican Republic, and Port Everglades, Fla. 
Customers who want to learn more about these new services should contact Crowley's customer care team by calling 1-800-CROWLEY, and selecting option two. 
Jacksonville-based Crowley Holdings Inc., a holding company of the 126-year-old Crowley Maritime Corporation, is a privately held family and employee-owned company that provides marine solutions, energy and logistics services in domestic and international markets. Crowley operates under four business units: Crowley LOGISTICS, a singular ocean liner and logistics supply chain division; Crowley SHIPPING, which encompasses ownership, operations and management of vessels, including tankers, container ships, tugboats and barges; Crowley FUELS, a fuel transportation, distribution and sales division that also provides liquefied natural gas (LNG) and related services; and Crowley SOLUTIONS, which focuses on government services, including vessel management for government agencies, as well as engineering, project management, naval architecture through its subsidiary Jensen Maritime, and marine salvage and emergency response through its 50 percent ownership in Ardent Global. Additional information about Crowley, its subsidiaries and business units may be found at  www.crowley.com. 
#     #     #