Crowley Earns Four 2018 TMSA Compass Awards of Merit for Marketing and Sales Excellence
The Transportation Marketing and Sales Association (TMSA) this week presented Crowley Maritime Corp. with four Awards of Merit for demonstrating excellence and industry best practices with four marketing campaigns.  
The honors were awarded after a team of TMSA industry expert judges evaluated the company's submitted marketing and sales campaigns in several key areas, including concept, creativity, execution, measurable business results and ability to fulfill stated goals. The TMSA Compass Awards are considered the highest level of professional achievement and recognition in marketing, communications and sales in the transportation, logistics and passenger transit marketplace.   
In the category of Integrated Campaign, Crowley received Awards of Merit for: 
A year-long campaign commemorating the company's 125th anniversary, including its history and accomplishments; 

An integrated promotion of the Commitment Class projects that are modernizing the U.S. mainland-Puerto Rico trade, which include two new ConRo ships and port terminal improvements in San Juan, Puerto Rico, and Jacksonville, Fla. 
In the Digital Advertising category, the company received awards for: 
A Puerto Rico multimedia ad campaign that increased the sales of logistics services;

The online, bilingual campaign to help launch and sustain the company's Cuba Express service providing consumers with direct shipping services from South Florida and delivery in Cuba. 
Accepting the awards on behalf of Crowley was Mark Miller, Crowley's vice president, corporate marketing and communications, at TMSA's 66th Annual Compass Awards Gala, in Cape Coral, Fla., on Monday.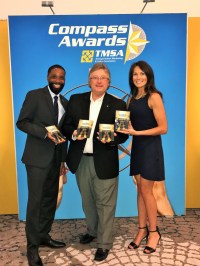 "I am extremely proud of our MarComm team for the work they put into these successful campaigns, which ultimately helped to strengthen the company's position in the marketplace," Miller said. "Earning even one Compass Award is an honor, but to win four is a wonderful reflection of the work being done by our team members and consultants. I'm really proud of them and appreciative of TMSA for the recognition." 
Members of the Crowley team who worked on the campaigns are Corporate Communications Manager David DeCamp, Creative Director Bryant Hardwick, Digital Marketing Manager Michael Stott, Senior Specialist Ginelie Piovanetti, and consultants Jenifer Kimble and Amelia Smith. Watch the team's acceptance video here. 
"The TMSA Compass Awards Program provides transportation and logistics companies with the opportunity to showcase their best work in marketing and communication strategies and sales performance," said Brian Everett, CEO of TMSA. "In addition, recipients of this award earn recognition from their peers while they benchmark their work against others in the industry." 
In recent years, TMSA similarly presented Crowley with Compass Awards for marketing excellence in 2017, 2015, 2013 and 2011.   
About Crowley
Jacksonville-based Crowley Holdings Inc., a holding company of the 126-year-old Crowley Maritime Corporation, is a privately held family and employee-owned company that provides marine solutions, energy and logistics services in domestic and international markets. Crowley operates under four business units: Crowley LOGISTICS, a singular ocean liner and logistics supply chain division; Crowley SHIPPING, which encompasses ownership, operations and management of vessels, including tankers, container ships, tugboats and barges; Crowley FUELS, a fuel transportation, distribution and sales division that also provides liquefied natural gas (LNG) and related services; and Crowley SOLUTIONS, which focuses on government services, including vessel management for government agencies, as well as engineering, project management, naval architecture through its subsidiary Jensen Maritime, and marine salvage and emergency response through its 50 percent ownership in Ardent Global. Additional information about Crowley, its subsidiaries and business units may be found at www.crowley.com.