Crowley Earns Authorized Economic Operator Certification in Guatemala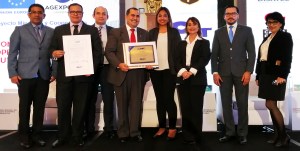 To better serve customers importing and exporting in Guatemala, Crowley Logistics recently received its Authorized Economic Operator (AEO) "Consolidator-Deconsolidator" certification. Awarded by the Superintendency of Tax Administration (SAT) of Guatemala, the certification recognizes Crowley for complying with SAT's 110, customs, legal and international security standards and requirements.
The AEO program, established by the World Customs Organization (WCO), creates customs-to-business partnerships that secure the supply chain and facilitate legitimate, low-risk trade. This certification shows that Crowley has proven to have high quality internal processes that help prevent goods being transported internationally from being tampered with.
"This certification will improve the efficiency of our customers' supply chains by providing faster access to the border," said Claudia Kattán de Jordán, Crowley vice president of logistics in Central America. "By incorporating AEO's security measures, the customers are less likely to experience border delays due to inspections or disruptions, resulting in faster transit times, and reduced risk associated with spoiled perishables and cargo tampering."
"Congratulations to the entire team in Guatemala for their efforts in earning this certification," said Steve Collar, Crowley senior vice president and general manager, logistics. "We continue to focus on additional ways to elevate the customer experience for those using our supply chain services."
Crowley is among 40 companies in Guatemala with this certification, and only the third company in the "Consolidator – Deconsolidator" segment. The WCO is an independent intergovernmental body created to enhance the effectiveness and efficiency of Customs administrations, stimulate the growth of legitimate international trade, and combat fraudulent activities through secure customs systems and procedures.
For more than 55 years, Crowley has served Latin America by providing supply chain services, including ocean transportation, inland trucking, warehousing and distribution, consolidation-deconsolidation services, and Customs brokerage between the U.S. and Guatemala, Honduras, Nicaragua, El Salvador, Costa Rica and Panama.
Photo (L to R): Victor Perez, manager, AEO-GT Program, SAT; Wilson Gomez, operations supervisor, warehousing, Crowley; Marcos Duarte, manager, land transportation, Crowley; Byron Ardon, manager, customs brokerage, Crowley; Haidy Arreaga, coordinator, OEA-GT Program, SAT; Melissa Ramazzini, coordinator, OEA-GT Program, SAT; Werner Ovalle, customs intendant, SAT; and Veronica Cifuentes, Coordinator OEA-GT Program, SAT.)