Hayco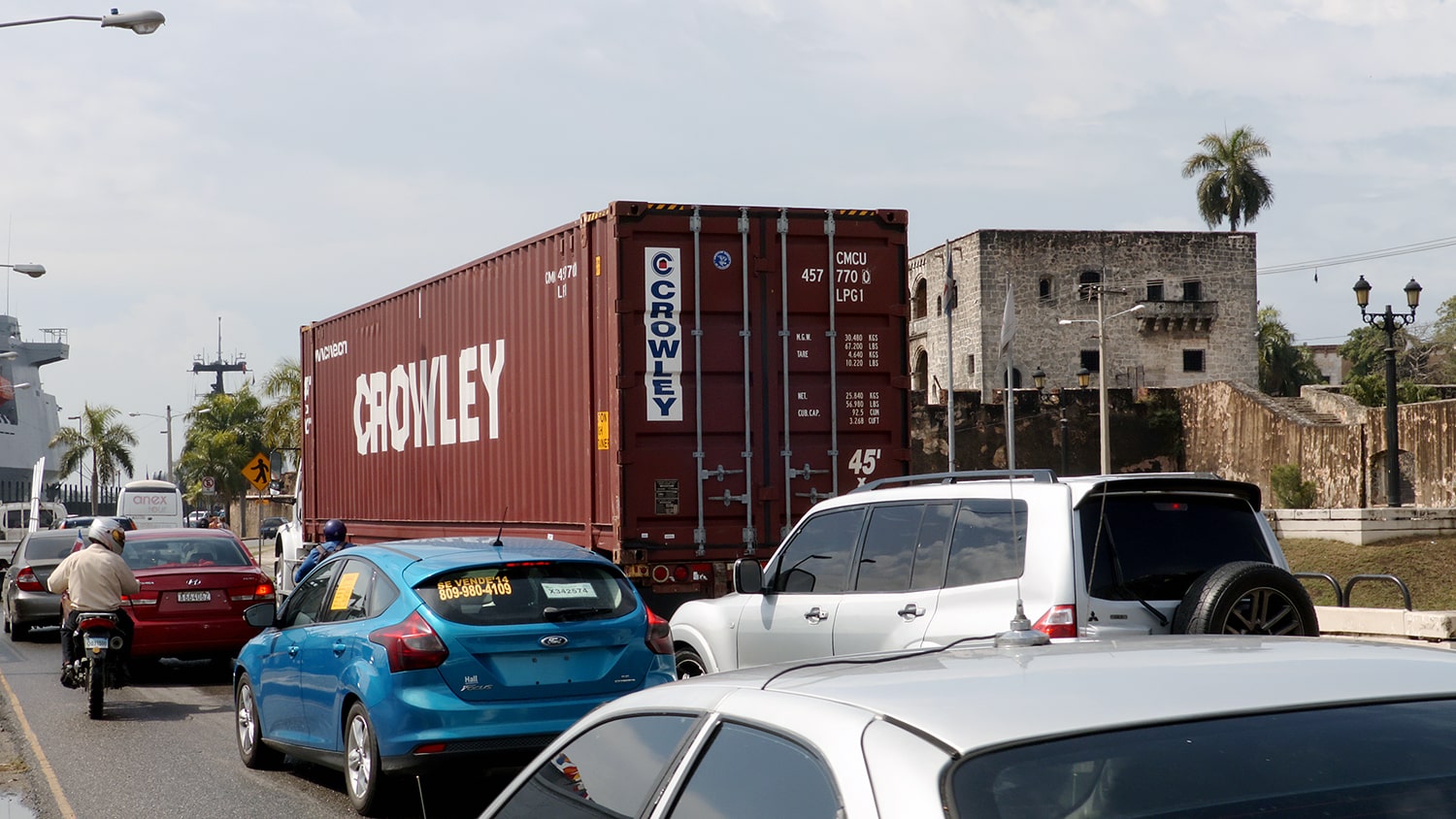 Crowley Logistics Success Story
Crowley Helps Hayco Group Reduce Costs and Cut Product Delivery Times by a Third
How the company's full logistics offerings in the Caribbean are providing Hayco with competitive advantages.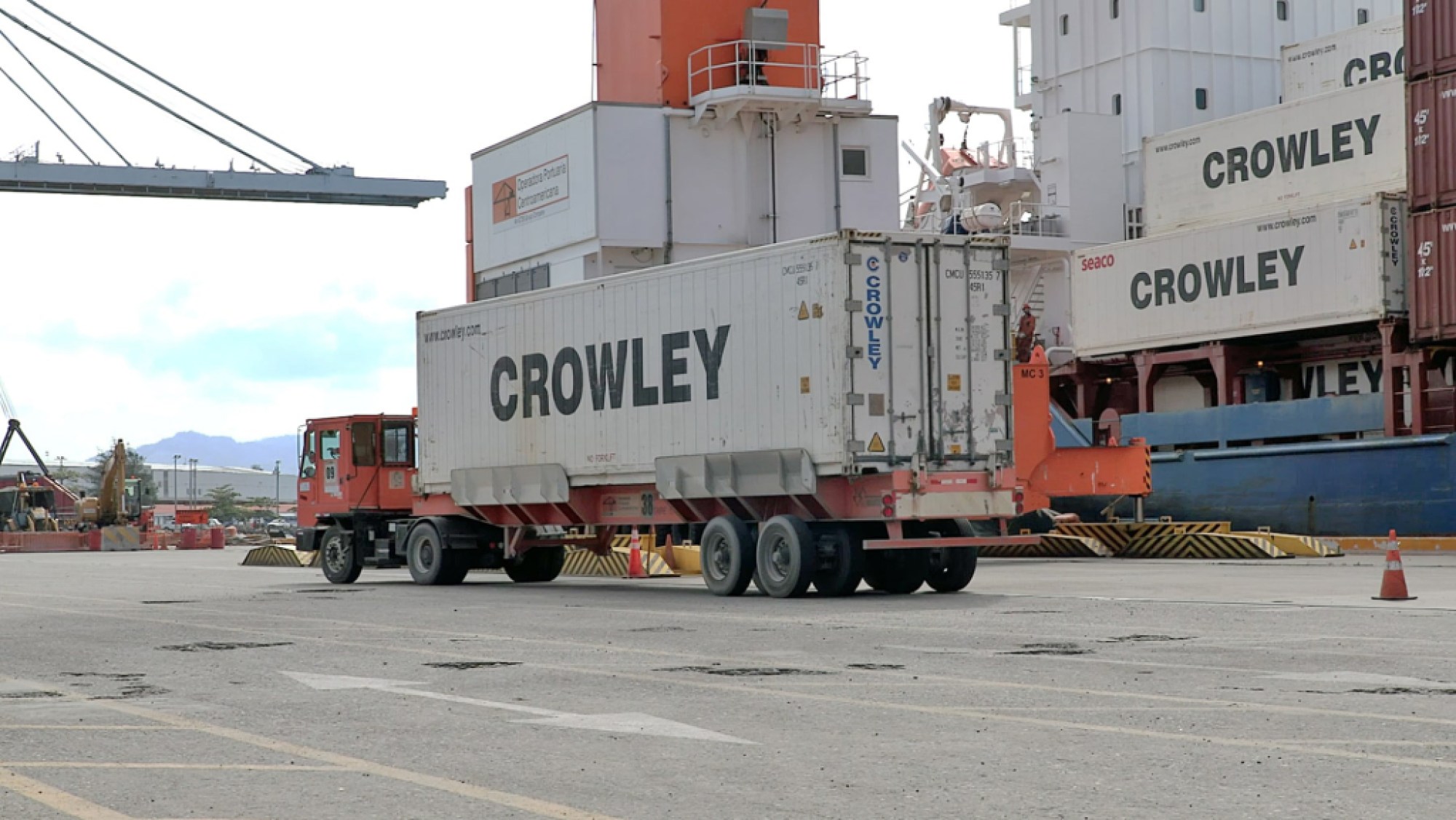 The Dominican Republic is widely known as a Caribbean tourist destination, but for Hong Kong-based Hayco Group, it was also the ideal location to expand and enhance its plastics injection-molded manufacturing operations. The island's industrial free trade zones, multiple ports, and proximity to the United States made it a prime location for the company, which has designed and manufactured brooms, mops, and personal care products for purchase in more than 40 countries for more than 35 years.
After moving their manufacturing operations to the Dominican Republic in the summer of 2017, Hayco sought a logistics partner with supply chain solutions to meet the timing and inventory demands of their U.S. customers. Enter Crowley Logistics.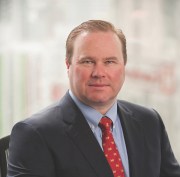 Partnering with Crowley has been beneficial because it has helped us develop our business in the region and deliver our products on time.

Christopher Hay, CEO, Hayco
One of the cornerstones of Crowley's service for Hayco is frequent, reliable ocean transportation.
"We've been providing shipping services in the Caribbean for more than 60 years. Nobody knows the region better," said Crowley's Brett Bennett, senior vice president and general manager, Logistics. "We were able to provide Hayco with frequent, reliable sailings for their full-container loads (FCL), a convenient South Florida gateway in Port Everglades, and operational and technological efficiencies to help speed their products to customers."
In addition to providing ocean transportation services, Crowley has developed a series of integrated supply chain solutions to support Hayco's operations. This includes export documentation management, inland trucking, in-country and U.S. Customs brokerage, and intermodal deliveries form Port Everglades to Hayco's customer warehouse in Browns Summit, N.C.
"Crowley's team in the Dominican Republic is well experienced in end-to-end supply chain solutions, not only in the U.S., but also throughout the Caribbean and Central America," said Nelly Yunta, vice president, general manager, Dominican Republic and Haiti. "Hayco's move to the Dominican Republic gave us a great opportunity to coordinate the complete logistics supply chain for them. Our export documentation expertise, and our expeditious way of handling imports in the U.S., have helped them deliver their products as quickly as possible and well within the required delivery timeframe."
For consumer goods companies that source Hayco's products, such as commercial brushes, household mops, baby bottles, water bottles, water filtration units and electric toothbrushes, Crowley's supply chain solution have resulted in faster, seven- to 10-day delivery timeframes. By moving operations to the Dominican Republic form Asia, and utilizing Las Americas Free Zone Park, a free trade zone, for their injection molding assembly factory, Hayco cut product delivery times by a third and reduced their customs duties and taxes.
Left: Crowley Logistics' Nelly Yunta, vice president and general manager, John Hernandez, director, Crowley sales and freight services, and Agencias Navieras, and Kissy Amiama, general manager, Crowley Logistics Dominicana, with Hayco's CEO Chris Hay (second from right).
When designing logistics solutions for Hayco, Crowley team members considered how transportation demands considered how transportation demands could vary based on production requirements and end user delivery requirements. They then built in flexibility to adapt and expeditiously adjust inland transportation options on short notice.
For example, a Hayco customer in the U.S. had a new program with a big-box retailer requiring product delivery in a shorter than normal period. To accommodate, Crowley cross-docked the goods at its warehouse in the South Florida area to provide the additional speed to meet the deadline. Under this scenario, cargo arrives at Port Everglades and is then trucked to Crowley's Medley facility in greater Miami, where it is reloaded into 53-foot Crowley containers and delivered to Browns Summit, where it is made available for Hayco's customer to distribute.
"We had a new initiative to launch and we really appreciated Crowley's help in giving us the option between rail, cross-docking, and trucking," said Hay. "That flexibility did us with our customer. They certainly liked it."
In addition to developing services tailored to Hayco's supply chain needs, Crowley provided a local, bilingual, in-plant representative in the Dominican Republic to support initial operations. It was a crucial step in setting the tone for successful execution of the partnership, allowing Hayco to concentrate on its core manufacturing business.
"When you're starting a factory for the first time in a country where we did not have a Spanish-speaker on staff, it was very important to have local people with knowledge," said Hay. "Having a Crowley representative on-site and available to meet with our warehousing, customs, planning, and shipping teams, on a daily basis, was key to the success of our operations. The partnership with Crowley has definitely prevents us from making big mistakes."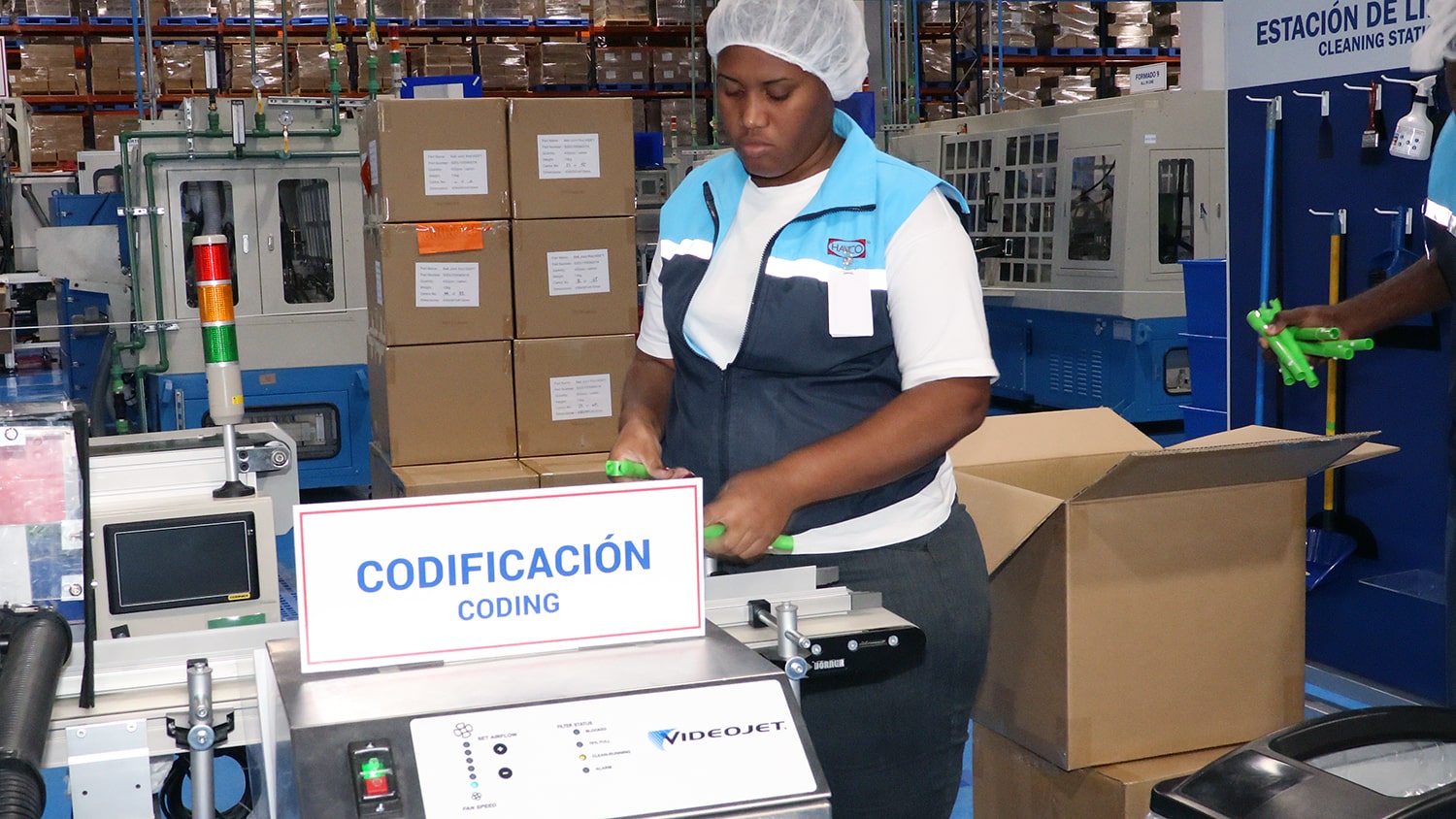 "Our bilingual logistics experts on the island help coordinate equipment utilization and positioning, and handle everything related to customs documentation for authorization of shipments, export declarations, Importer Security Filings (ISF), and more, before the container leaves the free-zone park," said Kissy Amiama, general manager, Crowley Logistics Dominicana.
Among the products manufactured at Hayco's new factory are hard-surface sweepers and mopping products for export. Once manufactured, the products are boxed, stacked, and shrink-wrapped in preparation for transport. At the same time, Crowley's representatives coordinate the move and ensure that the company's 45-foot high cube containers are on-site and ready for loading.
Right: A Hayco worker imprints a batch code on broom handles for quality control purposes
To maximize capacity inside the container, the cargo is loaded using slipsheets, which are thin sheets of paper, plastic or corrugated material making transport and handling by forklift more efficient.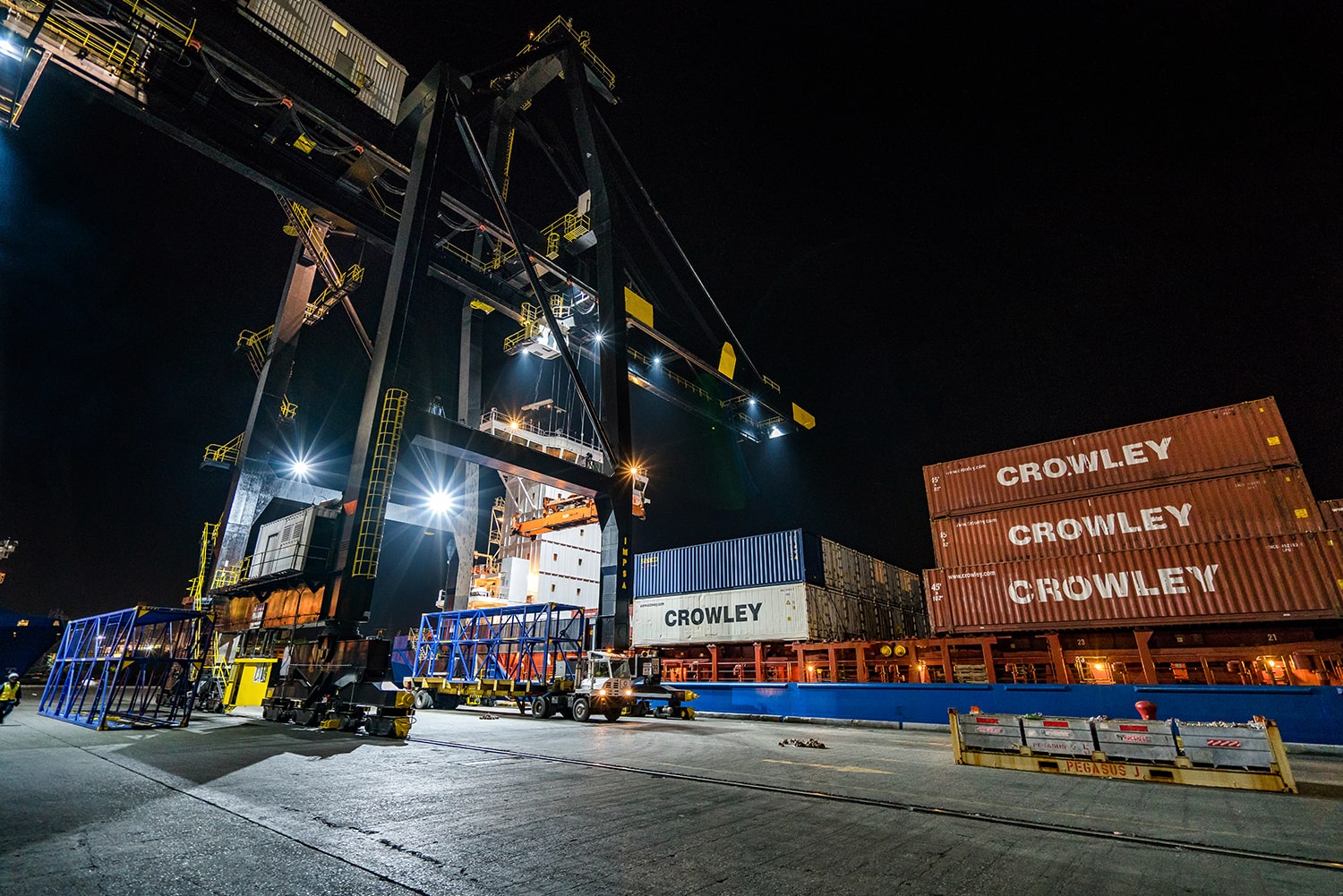 Unlike wooden pallets, slipsheets help decrease transportation costs and are more environmentally friendly. Once loaded, Crowley arranges for the containers to be picked up and safely transported 23 miles west to the Port of Rio Haina where they are located aboard a Crowley vessel twice a week for ocean transport northward.
As ships are in transit on their four-day voyages from Rio Haina to Port Everglades, Crowley's liner, logistics and customs clearance group, Customized Brokers, are already working ahead to pre-clear cargo with U.S. Customs and Border Protection (CBP)- a crucial step to ensure the maximum possible efficacy and velocity throughout Hayco's supply chain.
Left: Crowley offers reliable bi-weekly sailings from the Port of Rio Haina, Dominican Republic, to Port Everglades, Florida.
"We work in unison with Crowley's logistics team to pre-clear cargo as it sails from the Dominican Republic," said Katarina Holeck, director, business development, Customized Brokers. "Two days prior to cargo arrival, we already have access to the documentation to make sure information is up to date and filed. We also provide the customer with regular status reports on each stage of the clearance process. They know the number of containers being handled and if they have been released, the estimated time of arrival (ETA) in the U.S., the estimated time of delivery (ETD) to the end customer; and the date and time confirmations that the cargo was received at the final destination. Our teams are in constant communication with each other and the customer, until the cargo is delivered."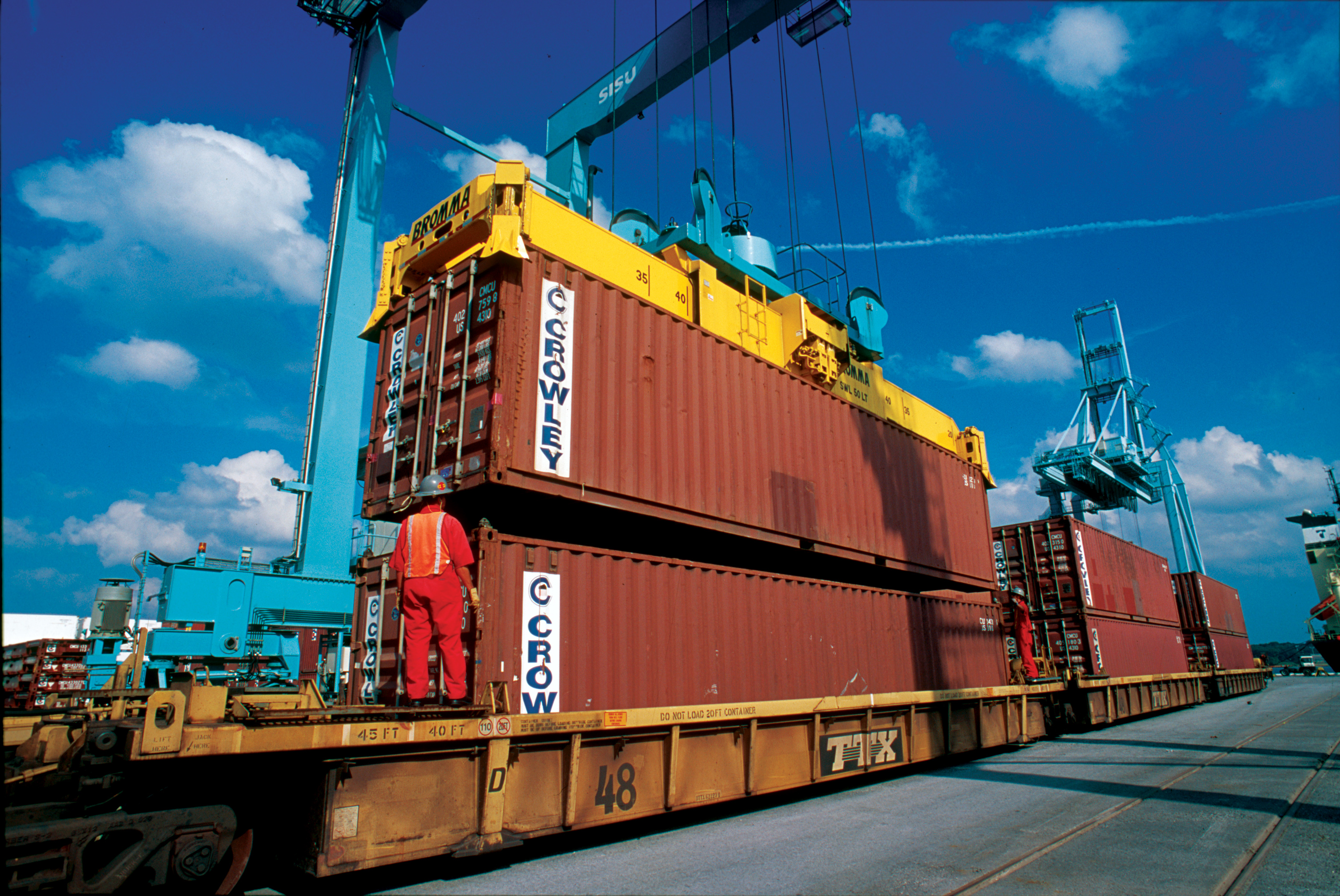 Once released by customs, Crowley's inland transportation specialists quickly coordinate the transfer of containerized cargo between the ship and the rail line to begin the 716-mile trip north to the rail terminal in Charlotte, N.C. From there, Crowley's trucking partners transport the contained cargo an additional 116 miles northeast to Browns Summit within Hayco's delivery schedule requirements.
"Effective end-to-end logistics solutions are the result of coordinated team work," said Tony Menendez, senior account executive, international sales. "Hayco's supply chain has a lot of moving parts. It takes a well-coordinated team to make the supply chain as seamless are possible."
Right: Once released from customs, cargo is quickly transferred to the rail line and transported to Charlotte, N.C.
These integrated solutions are developed with a commitment to safety, which is Crowley's No. 1 core value, a commitment also shared and measured by Hayco.
"Our number one key performance indicator (KPI) is safety, which aligns very well with Crowley," said Hay. "The first time I met with Crowley, I was impressed with how safety is always the first discussion point in meetings, so that's very important. At Hayco we believe that if a business does not take safety seriously, then they take nothing seriously. We cannot trust a company that does not take safety seriously."
Hayco also measures customer satisfaction, especially with delivery performance. Again, Crowley consistently shines, fulfilling Hayco's needs.
"Crowley being able to meet the seven- to 10- day deadline regularly is an important part of our business relationship because we can rely on them to do the job," Hay said.
As Hayco's Dominican Republic facility marked its one-year anniversary earlier this year, Hay reflected on his company's partnership with Crowley and how the company was in alignment with Hayco's long-term strategy.
"It is our goal to make this the best plastics factory," Hay said, 'and we want people like Crowley who partner with us and believe in our goals."