Fresh Solutions: USDA Inspection Dock Benefits Perishables Shippers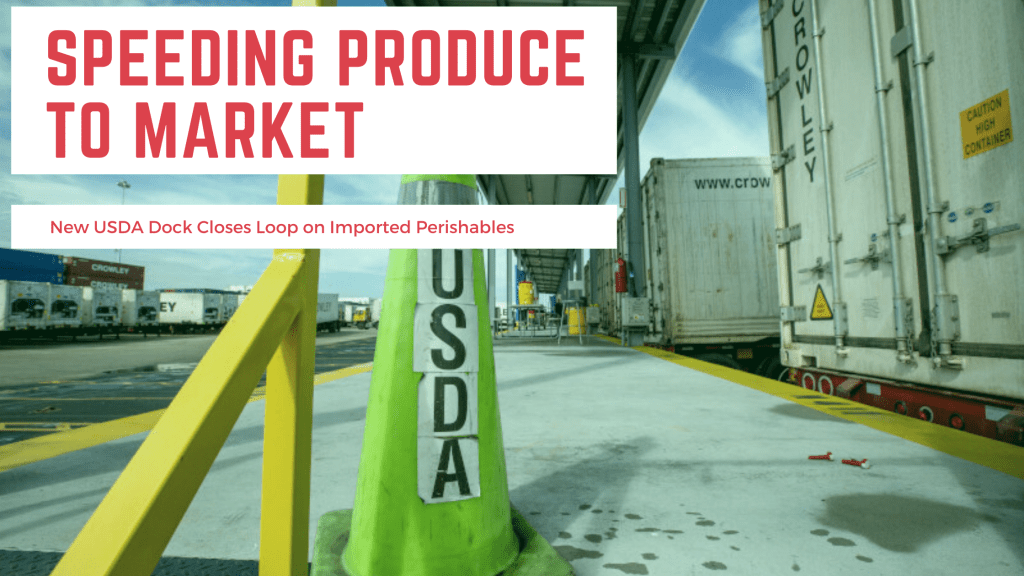 Whether you're a snowpea exporter trying to lock in the best market price, a premier grocery store searching for the freshest pineapple, or a consumer who loves fruits and vegetables that defy seasonality, reducing the time that refrigerated and frozen cargo spends in USDA inspection process and on the terminal, makes a decisive difference.
That's the idea behind Crowley's new USDA customs inspection dock in Port Everglades, Florida: simpler, faster, more efficient inspections that increase speed to market for perishables being imported to the U.S. from Central America and the Caribbean.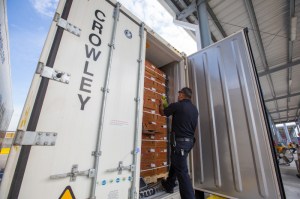 With new efficiencies, plentiful power sources, conveniences and safety features, the new state-of-the-art dock, introduced earlier this year, has further solidified Crowley's support of its cold-chain customers. That includes exporters from Honduras, Costa Rica, Guatemala, El Salvador, Nicaragua, Dominican Republic, Haiti and other countries who want to reduce the risk of delays as they quickly move their produce throughout the U.S.Caribbean.
It has also pleased distributors and Florida-area supermarkets that receive produce within hours of being unloaded from vessels, and without any worrying that the temperature or condition of their cargo has been compromised during the inspection process.
A host of advantages combine to give exporters and importers a freshness advantage that can be tasted in the produce and the profits.
Enabling Customs to make fast work of inspections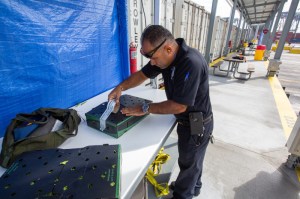 Sometimes the way to make someone happiest is to just let them do their job. Crowley designed the expansion of its existing refrigerated cargo capabilities in this South Florida port to do just that. It has capacity for 80 reefer containers to be lined up and facilitate quick, continuous inspection by Customs Officials.
The leap from the previous capacity of 36 reefers enables Customs officials to inspect over twice as many containers units nonstop. This cuts down on the waiting time when inspectors would otherwise have to go back to their offices as fresh batches of uninspected reefers were brought in. Another speed feature is the use of CBP's Enforcement Link Mobile Operations (ELMO) system. Inspectors' use of ELMO pads enables them to do all work onsite.
While designed to help inspectors do their jobs efficiently, the dock's additional features make them more comfortable in the process. That includes providing shelters, lighting, tables, water coolers, water and fans to help inspectors to work through the Florida heat and rains.
To Janet Ramos, director, national accounts at Crowley Logistics, providing support is in everyone's best interest. "Working together we can achieve more efficiency, leading to the release of the cargo being expedited."
Providing the basics and the space for Customs partners to effectively do their job isn't a given among ocean carriers serving Central American and Caribbean exporters. Other carriers without their own USDA docks commonly have Customs officials inspecting containers in hot and inefficient settings. Containers are set on the ground, inspected out in the open and then hoisted onto chassis by top-loaders—an inefficient and arduous process for everyone involved, including inspectors.
Getting to market without a break in the cold chain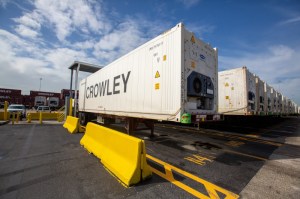 Customs inspection can be a risky leg in a reefer's journey. After carefully monitoring temperatures and humidity over sea, reefers sometimes are without power once they are unloaded from vessels and await inspection. Not so at Crowley's USDA inspection dock. Every one of the 80 reefer spots has an independent electrical hookup.
"Customers ideally want the unit running at all times. Otherwise there is potential for spoilage or a degradation of the cargo." Pat Collins, vice president, operations. "Now as soon as a reefer comes off the ship and goes to the dock, we have the ability to immediately get it plugged up and on shore power."
What seems like an obvious feature can be a rarity at other inspection sites. With no hookups in sight, they may rely on gensets, which emit diesel fumes. It's a flawed process, Ramos says, because often inspectors request they be turned off, which can leave reefers without active refrigeration units for some time.
Less handling means more speed to market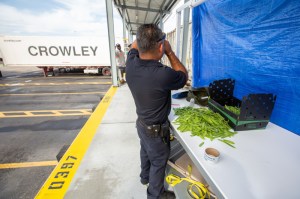 The inspection phase is one instance where being hands-on hurts efficiency. Crowley's USDA inspection dock owes much of its speed to its design, which minimizes the moves made getting the container from vessel to truck and through inspection. Containers are immediately loaded onto chassis that are placed in position for inspection. Once inspected, trucks simply hook up and go.
Inspectors make all the moves as they go from container to container clearing cargo in real time using ELMO pads. Crowley's inspection dock is an ideal application for ELMO. It enables continuous, mobile inspections and saves Customs officials from having to travel back to their offices to enter inspection results into their systems and release cargo.
Additional technology and transportation advantages contribute to the hands-off speed of Crowley's Port Everglades operations. With Crowley's terminal operating system, truckers can get out of the terminal quicker. According to Collins, it's a fast, fully automated transaction without any person-to-person interaction and less possibility for delays.
Other fast features include ample lot space for staging trucks—so that when containers are released, truckers can immediately connect and hit the road. The terminal's location provides direct access to interstates and facilitates short, unimpeded runs to the Fort Lauderdale-Hollywood International Airport two miles away and the Florida East Coast Railway Intermodal Container Transfer Facility located right on the port property. The fact that cargo received in Crowley's Port Everglades terminal ships regularly throughout the Northeast, Midwest, and Southeast is testament to the speedy, streamlined operation as a whole.
Cool investments for refrigerated shippers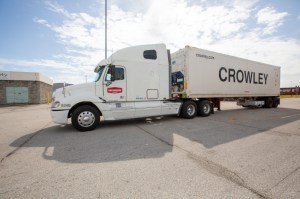 When it comes to shipping temperature-controlled produce from the tropics, any deviation in temperature or humidity can ruin a crop as well as the reputation and relationships of the seller. Crowley's USDA inspection dock in South Florida is just the latest link in a cold chain with time-tempered reliability and continuous enhancements and improvements by the company.
In the past year alone, Crowley has added over 500 new reefer containers to its operations in Central America and the Caribbean. These, and all of Crowley's reefer units, are now equipped with WAM sensors enabling continuous temperature and humidity monitoring and the ability to remotely adjust conditions and track containers in real time. Combined, Crowley's strict container sanitization protocols and expert grower services throughout the region, faster also means safer when it comes to moving fresh, frozen and chilled produce.
To learn more about Crowley's comprehensive cold chain solutions, call your sales representative or 1-800-CROWLEY.