Be Here Now, Be Self Aware to Champion Safety
Aaron Hanson, terminal manager of the Delta Junction facility in Alaska, is Crowley Fuels Champion of the Year
Every team member at Crowley understands that our safety record is our license to operate. We provide extensive safety on-boarding, training, job aids, and empowerment to keep our service and operation safe in any circumstance. Our customers are our highest priority, so what matters to us is to safely deliver quality petroleum products. Safety is one of Crowley's core values.
In recognition of his high performance, Aaron Hanson, a nine-year veteran of our company and terminal manager of our Delta Junction facility in Alaska, was the named Crowley Fuels Champion of the Year for 2020.
What made him a Champion? Hanson has shown exceptional leadership by committing to and prioritizing safety, communication, collaboration, and feedback which allows Crowley to continue providing superior, safe fuel supplies and service to residential and commercial customers. The annual Champion is selected from the monthly winners (Hanson won in March, 2020). We took time to get to know what it takes to be Crowley Fuels Champion of the Year. Here's what he had to say.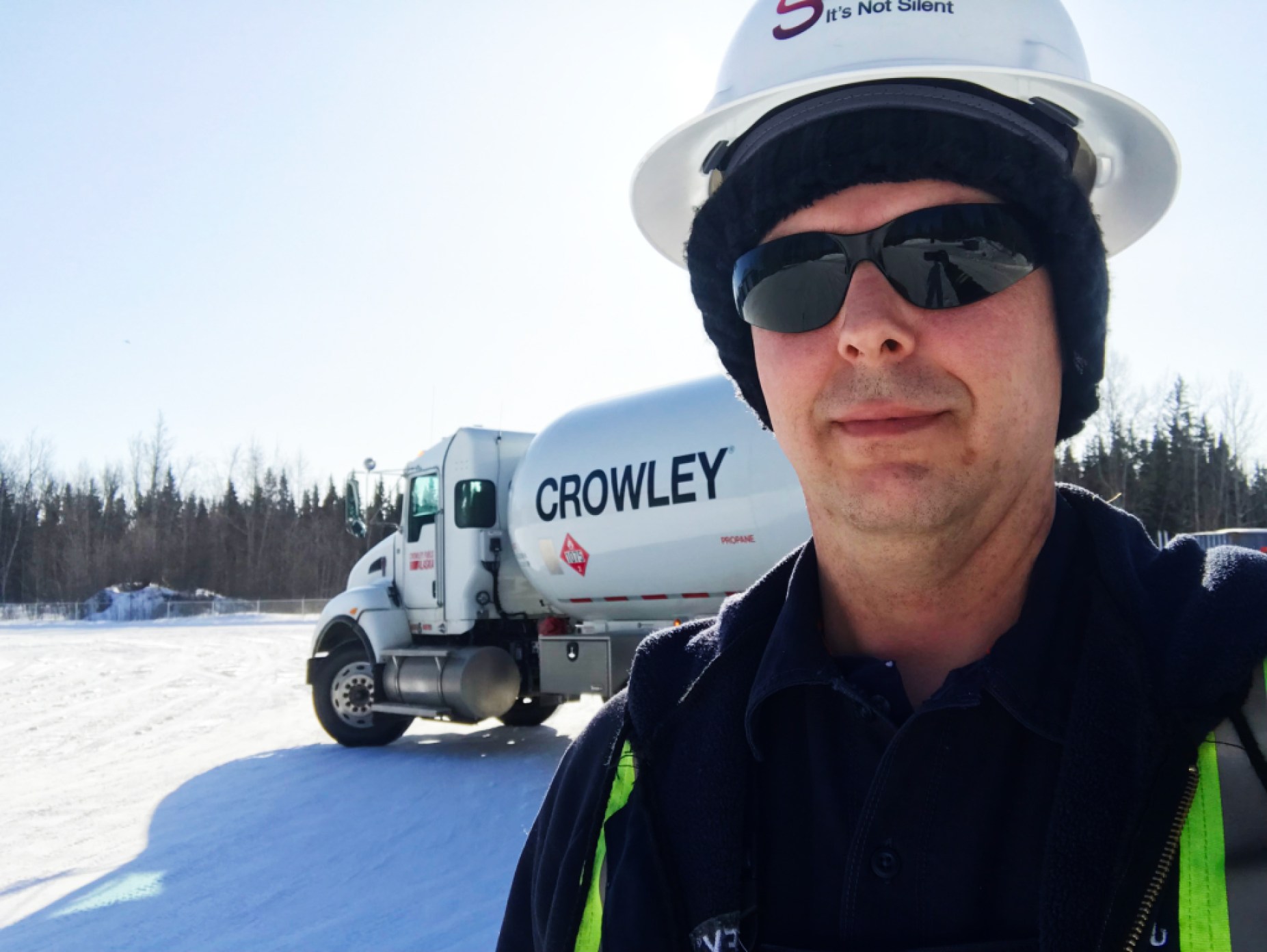 "My team lives by "one Crowley, one team," which means we can work together to find solutions because we're all contributing to a common goal. If you're in a leadership role, open up to your team members and share your knowledge."
Could you tell us about your career journey?
AH: As an Alaskan, I understand the importance and value of fuel in people's lives to face the cold weather we're exposed to. I've been around the fuel industry my whole life. My grandparents owned a fuel delivery station. My dad drove a long haul twice a week and when I was a kid, I loved the sound of the honk. I thought it was awesome. Growing up, I never thought I would follow his footsteps so closely. Now I'm the one making my kids smile and see how their faces light up when they hear me honk. It reminds me of the joy the simplest things from work can bring home.
I started as a fuel delivery driver at Crowley. My manager was completely engaged with the work and Crowley's culture including safety. That mentorship influenced my performance and growth as a terminal manager. He saw my skills and potential and became my mentor, shaping me into what I am now. He was good at teaching and sharing his knowledge. I observed his behaviors, his actions and how he managed complexity.
One of the biggest lessons I learned was "getting the job done safely is the top priority." It's not worth rushing if you won't deliver quality and safety to yourself and our customers.
In your opinion, why is safety so important to service our customers?
Anything can happen at any given time. It applies to my life at work, at home, even to my hobbies. It's easier to avoid hazards if you're prepared for them. I learned that lesson early on while snow machining. I was going too fast, was caught off guard and had an accident. Having that experience at 22 years old made me start practicing difficult riding roads at a controlled pace to upgrade my skills. I became more aware of my surroundings to assess safety levels. The bottom line is if it's not safe, don't do it; there has to be another way. This thought-process saves time, costs and it helps me provide the best service to our customers while enhancing creativity to solve problems.
Some of the quick reminders I go through with my team are:
Taking that extra time to make sure things are safe to perform our duties
Speak up. Use your stop work authority card if something is not right. We can work on it together to adjust
Always think about the big picture to be the best at your job
If we take care of ourselves and each other, we're taking care of our customers
How did you manage to stay engaged and keep safety a priority in a year like 2020, full of extraordinary challenges?
2020 had something for everybody. I managed to stay engaged and keeping safety as a priority more than ever by following one of Crowley's main mottos: be here now. Regardless of what's going in the world, I focused on the day at hand rather than overthinking the future or getting lost in the ambiguity of things. We're not in tomorrow or yesterday, we are here now and this is where we need to be. Wherever I am, the task I am doing deserves my full attention.
Having relationships was essential in 2020 for me, and it is every day to maintain balance at work. My team lives by "one Crowley, one team," which means we can work together to find solutions because we're all contributing to a common goal. If you're in a leadership role, open up to your team members and share your knowledge. Get to know them and be available to their needs. Teach them if they need to upskill or learn something new. Be that person who they trust to call when they need support and answer those calls. It doesn't mean it will go their way but addressing things will make them come to you when they should. We have an opportunity to be more than a manager. It was done for me and I do it for my drivers; hopefully, they will do that in the future.
What's your advice for peers who are striving to be a champion in 2021?
I wasn't expecting to be named Crowley's Fuels Champion of the Month, let alone the year. I usually go about my work doing what's best for my team, customers and the company. I take a lot of pride in what we do and the mission of keeping people warm in our extreme weather. I see how the community trusts in our service. Been chosen out of 12 people who were deserving too, it's incredible to me. I feel appreciated and have been made aware of my impact. It's been a meaningful experience. In the same way, we bring warmth to our community; being recognized made me feel warm. It became full circle with my commitment and mission.
Whether it's about safety or any other subject, if anyone at Crowley Fuels wants to be a Champion of the Year my advice is the same: champion yourself, even if no one is watching. Practice self-awareness and ask yourself: do you think you've done the best? Are you observing your own behaviors? Are you seen as a role model? Are you proud of what you're doing? These questions may help you be the best you. I think if you're already championing yourself, you've already won something special in my eyes.
---
Crowley is a privately held family- and employee-owned company providing worldwide logistics, government, marine and energy solutions since 1892. We have over 6,000 high-performing team members in 35 countries and island territories, who are diverse, encouraged, and deliver on their commitments. We are Crowley, People Who Know.