A Climate Commitment: Meeting Urgent Needs with Bold Actions
Written by: Alisa Praskovich, Vice President, Sustainability, Crowley Maritime
---
What We Know
Today's global climate crisis calls for concerted action.
Based on the latest climate science, Crowley has committed to net-zero greenhouse gas emissions (GHG)—across all scopes—by 2050. We look forward to partnering with others in our industry and beyond to deliver on our commitment to clean energy.
According to a recent materiality assessment and survey, our stakeholders agree: reducing GHG emissions is first in order. By going across all three scopes, we will be accountable for our direct operations, the energy sources we use, and the emissions created across our value chain with partners.
We take this step with dignity, knowing that the outputs of our commitment do not take place in a bubble. Rather, they multiply across the supply chain, from manufacturers to customers, so that every push forward we make is amplified.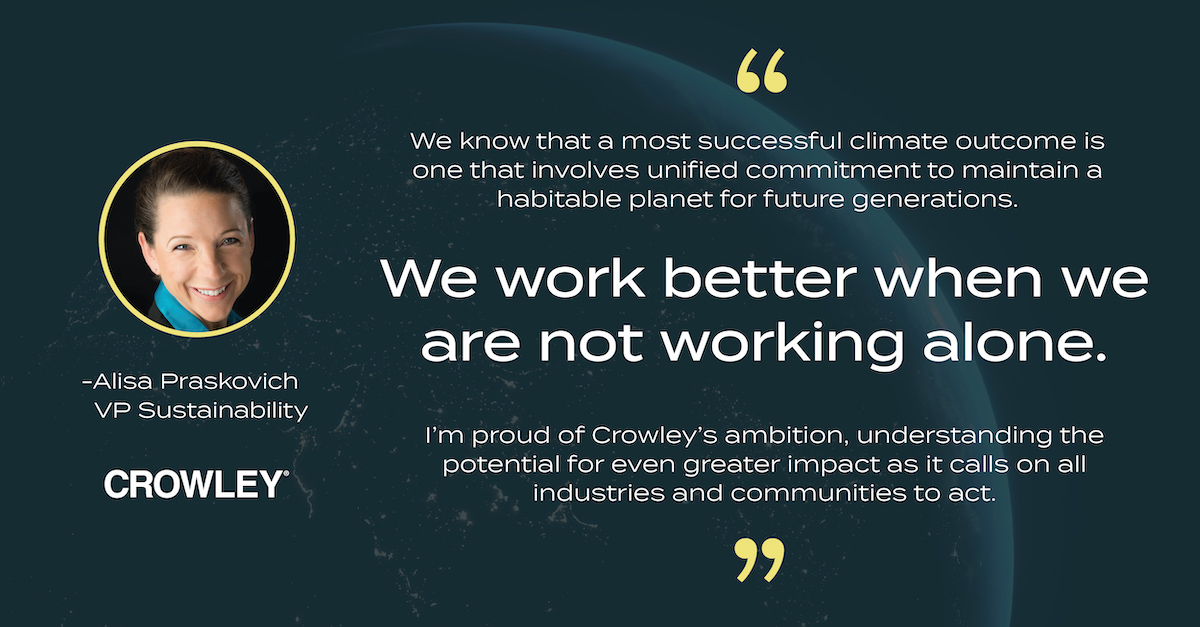 Where we are headed
Our sustainability journey involves many moving parts, working in unison to drive change.
To maintain clarity, promote openness on our progress and encourage idea sharing across the industry each step of the way, we have engaged Salesforce—an established leader and partner in emissions benchmarking, transparency and disclosures. Their Sustainability Cloud will provide accountability and visibility to meet our ambition.
Crowley is also set to release an enterprise-wide sustainability roadmap and complete our inaugural sustainability report in 2022.
Our other actions to date, include introducing the first all-electric tugboat, developing a program that will allow our customers to choose more sustainable fuels, designing clean energy vessels and helping drive the development of U.S. offshore wind power.
And we are just getting started.
Why it has never been more critical to come together
We know that a most successful climate outcome is one that involves unified commitment to maintain a habitable planet for future generations. We work better when we are not working alone. I'm proud of Crowley's ambition, understanding the potential for even greater impact as it calls on all industries and communities to act.
I hope you will stay tuned this week, as I join a key group of our nation's greatest changemakers and leaders in sustainability at Salesforce's Dreamforce NYC —where even more insight into this commitment will be touched upon.
---