Crowley Mariners Rescue Three Fisherman off Florida Coast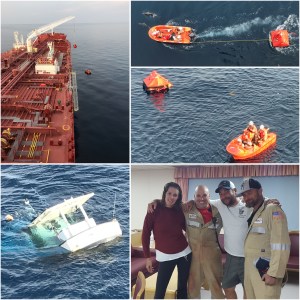 Kudos to the crew of the Crowley-managed and operated tanker, American Pride, who recently rescued three fisherman from their sinking boat off the west coast of Florida. As the tanker was making its routine transit, delivering refined petroleum products between Texas and Florida, Chief Mate Brian Enose noticed orange smoke, as well as a parachute flair, then spotted the sinking fishing boat about 50 miles offshore.
After notifying the U.S. Coast Guard and following their instructions, the crew of the tanker launched their rescue boat and proceeded towards the fishing vessel's life raft, where they rescued two men and one woman who had been adrift for over a day. They were brought aboard to safety before being transferred to a responding USCG vessel.
The rescue was profiled by The Maritime Executive Magazine, in which Capt. Matthew Thompson, commander of Coast Guard Sector St. Petersburg remarked that, "The quick and selfless actions of the American Pride crew saved three lives today."
Shipping & Logistics Announcements
Honduras Terminal Charge Increase
Following increases from the Honduras Terminal Operator OPC, the Honduras Handling Charge will increase by $20 per container on cargo imported or exported via Puerto Cortes, Honduras effective January 2, 2022. If you have any questions, please contact your sales representative or the Customer Care Department at 1-800-CROWLEY.
Read More
Shipping & Logistics Announcements
Dry Cargo Consolidation/BackLoading Charges from Miami and Jacksonville
1. Applicable for all Open Tariff and NRA rates. Effective January 1, 2022, Crowley Logistics, Inc.'s Dry Cargo Consolidation Charges will increase to the new levels indicated below from both Miami and Jacksonville. Applicable from Continental U.S. Only: Unless as otherwise provided, a Carrier Consolidation Fee from Crowley Operated facilities shall be assessed upon shipper's […]
Read More