550 Class Articulated Tug Barges (ATBs)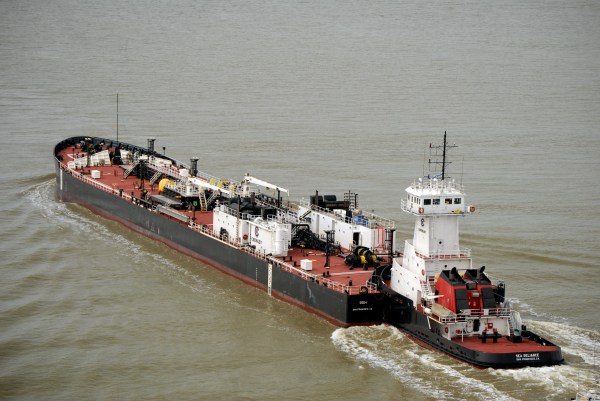 The first of their kind for Crowley, the 550 class ATBs were developed and designed specifically for West Coast operations and weather conditions, with advanced safety features such as double hulls, IGS, segregated ballast and radar gauging systems.  They offer proven reliability and performance, with the best achievable technology available today.
These ATBs were the first in the industry equipped to achieve speeds of 12 knots and to handle extreme weather conditions safely.  We currently have four 550 Class ATBs in operation on the West Coast.
550 Class ATB Fleet
Sea Reliance / 550-1
Sound Reliance / 550-2
Ocean Reliance / 550-3
Coastal Reliance / 550-4
550 Class Design Highlights
155,000 barrels at 96% capacity

Twin screw 9,280 hp tug with Intercon notch connection

Proven design for full ocean service; the robust Intercon notch connection system enables U.S. Gulf to West Coast, U.S. Gulf to East Coast, and Inter-West Coast trading capabilities

12 knot speeds in seas as high as Beaufort 5 conditions

Unit is designed to carry clean petroleum products and EZ chemicals to provide maximum cargo flexibility

Barge built under ABS SafeHull program for maximum environmental protection, which puts the vessel design through extensive review to identify and strengthen the vessel structure

Meets full SOLAS criteria for enhanced crew safety

Redundant steering system with oversized rudders for maximum handling capability

Double hull configuration

Transfer rates of up to 20,000 barrels per hour

Sumped cargo tanks allowing for minimal cargo ROB

Remote radar gauging in all cargo and ballast tanks

Two ballast pumps, each rated at 5,000 bbl/hour

Dual-mode inert gas vapor collection system for maximum safety, with a layer of inert gas covering the product in the tank to make the tank atmosphere too lean for combustion

Two hose-handling cranes with 10-ton safe working load

Enhanced mooring system featuring 1,000 feet of Spectra-type lines on split drums with a high-speed recovery rate of 100 feet per minute

One anchor windlass with 10 shots of chain for offshore mooring operation

Barge meets OCIMF and ISCOTT requirements