First of Two Jensen-Designed, ASD Line-Haul Tugs Delivered to Hyak Maritime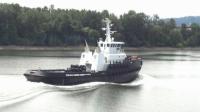 (SEATTLE; July 3, 2013) – Seattle-based naval architecture and marine engineering firm, Jensen Maritime, today announced the delivery of the Hawaii, the first of two 120' x 35' x 19' Jensen-designed ABS machinery class ocean-going tugboats, to Hyak Maritime, a marine equipment and vessel owner based in Dover, Delaware. The Hawaii was built by JT Marine of Vancouver, Wash. Hyak's second tug, the Washington, is scheduled to be delivered by the end of 2013.
The Hawaii and Washington are based on the successful Titan class tugboats, which Jensen developed alongside Western Towboat, a Seattle-based tug and barge company. Western Towboat, which continues to own and operate these tugboats, has been so pleased with the design that it is currently constructing its seventh, Jensen-designed, Titan class tugboat.
Powered by twin GE 8L250 EPA Tier II engines, each rated at 2679 HP/1999 KW at 900 RPM, the ABS Maltese Cross A1, towing service, machinery classed Hawaii and Washington consume significantly less fuel and enjoy much lower maintenance costs than other equivalently powered oceangoing tugboats.  Measuring 497 international tons and 91 regulatory tons, the tugs are qualified to sail in all U.S and worldwide waters with the smallest possible crew.  They are fitted with a pair of Schottel 1515 Z-drive units for superior maneuverability of tows in port and in close quarters.  Living spaces are acoustically-dampened and fireproofed using the NORAC and Danacoustic systems, ensuring crew comfort and safety.
"These line-haul design projects give Jensen the opportunity to keep improving on a tug design that has been relied on for many years.  Each time we are granted one of these contracts, we find a way to improve the design, which guarantees our customers the most modern equipment available," said Jensen's Johan Sperling, vice president. "We look forward to seeing them in action."
Seattle-based Jensen Maritime Consultants, Inc., is a full service naval architecture and marine engineering firm owned by Crowley Maritime Corporation. The company offers a diverse range of consulting, design and engineering services developed from 50 years experience working around the world. Jensen is a recognized leader in the design of all types of vessels – particularly workboats, fishing boats and passenger ferries – and has built a favorable reputation on a long history of successful designs and conversions with close attention to engineering basics. The company's services include detail and conceptual design and engineering, lofting, regulatory and shipyard liaison as well as on-site consulting services and on-location assistance anywhere in the world. Additional information about Jensen may be found on the Internet at www.jensenmaritime.com
                # # #