Crowley to Supply Alaska LNG to Alaska Power & Telephone Company's Power Plant in Tok
Crowley Maritime Corporation's liquefied natural gas (LNG) services group has been awarded a contract to supply Alaska LNG from the Titan Pt. Mackenzie plant to Alaska Power & Telephone Company's Tok power plant.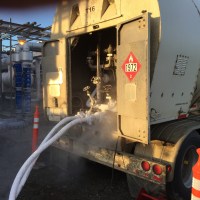 The contract, executed through subsidiary Crowley LNG Alaska, includes both the product supply and technical services required to successfully leverage the benefits of LNG at the Tok power plant. With Crowley's support, Alaska Power & Telephone will expand environmental sustainability efforts by developing the capability to use LNG to supplement diesel-based power generation. Development of this dual fuel capability is key to providing cleaner, more affordable energy to ratepayers.
Crowley will facilitate the transportation of LNG in a safe and reliable manner from liquefaction facilities in Alaska to the plant in tank trailers authorized by the U.S. Department of Transportation. Once at the plant, the LNG will be re-gasified and piped to a dual fuel kit supplied by ECO/AFS for power consumption.
"Crowley is extremely pleased to be a vital fuel supplier to Alaska Power & Telephone," said Matthew Sievert, director, Crowley LNG business development. "We have been working side by side with Alaska Power & Telephone for over a year now, assisting with the engineering and design to utilize natural gas and to carry out the logistics necessary to accommodate LNG delivery to the Tok plant. We want to thank Bob Grimm, president of Alaska Power & Telephone, and his staff for having confidence in our services as they develop an innovative fuels portfolio that includes LNG, a cost-effective, safe, reliable and environmentally friendly fuel."
Alaska Power & Telephone (AP&T) is a leading provider of local power, telephone and communication services in 40 rural Alaskan communities.
"AP&T is proud to be able to offer our customers in the Tok region access to LNG as a new, cleaner option to diesel-based generation," said Grimm. "Long-term, LNG will combine with new wind, hydropower and transmission resources planned for the Tok region, and will provide a more affordable utility environment for families and businesses. Crowley's partnership has been instrumental in making this concept a reality. We look forward to our companies' continued partnership as we seek to expand the opportunities for customers to use LNG in rural Alaska, both inside and outside AP&T's existing service areas."
At AP&T's Tok plant, ECO/AFS will install its bi-fuel technology to support LNG usage in the rural Alaskan community.
"ECO/AFS is extremely excited about the rural community opportunities of bi-fuel technology happening in Alaska," said Jeff Anderson, regional manager, ECO Alternative Fuel Systems. "We believe this project will help create a lot of interest in Alaska for this type of application as an option to reduce emissions using LNG supplied by Crowley. ECO/AFS has already received several other quote requests from rural communities as well."
LNG is a safe, environmentally-friendly fuel that is simply natural gas in a liquid state. Natural gas is the cleanest burning fossil fuel and is being used throughout the world to reduce greenhouse emissions. Compared to coal and other fuel oils, natural gas produces far fewer carbon dioxide and sulfur emissions.
Crowley LNG Alaska services group was formed in 2015 to begin offering supply, transportation and distribution of LNG services to the Alaska market. Crowley, through its Carib Energy group, today supplies containerized LNG through the Port of Jacksonville, Fla., to customers in Puerto Rico and the Caribbean.
Crowley is a leader in the Alaska fuel industry, providing transportation, distribution and sales of petroleum products to more than 280 communities across the state. For more than 60 years the company has grown its portfolio to respond to the evolving energy needs of the Alaskan market.    
About Crowley Maritime
Jacksonville-based Crowley Holdings Inc., a holding company of the 124-year-old Crowley Maritime Corporation, is a privately held family and employee-owned company. The company provides marine solutions, energy and logistics services in domestic and international markets by means of six operating lines of business: Puerto Rico Liner Services, International Liner Services, Logistics Services, Petroleum Services, Marine Services and Technical Services. Offered within these operating lines of business are: liner container shipping, logistics, contract towing and transportation; ship assist and escort; energy support; salvage and emergency response through its 50 percent ownership in Ardent Global; vessel management; vessel construction and naval architecture through its Jensen Maritime subsidiary; government services, and petroleum and chemical transportation, distribution and sales. Additional information about Crowley, its subsidiaries and business units may be found at crowley.com.
About Alaska Power and Telephone
Alaska Power & Telephone is an employee- and investor-owned company founded in Skagway, Alaska, in 1957, just prior to statehood. The company provides a variety of regulated and non-regulated electrical and telecommunications services in 40 different Alaskan communities.  AP&T has pioneered innovative rural energy development projects across Alaska. In addition to owning and operating numerous diesel plants, AP&T currently owns and operates seven hydropower projects, a utility scale solar installation, and is in the process of constructing two additional hydropower projects (Hiilangaay and Yerrick Creek), as well as a wind farm at 7-Mile ridge, located north of Mentasta, near Alaska Route 1. Additional information about AP&T can be found at www.aptalaska.com.
About ECO/AFS
ECO/AFS, which has been in business for eight years, is the leader in bi-fuel technology. The company has installed the bi-fuel technology on over 400 engines throughout the United States and continues to focus on other opportunities in the Alaskan market. The dual fuel systems operate in public utilities, asphalt plants, oil and gas facilities, remote generator operations as well as at peak shaving and emergency facilities around the country.
#     #     #
To download a copy of the photo for reproduction, click here. 
The photo will open in your browser; right-click on the photo and select "Save As" to download.