Crowley Restructures Business Units, Enhancing Service to Customers and Leveraging Scale to Gain Efficiency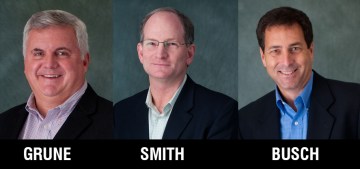 Crowley Maritime Corporation announced today that it has restructured its business units thus increasing the company's ability to bring solutions to customers by leveraging its strong culture and high-performance capabilities. The restructuring also increases Crowley's focus on government-related business, and better aligns vessel operations and fuel distribution services with its customers, positioning the company for greater growth and efficiency.
Over the coming months, Crowley will transition its non-liner and logistics business units into three main service lines – Crowley Shipping, Crowley Fuels and Crowley Solutions.  The company expects this to be an orderly and transparent transition allowing the corporation to stay keenly focused on running the business with the same reliable service customers have come to expect over Crowley's 125-year history.
Rob Grune, senior vice president and general manager, will oversee Crowley Shipping,which  encompasses vessel ownership, operations, and management services, including deep sea petroleum transportation; ship assist and escort services on the West Coast; offshore vessels, including the company's ocean-class tugs and flat deck barge fleet; and commercial ship management services, including the management of Crowley's Commitment-Class ConRo ships under construction and three tankers, which are in the process of being acquired from SeaRiver Maritime.
Under Rocky Smith, senior vice president, Crowley Fuels will include Crowley's LNG sales, distribution and engineering unit, and the company's fuel sales and distribution business in Alaska. This alignment leverages the company's expertise in transporting, storing and distributing various types of fuel across an expanded geographic footprint.  
Todd Busch, senior vice president and general manager, will lead Crowley Solutions, which includes engineering and project management services; naval architecture and engineering through subsidiary Jensen Maritime; government vessel management; and a unified government business development team focused on leveraging Crowley's operational expertise to deliver commercial solutions to government customers.
"This plan facilitates a pivot towards growing the company's government portfolio of work, building upon recent successes such as our recent $2.3 billion-dollar Defense Freight Transportation Services contract award and our current work with FEMA to bring much-needed supplies to Puerto Rico and the Virgin Islands," said Tom Crowley, company chairman and CEO. "The alignments within Crowley Shipping and Crowley Fuels better tie our markets, customers, processes and technology together to be more responsive, efficient and cost effective."
The liner shipping and logistics business units will continue to transition towards a singular supply chain solutions division – Crowley Logistics, consolidating its current logistics and liner services over the next several years.
"We are building a best-in-class logistics company that provides elite liner services and supply chain solutions," Crowley said.
"We are enthusiastic that these changes – driven by all our employees, who power our high performing culture, will help us reach our mutual goals of enhanced efficiency and growth."