Crowley Named a Top 100 Third-Party Logistics (3PL) Provider for Sixth Consecutive Year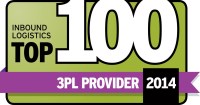 Crowley Maritime Corp.'s logistics group has been named a Top 100 Third-Party Logistics (3PL) Provider by Inbound Logistics for the sixth consecutive year. Editors selected Crowley and fellow honorees from hundreds of candidates based on each company's ability to meet and surpass readers' evolving outsourcing needs.
"This award is – again – a great testimony to the hard work of our entire team, which continues to focus on streamlining our customers' supply chain through the unique vertical integration that Crowley offers clients," said Crowley's Frank Larkin, senior vice president and general manager, logistics. "If time is indeed money, our customers recognize that making one call to Crowley can help them find the extra velocity they are looking for in delivering their products to market. We are grateful to once again receive this recognition from the editors of Inbound Logistics."
Crowley's logistics group has been recognized as a Top 3PL Provider since 2009. Each year, Inbound Logistics recognizes the best logistics solutions providers based on their ability to offer diverse operational capabilities, scalability and experience to meet unique supply chain and logistics needs. Editors selected this year's class of Top 3PL providers from a pool of more than 250 companies. They carefully analyzed submissions for consideration by conducting phone interviews and online research, and compared that data to readers' burgeoning global supply chain and logistics challenges. The resulting list celebrates logistics service providers that are at the top of their game while detailing the broad array of services and solutions they provide.
"World-class logistics performance is crucial for companies of all sizes – from Fortune 500 to SMBs. Given the scope and scale of that challenge, IL editors recognize that Crowley provides the kinds of solutions that companies large and small rely on to solve the tactical logistics issues of serving customers better, faster and more efficiently," said Felecia Stratton, editor, Inbound Logistics. "Crowley is responsive, and continues to anticipate evolving needs by also offering the strategic solutions required to drive business process improvement and change for customers. For those reasons, Inbound Logistics editors are proud to recognize Crowley as one of our 2014 Top 100 3PLs."
Inbound Logistics is a leading trade magazine targeted toward business logistics and supply chain managers. The magazine's editorial mission is to help companies of all sizes better manage corporate resources by speeding and reducing inventory and supporting infrastructure and better matching demand signals to supply lines. More information is available at www.inboundlogistics.com.
Jacksonville-based Crowley Holdings Inc., a holding company of the 122-year-old Crowley Maritime Corporation, is a privately held family and employee-owned company. The company provides project solutions, transportation and logistics services in domestic and international markets by means of six operating lines of business: Puerto Rico/Caribbean Liner Services, Latin America Liner Services, Logistics Services, Petroleum Services, Marine Services and Technical Services. Offered within these operating lines of business are: liner container shipping, logistics, contract towing and transportation; ship assist and escort; energy support; salvage and emergency response through its TITAN Salvage subsidiary; vessel management; vessel construction and naval architecture through its Jensen Maritime subsidiary; government services, and petroleum and chemical transportation, distribution and sales. Additional information about Crowley, its subsidiaries and business units may be found at www.crowley.com.
# # #