Crowley Hires David Sullivan as Vice President, Business Development & Capture Management, Government Services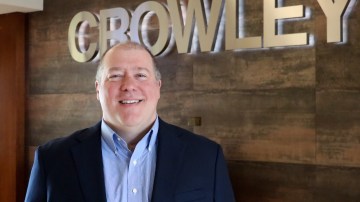 (JACKSONVILLE, Fla.; May 1, 2018) ­– Crowley Maritime Corp. announced today that David Sullivan has joined the company as vice president, business development and capture management, government services. Sullivan will be based in Jacksonville and report to Todd Busch, senior vice president and general manager, Crowley SOLUTIONS.
Capture management is the process used by government contractors to pursue and win new business. In this role, Sullivan leads Crowley's government business development team to strategically identify the needs of government and military customers and provide them with solutions using the company's wide-ranging suite of services. When contracts are acquired, he will work with Crowley teams to support and ensure success for the new government business.
"With proven experience generating new business for all types of companies, David will be instrumental in helping us with sales, capture management and government relations," said Busch. "We welcome him to the team and look forward to the progress he will make in enhancing our company's continued growth as a government services provider and in strengthening government relationships."
Sullivan comes to Crowley from Northrop Grumman Corporation, where he was a capture strategist tasked with helping the company gain government program contracts of strategic value. He began his career in 1990, serving as the personal aide to U.S. Sen. John D. "Jay" Rockefeller IV (D-WV), before moving on in 1993 to hold various management and executive positions of increasing responsibility with Verizon, Lucent Technologies, Level(3) Communications, URS Corporation/AECOM and ManTech International. In 2001, he co-founded The Fearthainne Group, serving as senior vice president and chief operating officer. The company provided business management consulting services, with a specialization in federal government contracting, the oil and gas industry, and international business.
He has a bachelor's degree in political science and international affairs from Randolph-Macon College, and a master's degree in political management from George Washington University. Additionally, he completed the University of Chicago Booth School of Business' Market Strategy and Capture Strategy executive programs in 2015 and 2016, respectively.
In the community, Sullivan volunteers his time to various charities, most notably in support of the Leukemia & Lymphoma Society.
Jacksonville-based Crowley Holdings Inc. is a 126-year-old privately held family and employee-owned company that provides marine solutions, energy and logistics services in domestic and international markets. Crowley operates under four business units: Crowley FUELS, supplies fuel, fuel infrastructure and energy solutions; Crowley LOGISTICS, a singular ocean liner and logistics supply chain division; Crowley SHIPPING, which encompasses vessel ownership, operations and management services, including tankers, containerships, tugboats and barges; and Crowley SOLUTIONS, focusing on government services including engineering, project management, naval architecture and government vessel management. and salvage and emergency response through its 50 percent ownership in Ardent Global. Additional information about Crowley, its subsidiaries and business units may be found at www.crowley.com.
# # #