As Seen in "WorkBoat" Magazine: McAllister Takes Delivery of New Jensen-Designed Tug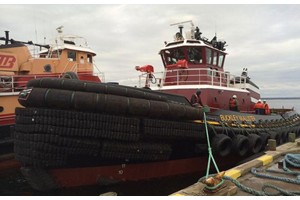 In a June 23, 2014, WorkBoat article, it was announced that McAllister Towing took delivery of the Jensen Maritime-designed 92′ x 36′, 5,150 HP tug, the Buckley McAllister. The vessel was recently built at Senesco Marine. 
The article continues:
"The tug is classed with ABS as Maltese Cross A-1 Towing, Escort Service, FiFi 1 and Maltese Cross AMS. Powered by two powered by 3516CHD diesel engines, the Buckley McAllister will be the second Tier 3 compliant tug in McAllister Towing's fleet. 
On the fore deck the Buckley McAllister has a JonRie Series 250 Full Render/ Full Recover winch with a line pull of 70 tones. The Escort Winch is supplied with 600' of 9" Samson Saturn-12 hawser and winch braking force of 300 tons with a line speed of 100 FPM. The winch also features an Active Heave Compensation System for controlled payout (Freewheel) of the winch and recover when needed with constant scope. The system also includes dual Tension Systems with dimmable side light tension meters and foot control for hands free operation. Also supplied is a line tension data system for predicting rope life and replacement.
On the stern is a JonRie Series 512 Towing Winch with 2,100' of 2 ¼" wire boasting a line pull of a 140,000lbs at 60 FPM. Both winches driven by a Hagglunds motor or direct drive the failure of over speeding a gearbox is never an issue as JonRie supplies a reliable system. When making up a tow there is never a need to be back on deck as the level wind is independent and can be controlled and unclutched from the pilot house. Also a feature is the independent drive gypsy (Capstan) on the winch, which means no open clutches and no maintenance. The system is also supplied with a Green Passport using Green oil in all systems."
(Photo credit: Workboat)