Transportation of Licensed Cargo to Cuba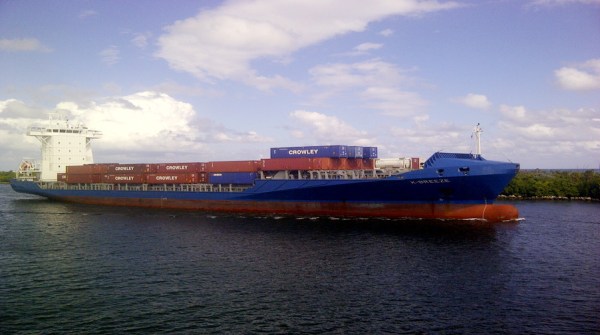 Pioneers in the U.S. – Cuba Trade Since 2001
Crowley launched its Cuba service in December of 2001 becoming the first United States carrier to re-enter Cuba in nearly 40 years. Crowley has maintained a regularly scheduled liner service ever since, making its commitment very clear. Just as the company has continued to grow in worldwide logistics business for the last 128 years, Crowley plans to continue to expand its service in the United States/Cuba trade.

Licensed Cargo to Cuba
Crowley offers integrated logistics services for full container load (FCL) shipments between Wilmington, North Carolina, Jacksonville and Port Everglades, Florida, to Cuba, with four convenient sailings per month to the Port of Mariel.
To complete the full logistics chain, Crowley offers warehousing, cross dock facilities in the company's Jacksonville and Medley, Florida, facilities as well as customs brokerage.
In addition to containerized dry cargo, Crowley can handle containerized reefer cargo, heavy lift and – via its Crowley Cuba Express service – small package donations.
Crowley's capabilities include:
Full intermodal service in the U.S.
Cross Dock and Warehouse Consolidation
Foreign Trade Zone
In Bond Storage
Oversized Equipment
Available equipment includes:
Enclosed 20' and 40' dry high cube containers
20′ and 40′ refrigerated containers (reefers)
40′ flat racks
All Southbound cargo shipped through Crowley must have either a general or specific license from the U.S. Department of Commerce, and all Northbound cargo must have U.S. Office of Foreign Assets Control (OFAC) approval. All imports and exports must be authorized by the Government of Cuba.

Cuba Express Shipping Service
In 2017, the company began its Crowley Cuba Express services, becoming the one-stop source for shipping gift parcels and household goods from South Florida to the Port of Mariel. Our longtime expertise has helped consumers to efficiently and reliably send select goods to family and friends in Cuba.
Gift parcels services include:
16-hour transit times from Port Everglades, Florida
Four sailings per month and cargo tracking to Mariel
Assistance with packaging and export documentation
Management of online purchases
Customs clearance and at-home delivery to destinations throughout Cuba via our Cuba partner
Crowley has made available a list of approved gift parcels allowed for entry to the Republic of Cuba, as well as information on the allowed quantities and value per item.
Household Goods
Crowley's household goods services contemplate the shipping of goods and property/domestic products to be placed in a home. Customers importing household goods, new or used, are free of Customs duty if the foreign customer has lived outside of Cuba for more than a year.
For more information about authorized cargo to Cuba, gift parcels and/or household goods shipping services, call the People Who Know at 1-888-246-9844.
Search our Sailing Schedules