Overview
Crowley owns and operates one of the most advanced fleets of ship assist and tanker escort tugs in North America. These vessels operate along the U.S. West Coast assisting the largest ships through some of the tightest, most environmentally sensitive  waterways in the world. Crowley entered the ship assist business at the start of the 20th century, operating steam-powered tugs in San Francisco Bay in 1906. Though much has changed, the company's commitment to safety and to protecting the environment has remained constant. Our history allows us to bring an unmatched level of experience to harbor towing and vessel escort.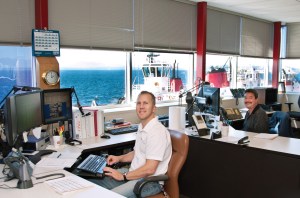 The company-owned equipment sets the industry standard for innovation, with state-of-the-art tugs designed for performance and environmental stewardship. Crowley's West Coast ship assist and escort tugboats meet and exceed general operating standards, and our fleet is ISO 9001-2000 and 14001 (environmental) certified. The company's resume of past performance includes a partnership of more than 25 years with the Alyeska Pipeline Service Company, in which Crowley provided the world's most comprehensive spill prevention and response services  for laden tankers transiting from Valdez, Alaska through Prince William Sound.
Additionally, service at Crowley means 24-hour dispatch, expertise in the wheelhouse, an experienced and helpful voice on the other end of the radio or phone, and a fleet of nimble, powerful tugs at the ready. Please let us know how we can be of service.
Service Details
Fleet Description
Quality and Certifications
Fleet Overview Video
We provide knowledgeable, skilled personnel and advanced tugs to:
Safely assist all types of ships in and out of their berths, including small freighters, container ships, aircraft carriers and Very Large Crude Carriers (VLCCs)
Escort oil tankers quickly and safely through shipping channels and environmentally sensitive waters
Tow ships and other types of vessels
Fight vessel fires
Respond to fuel spills
Work effectively in extreme climates and sea conditions