Click any point on the map for details about our services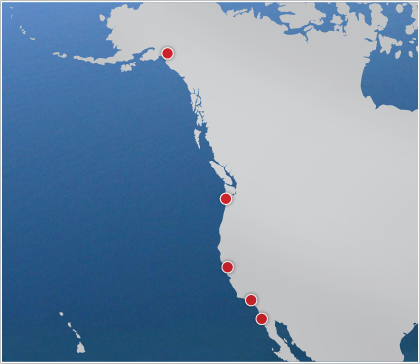 Pacific Northwest
Our highly flexible fleet supports our customers wherever they do business, including the Pacific Northwest, which presents some very distinct environmental and physical challenges.
In North Puget Sound, we assist large tankers in and out of berths and provide escort services throughout rugged coastal region under very extreme weather conditions. Our high horsepower/high bollard pull rated tugs, which are equipped with the latest technology in navigation, communications and firefighting equipment, have been specifically designed to provide safe and efficient escorts and assists to tankers operating in the region.
In Seattle, Tacoma and other regional surrounding ports, we provide escort and docking services for tankers, container ships and other vessels.
As a proud service provider in the region since the 1920s, we have participated in activities and worked with other organizations for the advancement of the local maritime community.
The following tugs are in operation in the Pacific Northwest:
| | | | |
| --- | --- | --- | --- |
| Vessel Name | Horsepower | Bollard Pull | Propulsion |
| Response | 7.240 | 154,000 lbs | Voith-Schneider Cycloidal |
| Vigilant | 6,700 | 182,000 lbs | Rolls-Royce Azmuthing |
| Guard | 5,500 | 120,000 lbs | Voith-Schneider Cycloidal |
| Protector | 5,500 | 120,000 lbs | Voith-Schneider Cycloidal |
| Chief | 4,800 | 111,500 lbs | Voith-Schneider Cycloidal |
| Guide | 4,800 | 111,500 lbs | Voith-Schneider Cycloidal |