Veteran Salvage Master Shelby Harris Assumes New Leadership Role within TITAN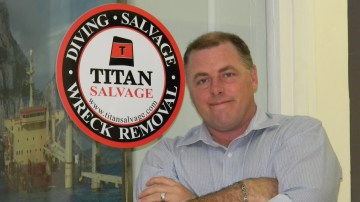 (POMPANO BEACH, Fla.; June 27, 2013) ­– Veteran Salvage Master Shelby Harris has been named TITAN Salvage's new director of marine operations in Asia, where he will bring more than 15 years of experience responding to large-scale domestic and international salvage and wreck removal projects. He will be based out of the company's Singapore office and equipment depot, a 45,000-square-foot site west of the city, and report to TITAN's Director of Operations Patrick Keenan.
Harris will be in charge of spearheading operational efforts and continuing to strengthen the team in the region, where TITAN has continued to grow its presence, response and capabilities since opening there in 2009.
"Shelby is one of the most experienced, innovative and successful salvage masters in our industry," said Keenan. "His technical acumen and operational focus will blend perfectly with the commercial expertise of our Asia General Manager Chandran Mathavan. Their leadership will help us become an even more formidable force in the region for both wreck removal and marine emergency response."
"Because we have salvors we can rely on like Shelby, we are able to take risks others can't, said TITAN Managing Director Rich Habib. "He is a great fit for this role and will help us continue to meet the operational excellence our customers have come to expect with every project."
Harris joined TITAN in 1998 as a commercial diver shortly after graduating from the Divers Institute of Technology in Seattle. He quickly moved up the organization with roles of increasing responsibility to his most current position as salvage master, which he assumed in 2004 after being part of more than a dozen large-scale projects – responding to several wreck removal and emergency response activities throughout the world, including those in the Western Pacific and Indian Oceans. He also recently coordinated a 70-man dive team for grouting operations on the stabilization phase of the ongoing Costa Concordia project off the island of Giglio, Italy, and helped ensure the successful wreck removal of the New Carissa off Coos Bay, Oregon. Harris' work has also been featured in several news publications and TV news segments.
TITAN's Singapore depot consists of warehouse, office and storage areas, allowing for the storage, repair and maintenance of the extensive stock of specialized salvage equipment. The depot's strategic location at 8 Tuas Avenue 12, Singapore, 639029, allows for rapid emergency response in the region. The 24-hour phone number is: +65-63187828.
About TITAN Salvage
TITAN, a wholly owned subsidiary of Crowley Maritime Corporation, is a worldwide marine salvage, emergency response and wreck removal company based in Pompano Beach, Fla., that has performed more than 450 salvage and wreck removal projects since 1980, including some of the most technically demanding projects ever undertaken. The company also has offices and equipment depots in the UK, Singapore & Australia. TITAN responds to vessel emergencies around the world and is able to mobilize a worldwide network of expert salvage professionals and specialized, portable equipment within hours of activation. TITAN is accessible 24 hours a day through the company's main dispatch telephone number, +1-954-545-4143. Additional information about TITAN may be found at www.titansalvage.com.