Crowley Wins U.S. Coast Guard's Highest Honor for Environment, Safety
Crowley has been awarded the Rear Admiral William M. Benkert Marine Environmental Protection Award for Excellence, the U.S. Coast Guard's most prestigious merchant marine honor, for the global shipping and logistics company's commitment to safety and sustainability while exceeding essential standards for operations. Crowley received the Osprey designation, the Benkert Award program's highest distinction.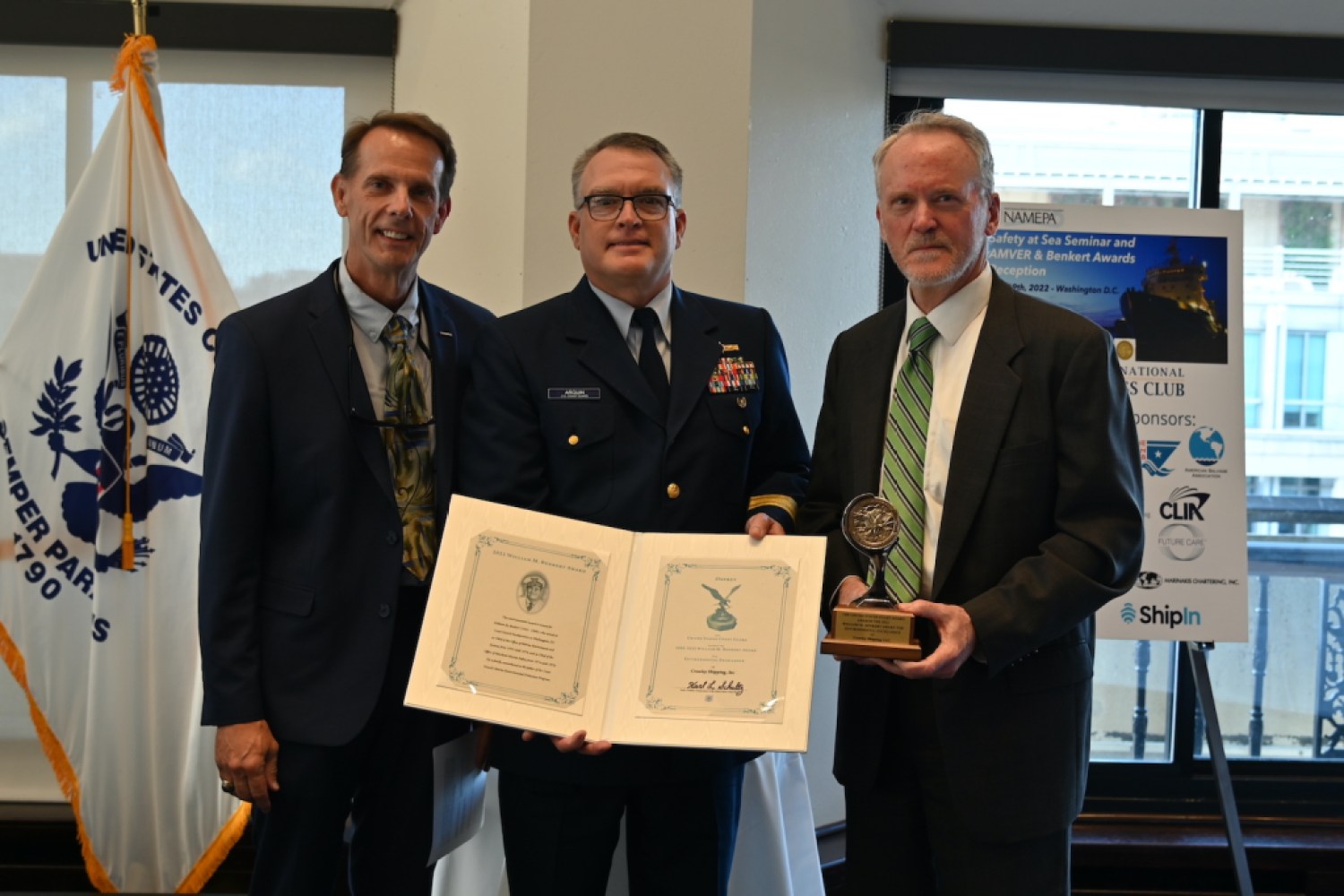 "The Benkert Award is a tremendous honor that above all reflects the dedication of the men and women in every facet of our organizations to go above and beyond basic regulations and industry standards. Each day, our mariners live our commitment to Integrity, and safety is essential to what we do – from our vessels, to our terminals, to our engineering and shoreside safety professionals and all others," said Tom Crowley, the company's Chairman and CEO.
"We appreciate the trust and recognition of our work by the U.S. Coast Guard, who are the maritime industry's partners in ensuring our marine transportation safely operates to deliver cargo for America."
Operating more than 170 vessels, Crowley has built on its established safety and environmental management systems and leadership programs – which include stop-work authority for every employee and contractor – in recent years, setting its ambition to be the most sustainable maritime, logistics and technology company in the Americas. The company has committed to reach net-zero emissions across all scopes using the Science Based Targets Initiative standards, and Crowley is the first maritime corporation to use Salesforce's Net Zero Cloud to measure that progress.
As part of its commitment to environmental protection in maritime, Crowley is constructing the U.S.'s first all-electric, zero-emissions harbor tug that it will operate in San Diego in 2023 in addition to implementing innovative ballast water treatments and other vessel systems. 
The largest U.S. employer of merchant mariners, the company also has enhanced its concentration on development and empowerment opportunities for mariners and administrative personnel even as it overcame challenges of COVID-19 in daily service. The company's commitment to inclusion includes resource groups recognizing the diversity of employees. Crowley offers paid time off to volunteer for charitable causes, and various training and development opportunities for team members across career levels, including internships, management and executive development programs, placing Crowley at the forefront of the transportation industry's commitment to the next generation.
"None of our success would be possible if our people were not willing to take on these responsibilities, which are often outside of their normal day-to-day job requirements. Integrity, which is our first core value, means doing the right thing when no one is looking. This award is a testament to our people's unending commitment to live up to that value," said Kelly Baughman, director, environment, Crowley Shipping.
The award, given every two years, was presented by the Coast Guard's Wayne Arguin, assistant commandant for prevention policy, on May 19 in a ceremony at Washington's National Press Club.
The program recognizes corporations and businesses involved in marine facility or vessel operations that have demonstrated sustained excellence and outstanding achievement in protecting the marine environment. It also encourages innovations in operations, pollution prevention and response, environmental outreach and partnerships and provides a means for award recipients to share their successful methods and techniques with others in industry.