Innovative Solutions to Support Offshore Energy Development
Renewable or Nonrenewable, Crowley Has the Technically Advanced Marine Assets, Deepwater Experience and Innovative Solutions to Support Offshore Energy Development
Crowley has long been a reliable partner for oil and energy majors and their prime subcontractors both nearshore and in the deep waters of oceans across the globe. This is undoubtedly a nod to the safe, reliable operations of Crowley's well-trained crews and land-based project management and engineering professionals, as well as to the strength and diversity of the company's expansive fleet of dynamic positioning, ocean-going tugs and heavy lift barges.
Through the company's 125-plus years of history, they've successfully completed some of the most challenging commercial sealifts in history. Unphased by environment, size or timeline, the company's onshore and vessel personnel add value while solving problems.
Part brute strength, part engineering prowess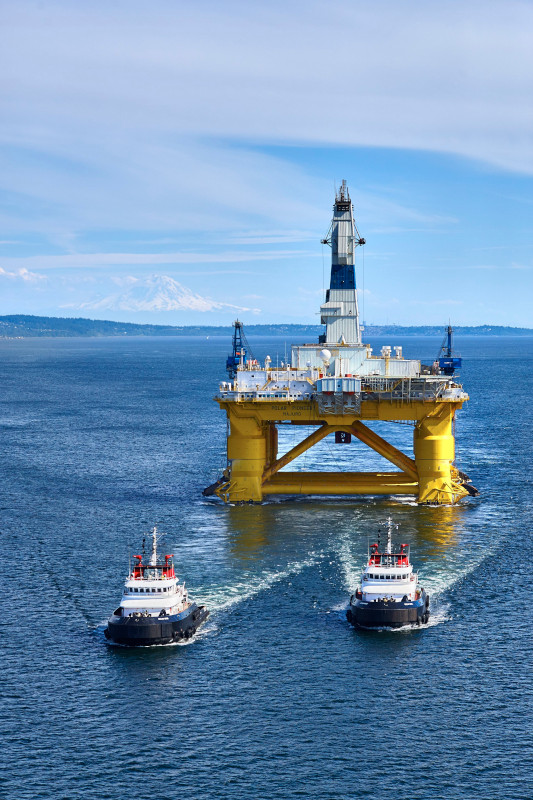 As the company has continued to flex the usage of its varied fleet while leveraging the advanced capabilities of their four Ocean class tugs in particular, they, along with their customers, have gained an important level of comfort with their performance that keeps them in high demand, job after job. Each of the company's Ocean Class tugs features high bollard pull and Dynamic Positioning (DP) capabilities, to provide both the power, performance and maneuverability for nearshore and offshore towing and station holding once onsite. The tugs' DP allow them to position themselves using satellites and hold within specified tolerances – an advantage increasingly in demand by oil companies for moves and tow-outs.
Capability-rich describes these tugboats to a T. All four of the Ocean class tugs are twin-screw vessels with controllable pitch propellers (CPP) in nozzles, high lift rudders and more than 147 MT bollard pull. Two Ocean Class vessels, the Ocean Wave and Ocean Wind, are classed as Dynamic Positioning 1 (DP1) tugboats and are twin-screw, steel-hulled tugs with an overall length of 146 ft., beam of 46 ft., hull depth of 25 ft. and design draft of 21 ft. Two other tugs of the class, Ocean Sky and Ocean Sun, are classed as DP2 and are 10 feet longer. The vessels are capable of rig moves, platform and Floating Production, Storage and Offloading (FPSO) unit tows, decommissioning projects, wind farm support, emergency response, salvage support and firefighting.
Likewise, Crowley's heavy lift, high deck-strength barges are capable of carrying uniform loads up to 4,200 pounds per square foot and measure up to 130-feet wide, specs that pair well with the ocean class tugs' capabilities for offshore energy exploration and development projects, module transportation, top sides, offshore wind farm projects, offshore drilling platforms and offshore installation support.
The equipment has been used in tandem with direction from some of the most respected experts in the business to perform high-profile, challenging and even, historic jobs.
Offshore Oil Production and Drilling Platform – TLP Olympus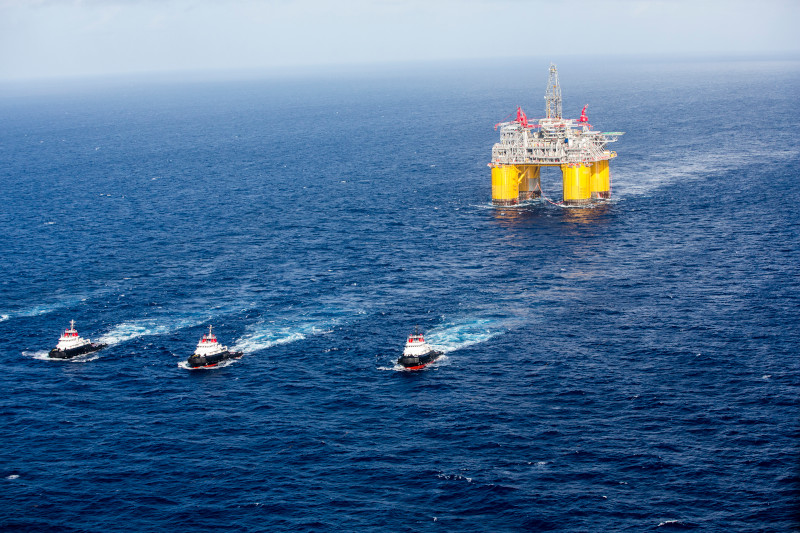 The largest offshore oil production and drilling platform of its kind ever to be built for use in the deep waters of the U.S. Gulf of Mexico, 120,000-ton tension leg platform (TLP) Olympus, owned by Royal Dutch Shell (Shell), cast an epic shadow on her able escorts – Ocean Wind, Ocean Wave, Ocean Sun and Ocean Sky – as she made her 425-mile journey from Ingleside, Texas, to her final location in more than 3,000 feet of water.
During the inshore phase of the tow out, Ocean Wind and Ocean Wave kept their bows pressed to specially made push frames on Olympus, moving the platform away from the dock, through Aransas Pass, and out to the deeper waters of the Gulf for ballasting to tow draft. Simultaneously, the Ocean Sun, which had also been hull modified for pushing, provided redundancy behind the convoy while the Ocean Sky led from the front.
Once safely outside of the port, the three tugs transitioned to the offshore phase of the tow out. Ocean Sky took an active role among her sister vessels to ensure safety of crew and cargo as they and the platform transited further offshore. Once Olympus had safely reached her offshore home, the tugs transitioned into the final positioning phase. Ocean Wind, Ocean Wave and Ocean Sun held the station-keeping star pattern alongside the Heerema-contracted anchor handling vessel, Union Manta, which together held Olympus in position for connection to pre-installed tendons on the ocean bottom.
Deepwater Oil and Gas Project – Lucius Spar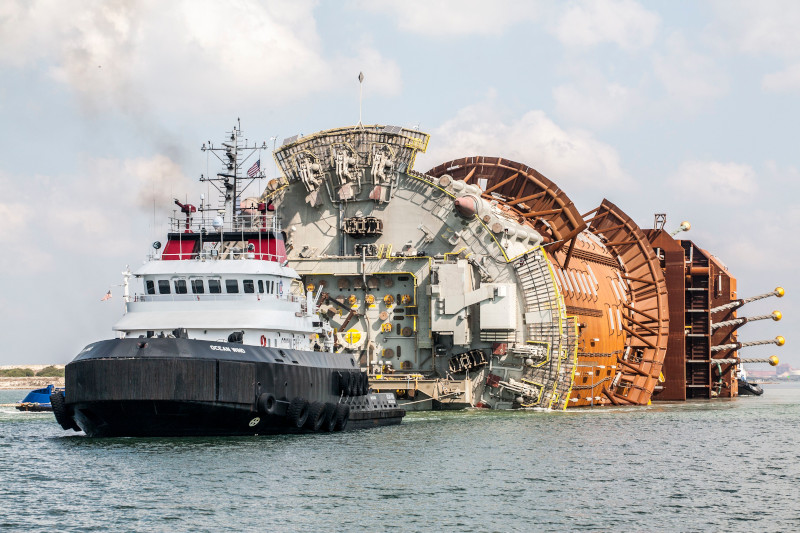 The same tugs, Ocean Wind, Ocean Wave and Ocean Sun, towed the 605-foot long, 110-foot wide spar from Corpus Christi, Texas, through the Ingleside Channel to some 300 miles offshore. Crowley Invader-class tugs, Pilot and Warrior, towing heavy-lift series barges 455-5 and 455-9, followed the successful trio with 20,000 tons of dry ballast materials to help lower Lucius into the water during installation.
Once in deep water, the Ocean Wind, Ocean Wave and Ocean Sun helped to hold the platform in its final location and remained on site in a star pattern to provide support as the spar was connected to its moorings and made storm safe in 7,100 feet of water.
The offshore energy project continued with transport of the rig's sub cellar deck, which is the lower of the two decks of the spar topside structure. This was transported aboard Crowley's Marty J, the first of Crowley's eight 400-foot by 105-foot-wide high-deck strength barges and towed by the Ocean Sun. Crowley also towed Lucius' 9,000-ton topside module atop barge Julie B from Corpus Christie, Texas, along the same 300-mile route as its preceding parts.
Deepwater Project – Jack/St. Malo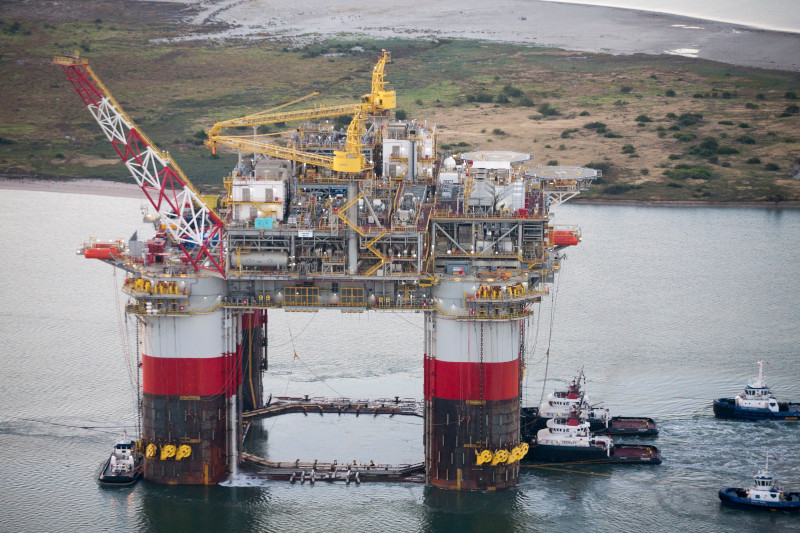 For this offshore energy project, the topsides were skidded onto the company's 455 series barge Julie B at the Keiwit facility dock in Ingleside, Texas, in Corpus Christi, where they were later lifted and installed onto the hull of Jack/St. Malo. Once in place and secured, the Ocean Wind and Ocean Wave pushed the Jack/St. Malo facility, away from Corpus Christi, through the Port of Aransas, Texas, and out to deeper waters. Once offshore, the Ocean Wind and Ocean Sun towed the facility to its final location. Barge 455 7, towed by Crowley's Invader-class tug Warrior, and a third-party barge, towed by Crowley's Invader-class tug Pilot, delivered the piles to the project site. Finally, the Marty J, towed by the Pilot, made three subsequent trips to the installation site to deliver additional equipment – including chains, connectors and line reels – that were used in the mooring of the floating facility.
In the final stage, the positioning phase, the Ocean Wind, Ocean Wave, Ocean Sky, and Ocean Sun worked together to hold the Jack/St. Malo in its final location, and remained on site in a star pattern to provide support as the spar was connected to its moorings and made storm safe in more than 7,000 feet of water.
Blackout test – Noble Jim Day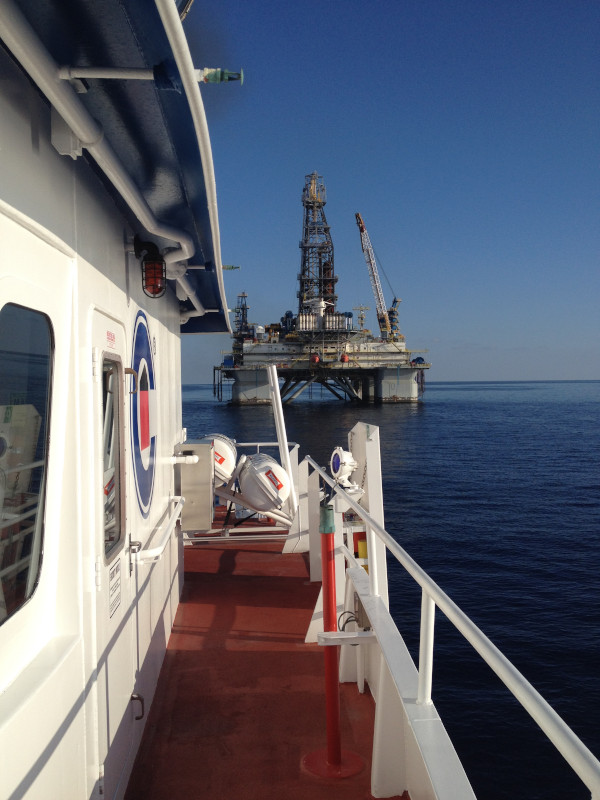 In a show of their diverse usage, Ocean Sky, provided back-up, station-keeping and holdback services during a routine blackout test of ultra-deepwater, semisubmersible oil rig Noble Jim Day, in about 9,600 feet of water. As part of routine blackout testing, Crowley was contracted to have the Ocean Sky connect its tow line to the rig, which itself has DP3 technology. The tug's connection was to serve as a contingency in the event the rig required additional assistance, during the 12-hour drill. It demonstrated yet another feature of these ocean class tugs – tug holding position during stand by operations. These four tugs have repeatedly performed to the expectations of their build including salvage, heavy-lift barge towing, ocean towing and positioning of offshore structures and standby and response in the Gulf of Mexico during Loop Current features and hurricane contingency planning
Extended Tension Leg Platform – TLP Big Foot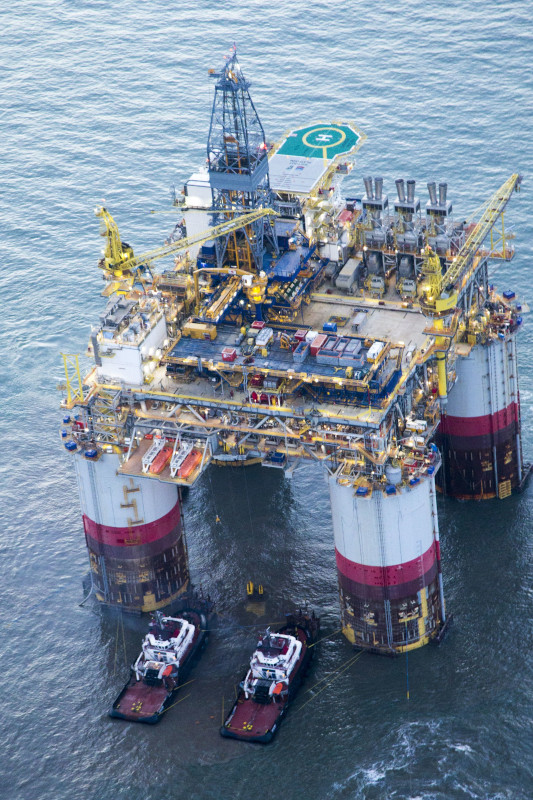 All four Ocean Class tugboats, four 455-series high-deck strength barges and the barge 400-L supported the safe, successful tow-out of Chevron/Heerema's Big Foot extended tension-leg platform (TLP) for installation in the deep waters of the Gulf of Mexico. Demonstrating both nearshore and offshore capabilities, these Crowley vessels worked together, alongside other third-party assets, to deliver the platform, tendons and other equipment from Spitzer Industries, in Houston, and the Kiewit Offshore Services' facility, in Ingleside, Texas, to the site of the Big Foot floating production facility, about 200 miles offshore in about 5,200 feet of water.
Ocean Sun and Ocean Sky worked with third-party assets to tow the TLP to the site and position it for installation. Ocean Wind and Ocean Wave were used to tow the barges loaded with the tendons that moored the TLP to the seabed.
Low Pressure Gas Reserves – Cassia C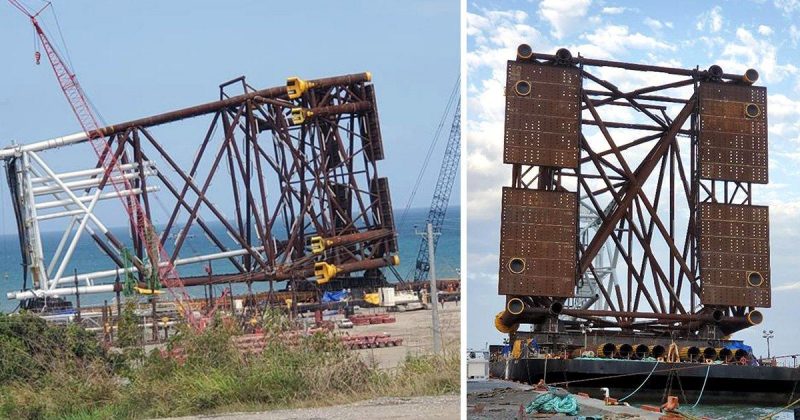 Crowley's tug Ocean Sun and high deck strength barge, Julie B, recently transported a 3,747-ton platform jacket and piles to a drilling site off the coast of Trinidad and Tobago. The Cassia C jacket was skidded onto the company's Julie B barge at Trinidad Offshore Fabrication Co. in La Brea, Trinidad, before being taken 35 miles offshore for installation in 223 feet of water. The platform jacket is a steel frame that will support the deck and topsides of a fixed offshore energy platform.
Future Offshore Energy Projects
The diversity of Crowley's tug and barge fleet makes them attractive for exploration, installation, maintenance and a host of other projects. Crowley's offshore engineering team, which also includes its marine engineering and naval architecture subsidiary, Jensen Maritime, leverages decades of operational and advanced engineering experience to provide innovative, cost-effective, and safety-minded solutions. Whether installing a platform in environmentally and physically demanding waters, moving odd sized heavy lift modules into challenging locations or engineering support for any other demand, Crowley's people ensure successful offshore energy project execution in every project performed.
To execute safe, reliable solutions for your next offshore project, contact our professionals at offshore@crowley.com or visit us online at crowley.com/offshore-oil-and-gas/.