Built by Design: Jensen Maritime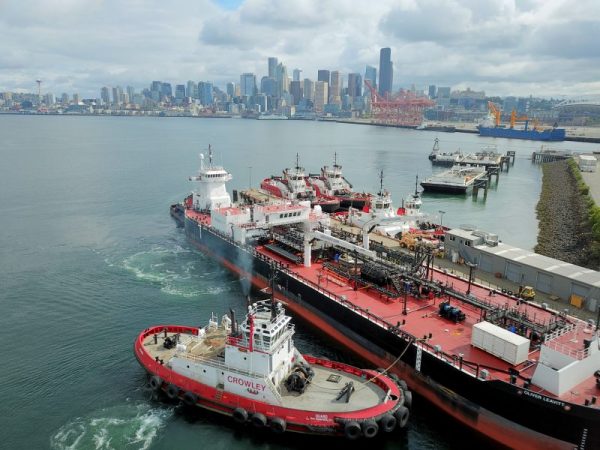 A wholly owned subsidiary of Crowley, Jensen Naval Architects and Marine Engineers leverages technology, their experience and unique access to Crowley's resources to help third-party commercial and maritime companies with innovative vessel design, build and engineering solutions.
On Pier 17 in Seattle overlooking Elliott Bay, nestled amid stacked containers and vessels, a naval architecture and marine engineering services firm not only supports their parent company, but many other maritime customers as well.
Outside their door, the 37-employee firm is just a short walk to the waterfront where they apply theoretical and hands-on skills to bring vessels to life.
Internal and External Solutions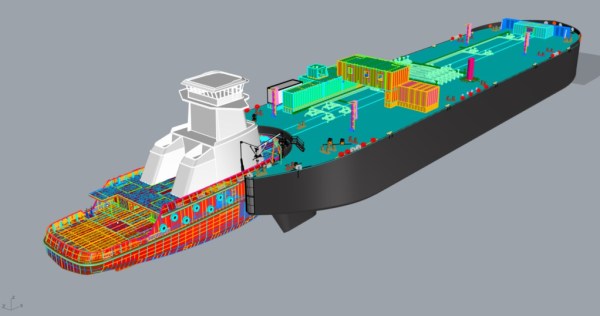 "Jensen's work is a split between Crowley's needs and external clients," explains Coulston Van Gundy, director, business development, for Jensen Marine. "Today for Crowley, we're primarily focused on supporting the maintenance, repair, and new construction of their large tank vessels and ATBs. But externally, we're involved in many different projects – from concept through delivery and maintenance."
For example, Seattle-based Foss Maritime commissioned Jensen to design four new 100-foot by 40-foot multi-functional Tier IV tractor tugs for their fleet. The nearshore and offshore capable tugs are based on Jensen's popular Valor design and include an option for six additional newbuilds.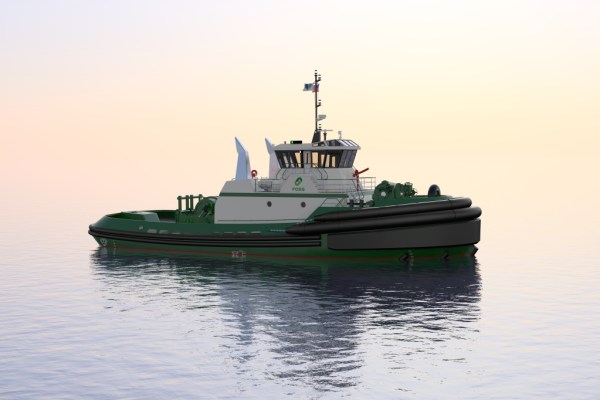 Van Gundy adds that Jensen has also built a legend of experience in new vessel design and alteration design and installation for Crowley – including construction management and design work for the company's two new, LNG-powered combination container/roll on-roll off (ConRo) ships. Having this close relationship and input from operations is unique and something many competitors do not have the same access to.
Jensen's experience is quite comprehensive including the design of tractor tugs, modifications and design of new ballast systems, planning and management of engine replacements, and retrofit installations. This all, while supporting the Crowley fleet by troubleshooting and analyzing operational concerns that arise during a vessel's lifecycle.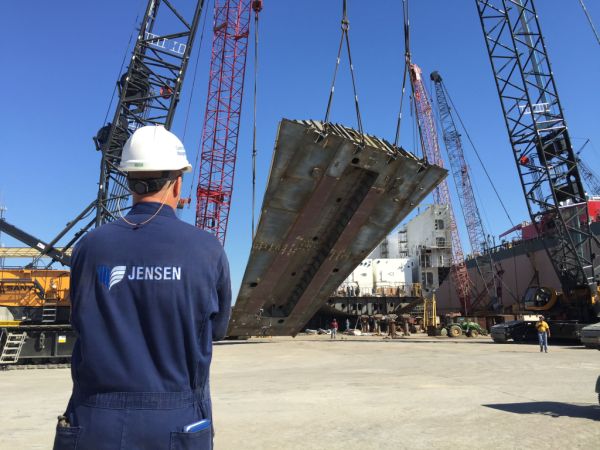 Over time, they've integrated and forged strong relationships with Crowley's port engineers, ship superintendents, port captains, chief engineers, shipyard dockmasters, among many others. This organic experience translates to an immeasurable value for external clients.
Recently, Jensen's Senior Engineer, Jonathan Parrott, was collaborating with a few of Crowley's port captains and port engineers to help evaluate the effectiveness of a new vessel design concepts that incorporate tug operator's feedback. "Having the ability to think outside the box and breakdown traditional vessel design constraints is a something that Jensen excels at," explains Parrott. The symbiotic relationship enables and promotes a continual improvement process that is incorporated into their vessel designs.
The relationships built over the years have earned Jensen assignments with many commercial clients with a broad range of vessel offerings including passenger, research, first-responder, and fishing vessels, among others, providing a broad range of support services for such clients.
Serving the Greater Maritime Community
Jensen's portfolio of work is both diverse and impressive.
Jensen was also part of the design team for the Rosemary McAllister, a 100-foot long, 40-foot wide, oceangoing escort and rescue tug. Jensen provided the detailed design which included all stability and structural calculations, as well as the integration of EPA Tier IV engines (6,770 horsepower) that utilize high-efficiency, catalytic after-treatment technology to reduce emissions. The vessel was built by Eastern Shipbuilding Group in Panama City, Florida. Like most of their vessel designs, they were designed and built to ABS requirements.
"We are proud to not only develop significant boats, such as our new Tier IV compliant series of tugboats, but also to lead the industry with full-service, in-house naval architecture and marine engineering services that help our customers achieve their goals," said Van Gundy.
It was also Jensen who designed San Francisco's Fireboat 3 – St. Francis. The 88-foot NFPA Type II fireboat is a "super pumper" capable of pumping more than 18,000 gallons per minute of water or firefighting foam, which may be projected up to 300 feet.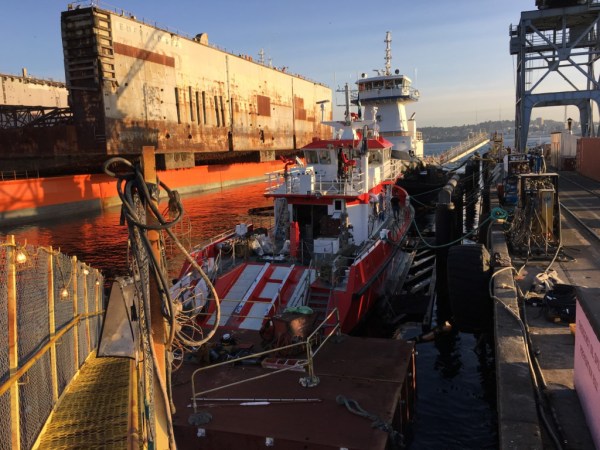 In a showcase of the vessel's capabilities, St. Francis, was part of efforts to save the WWII Liberty Ship Jeremiah O'Brien from succumbing to a massive blaze ripping through the city's Pier 45 this past Memorial Day weekend just this year. As 150 firefighters fought the four-alarm fire on land, St. Francis pumped tens of thousands of gallons of water from the Bay to ensure the former D-Day ship, turned tourist attraction, stayed safe. The vessel has the unique ability to pump millions of gallons to the city's auxiliary water system, in the case of emergency, should the city's main fire main water supply become compromised.
In addition to the San Francisco boat, Jensen has also been an integral part of one of the fastest fireboats on the Columbia River for the City of Portland's Fire and Rescue team, a 108-foot fireboat and 50-foot fast-attack fireboat for the Seattle Fire Department, three 40-foot fireboats for the Los Angeles Fire Department, and a 37-foot, 40-knot patrol boat and 44-foot patrol boat for the Seattle Police Department.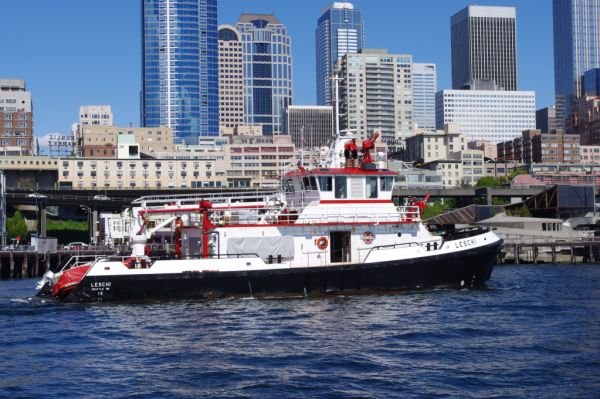 The company also helped deliver the redesign of the fishing vessels Bering Defender and Defender. For the Bering Defender, Jensen teams developed changes to make it safer and more efficient, while increasing capacity. For the Defender, Jensen executed a design to convert the ship from East Coast to West Coast fishing. These changes made the vessel better suited for the operations and weather of her new Alaska fishing assignment.
The cumulative work of Jensen has earned them numerous awards. In each of the past four years, WorkBoat magazine awarded Jensen with Significant Boat Awards (only 10 such awards are made each year). And, dating back to 2006, Jensen and Crowley have claimed nine different awards for various projects including the design of Crowley's 750 Class articulated tug-barge (ATB) fleet and Ocean Class tugboats and the design of ship-assist and escort tugs Rosemary McAllister and Bob Franco.
The Jensen portfolio is quite diverse and demonstrates the firm's versatility, innovation, and flexibility for a host of clients with varying requirements. Through experience, Jensen has become quite adept at producing effective designs.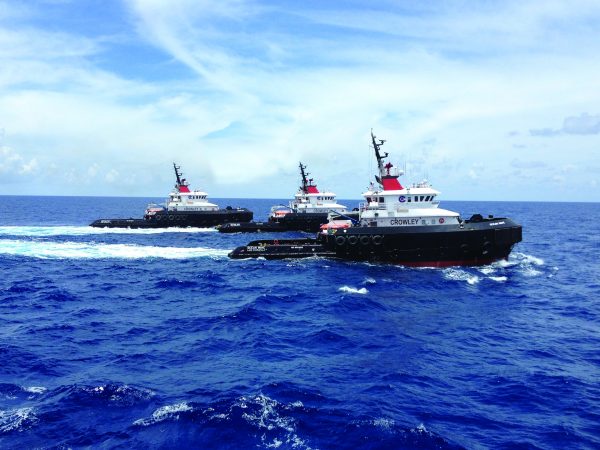 Stakeholder Engagement Drives Results
For Jensen, effective designs begin with careful collaboration with all stakeholders. They know the value of relationships and put great effort to forge and develop them. They also design with construction and fabrication in mind. Regardless of how complex a design may be, it must be executable. Plus, the designs must be usable and suitable to their operators; they must add value while meeting specifications. All combined, the firm has learned the ingredients of vessel design well, and they smartly capture lessons learned for future work and projects. Success breeds success.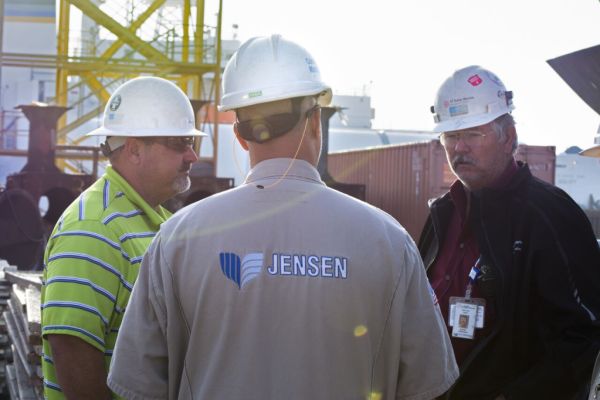 "We are working with operators on a continual basis, and this helps us have a better design overall," says Craig Savey, director, design.
All their work, internal and external, enables Jensen to gain valuable experience and keep the firm staffed with skilled and experienced personnel. This, in turn, becomes a competitive advantage and a strength for other customers.
"An interesting opportunity and value that we offer external clients is that we have the ability, with Crowley's support, to maintain a diverse team that can provide all needs to support a wide range of requests," explains Jay Edgar, PE, Jensen's vice president of engineering services.
"That differentiates us from many others that aren't able to consistently maintain a skilled staff and keep a full stable during all cycles of work in the maritime industry. It allows us to pull together a production team that is closely connected to the engineering team while incorporating operational experience and this provides us a unique ability to exceptionally support our customers."