Bravely Advancing
What's Possible
At Crowley, our purpose – bravely advancing what's possible to elevate people and planet – guides who we are and how we operate, both today and into the future. To fulfill this purpose, we need to make every facet of our organization more sustainable. We work hard to foster our company culture that emphasizes safety in everything we do, and develops a shared sense of responsibility as we earn the trust of our stakeholders and build long-term value with them. Our Environmental, Social and Governance (ESG) approach reflects our progress to animate our sustainability ambition: to be the most sustainable and innovative maritime and logistics solutions company in the Americas.
Resources
Click below to download our 2021 sustainability report and ESG disclosures.
Material Issues
We engaged with internal and external stakeholders to rank the topics they believed should be a high priority for Crowley going forward. Instead of simply providing a snapshot of where things stand today, we encouraged them to look toward the future. We wanted to know which issues they felt would be most crucial in the years to come. The issues that are most material to our stakeholders and business success are in the top-right quadrant. These priority issues inform and are deeply ingrained in our sustainability strategy.
Hover over the material issues in the chart to see their associated goals.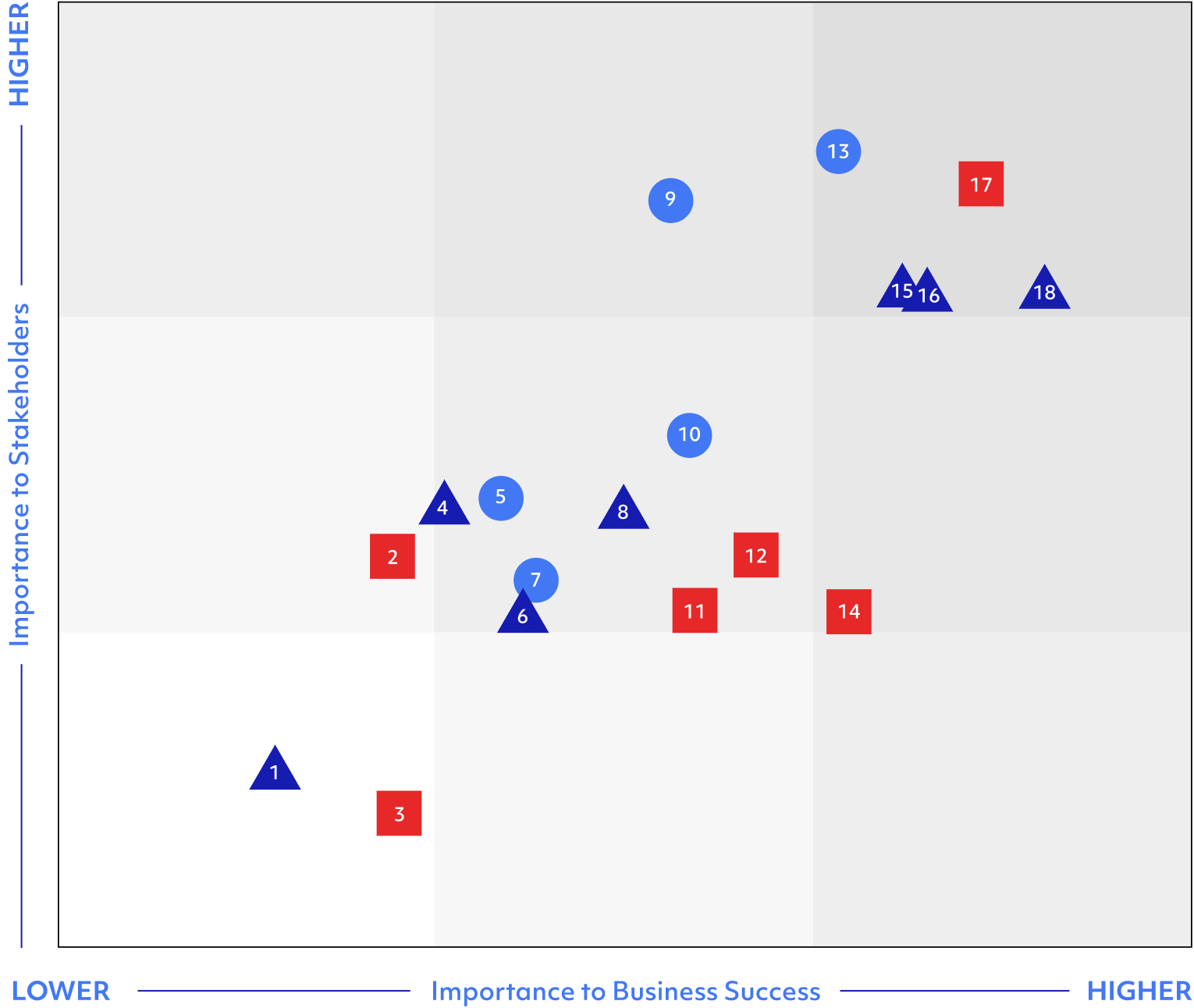 Societal benefits of business activities
Transparency & disclosure
Physical security of assets & infrastructure
Supplier responsibility
Effluents, chemicals, & hazardous waste
Community engagement & support
Resource use & waste reduction
Labor management & human rights
Ocean health & biodiversity impacts
Air quality & pollutants
Emergency preparedness, resilience & adaptation
Corporate governance, ethics & compliance
Greenhouse gas (GHG) emissions & energy use
Data privacy & cybersecurity
Talent attraction, retention & development
Diversity, equity & inclusion
Sustainable customer solutions & innovation
Workplace health & safety
2021 Progress
Crowley's ongoing journey to greater sustainability made important strides in 2021. Here are a few highlights we are especially proud of.
Set target to reach net-zero greenhouse gas emissions by 2050.
Established the Sustainability Steering Committee (SSC) and dedicated sustainability function.
Conducted first greenhouse gas (GHG) inventory.
Developed first materiality assessment.
Aligned purpose and values with sustainability.
Created our first ethics and compliance dashboard to more closely monitor risk.
Transitioned from lagging to leading KPIs for safety performance.
Established the Inclusion, Diversity, and Equity in Action (IDEA) Council
Focus Areas
To learn more about our focus areas, please see the Environment, Governance and Our People
pages, which detail our approach to the core pillars of ESG.
Stay Updated
Be the first to know what's happening at Crowley.
Subscribe for regular updates on Crowley news, blog posts, press releases and more.
Join Us
If you want a career that is challenging, energizing and rewarding, we hope you will consider joining our team as we continue to provide exemplary and innovative services worldwide.