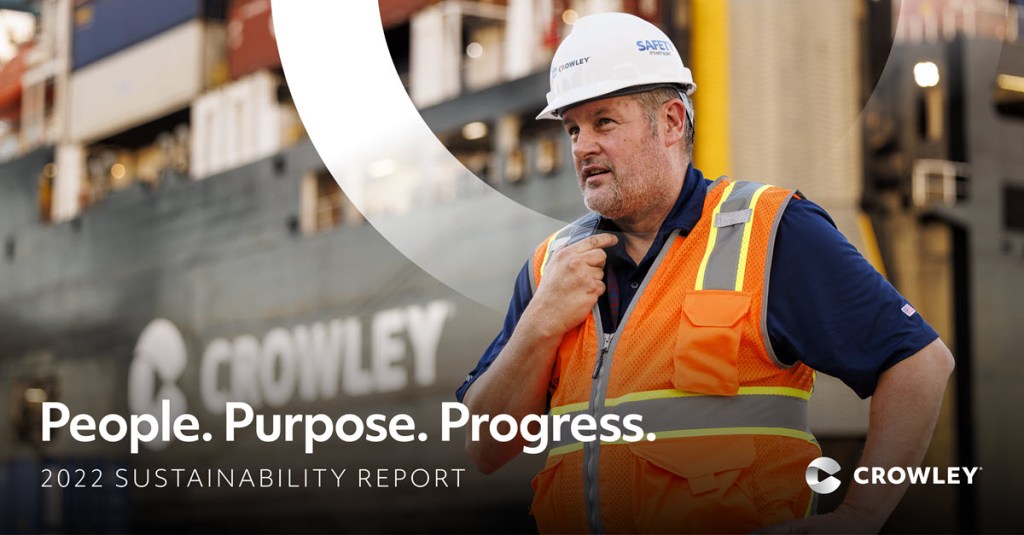 Safeguarding the Environment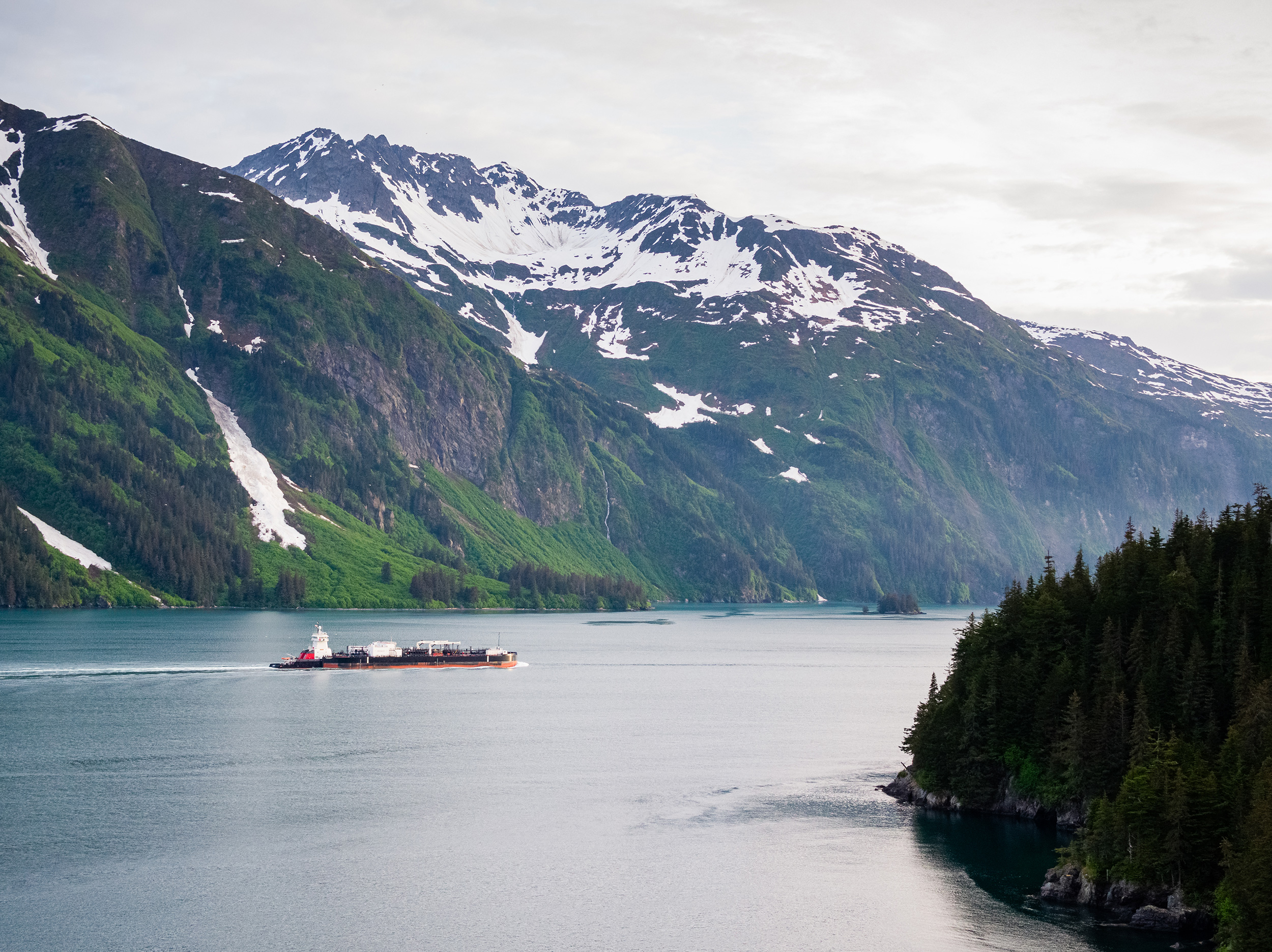 Safeguarding the Environment
As a leading global shipping and logistics company, we remain dedicated to decarbonizing our operations and reducing emissions across our value chain. Though shipping is the most efficient mode of transport today, Crowley is finding ways to improve.
2022 Highlights
We are proud of the strides we have made over the past year to create a more sustainable Crowley. Through our dedicated workforce and key industry partnerships, we made tremendous progress in 2022 and will continue to do so in 2023, and in years to come.
Received a grant to electrify JAXPORT
Piloted the use of biodiesel on vessels
Opened an LNG loading terminal in Puerto Rico
Co-designed a hybrid-electric passenger vehicle ferry
Progress Toward our Sustainability Goals
Crowley recognizes that ushering in a more sustainable future requires significant investment and collaboration. To guide us on our journey, we follow three pillars to help us achieve our sustainability ambition:
Influence and support our stakeholders to accomplish our sustainability goals.
Increase transparency to drive organizational excellence
Inspire our workforce to embody sustainability as our shared value.
Assessing Climate Risks & Opportunities
Climate change poses significant threats to the health and safety of our marine ecosystems and coastal communities. As a global maritime company and logistics solutions company, it is critical to consider the climate change-related risks to our business. In managing these risks, there are opportunities to be at the forefront of decarbonizing our industry, supporting our communities and forming partnerships to drive progress.
Extreme weather events caused by climate change could cause operational and supply chain disruption.
Failing to make adequate progress on decarbonization could lead to a loss in business.
A disaster impacting one of our vessels could cause reputational damage to our company.
Regulations mandating operational efficiency requirements for global fleets could result in significant changes for Crowley's existing assets.
Consumer preferences shifting to renewable energy could reduce demand for LNG and petroleum.
Decarbonizing our business will encourage other businesses in our value chain to follow suit, accelerating towards a more sustainable future.
The increasing demand for low and zero carbon fuel alternatives can provide new business opportunities for Crowley.
Documenting progress against our decarbonization goals will increase confidence among our partners and customers, potentially leading to more partnership opportunities.
As carbon capture becomes more common, demand for carbon transport will grow, presenting Crowley with a potential new market.
Becoming a partner of choice to support nearshoring in Central America could increase business from the region and contribute to a stronger Central American economy.
Our offshore wind capabilities put us in a position to lead the shift toward this promising renewable energy source.
Striving for Net Zero
Crowley has committed to achieving net-zero greenhouse gas emissions across all scopes by 2050, on a path that aligns with science to limit global warming to 1.5 degrees Celsius above pre-industrial levels. As we pursue our goal of achieving net-zero by 2050, we recognize the importance of interim targets. As such, we set near-term and long-term science-based emissions reduction targets.
Near-term Goals
Reduce absolute scope 1 and 2 emissions by 42% by 2030 from a 2020 base year.
Reduce absolute scope 3 emissions from the use of sold products by 42% by 2030 from a 2020 base year.
Commit that 55% of suppliers by spend covering purchased goods and services suppliers will have science-based targets by 2027.
Long-term Goals
Reduce absolute scope 1, 2, and 3 emissions by 90% by 2050 from a 2020 base year.
Emissions Data
After assessing our global workforce, we set strategic representation goals for 2025 to measure progress from our 2022 baseline:
2022 Emissions by Scope1 (Metric Tons CO2e)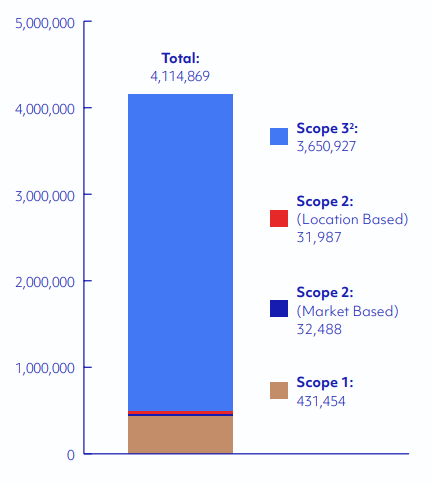 YoY Emissions Intensity Ratio
Scope 1+2 Metric Tons CO2e per 1 Million USD Revenue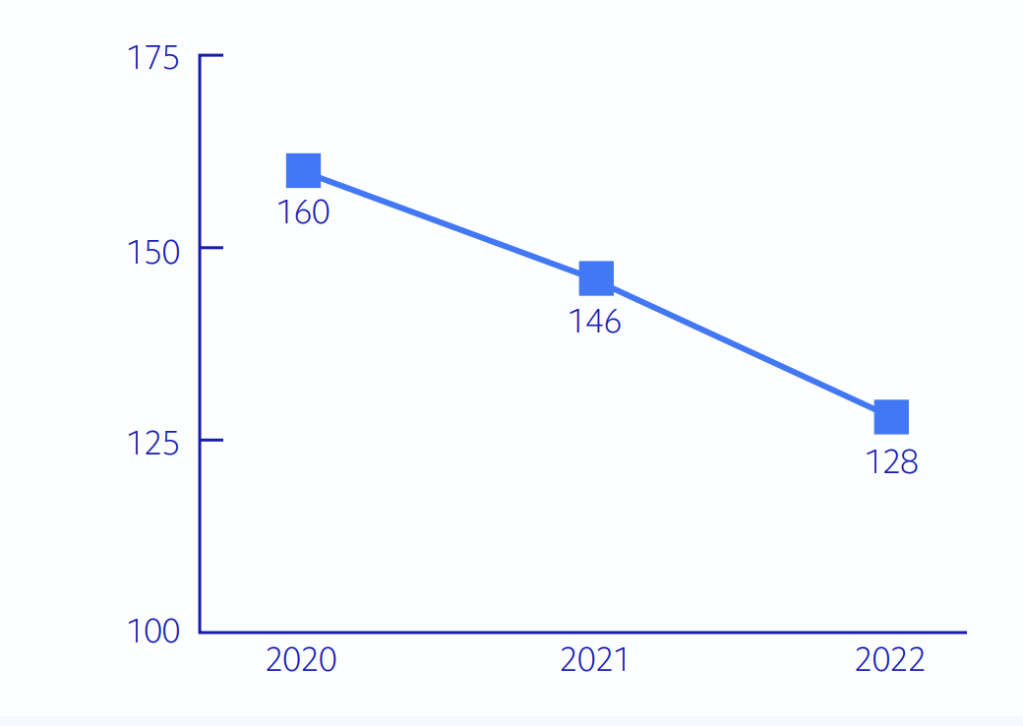 YoY Total Emissions
Metric Tons CO2e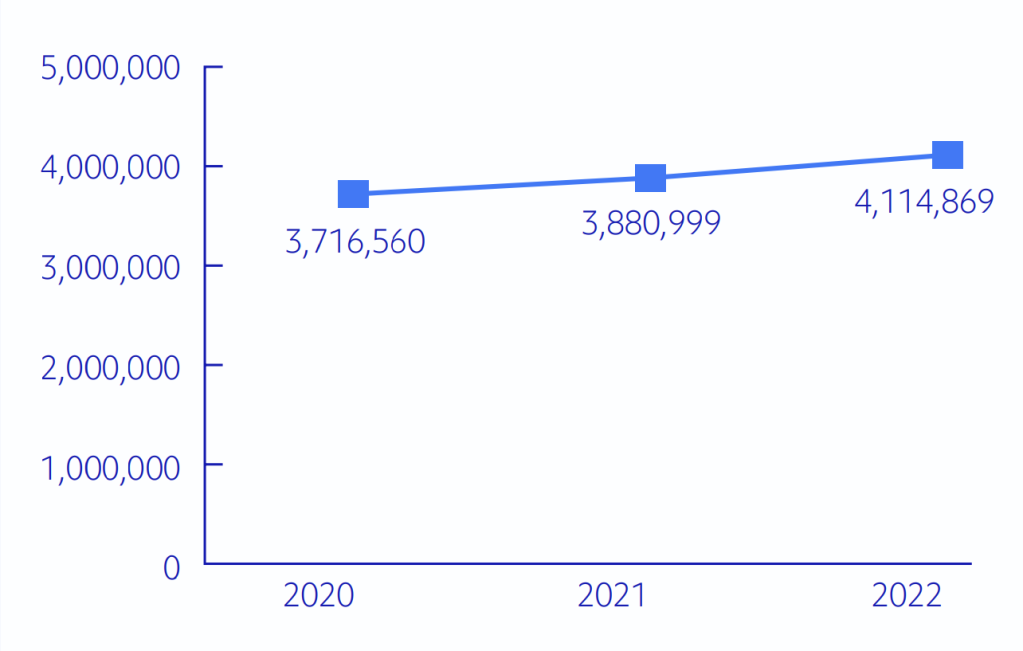 YoY Total Energy Use (GJ)3
YoY Energy Intensity Ratio4
GJ per 1 USD Revenue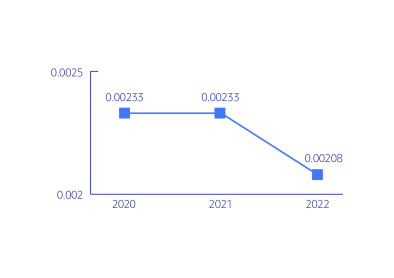 Conversion factors sourced from the U.S. EPA Center for Corporate Climate Leadership's GHG Emission Factor Hub, eGRID, the Green-e Residual Mix, DECC's GHG Conversion Factors for Company Reporting and the International Energy Agency
Estimated based on the Greenhouse Gas Protocol Scope 3 (Corporate Value Chain)
Evaluator Tool Conversion factors sourced from the American Petroleum Institute and U.S. Energy Information Administration
Includes fuel and electricity use within and outside of Crowley
In 2022, we started monitoring vessel emissions on a per-voyage basis to identify ways to reduce fuel burn, improve efficiency and reduce emissions in 2023. We have also transitioned to exclusively using water-based paints when performing maintenance on dry containers to avoid the use of solvents that release volatile organic compounds (VOCs). Additionally, we are experimenting with new hull coatings that may increase the fuel efficiency of our vessels.
To further reduce land-side emissions, we are in the process of converting all our propane powered forklifts to electric. We purchased new outdoor electric light-duty forklifts in 2022 to support our refrigerated container operations on our U.S. terminals. We are also working with companies that are developing electric yard trucks as part of a Port Infrastructure Development Grant through the U.S. Maritime Administration.
We have several ongoing initiatives to improve energy conservation. These include installing LED lighting and smart thermostats with timers throughout our facilities and replacing outdated appliances with more energy-efficient units.
In January 2020, the IMO imposed new regulations limiting fuel oil sulfur to 0.050% m/m (mass by mass) for ships operating outside designated Emissions Control Areas (ECAs) — a significant reduction from the previous limit of 3.5%. To meet these requirements, by the third quarter of 2019, Crowley had successfully converted its fleet to operate on Marine Gasoil (NGO) with the majority of the purchases being sub 15ppm sulfur, a 99.7% reduction against the minimal IMO requirements. 
Modernizing the ports where we operate through electrification, rightsizing facilities, investing in alternative fuel equipment and building renewable energy capacity can help reduce our emissions. For instance, we partnered with Entergy Louisiana to connect our vessels operating out of the Port of Lake Charles to electricity instead of fossil fuel-powered generators while idling. The port estimates the transition will reduce emissions by more than 500 metric tons per year, the equivalent of eliminating almost 1,300,000 miles driven by the average gasoline-powered passenger vehicle.
We are taking advantage of LNG as a transition fuel to bridge the gap between higher emitting fuels and renewables. LNG is a highly efficient fuel, contributing less emissions than traditional marine fuels, enabling Crowley to provide the energy necessary to power the economy while reducing emissions. Our capabilities range from supplying small-scale LNG, to integrating LNG into microgrids and providing end-to-end LNG supply chain solutions.
In 2022, we announced plans for four new modern LNG-powered container feeder ships, helping to expand our LNG operations by connecting U.S. markets to manufacturing hubs in Central America. Additionally, under contract with Crowley, Fincantieri Bay Shipbuilding started construction in 2022 on the largest LNG bunkering barge ever built in the United States.
There is great potential in the U.S. wind energy market given the government's commitment and private sector initiatives to increase the country's clean energy supply. It is expected that there will need to be around $100 billion of investment by 2030 to reach the U.S.'s national offshore wind target. Crowley can enable this undertaking by offering full-service logistics and transportation services from start to finish. With a fleet of Jones Act-compliant vessels, we can deliver wind turbine components, foundations and related supplies to nearshore and offshore project sites safely and efficiently, and support turbine installation and maintenance with specialized teams.
We have launched Crowley Wind Services to take advantage of the immense opportunity that wind energy offers through a 5-pillar strategy:
Marine Terminals: Control and operate highly utilized and automated terminal facilities for key tenants while leveraging the real estate to warehouse components and support OSW services.
Supply Chain Management Services (4PL): Provide both supply chain solutions and lifecycle management through digital platforms and data analytics including procurement and marine management.
Marine Transport & Operations: Leverage Crowley land and sea assets to provide specialized transport of construction and maintenance components.
Construction & Installation Solutions: Leverage Crowley capabilities to support construction and development of offshore wind farms focusing on project management and execution.
Operations & Maintenance Solutions: Invest in and operate O&M marine support fleet (SOVs) as entry point to broader O&M support which will leverage the lifecycle management platform and talent pipeline partnerships.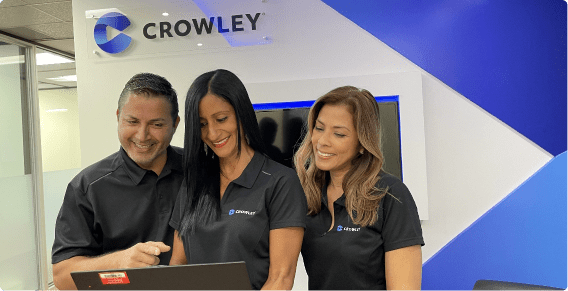 Join Us
If you want a career that is challenging, energizing, and rewarding, we hope you will consider joining our team as we continue to provide exemplary and innovative services worldwide.
Resources
Click below to download our 2022 sustainability report and ESG disclosures.