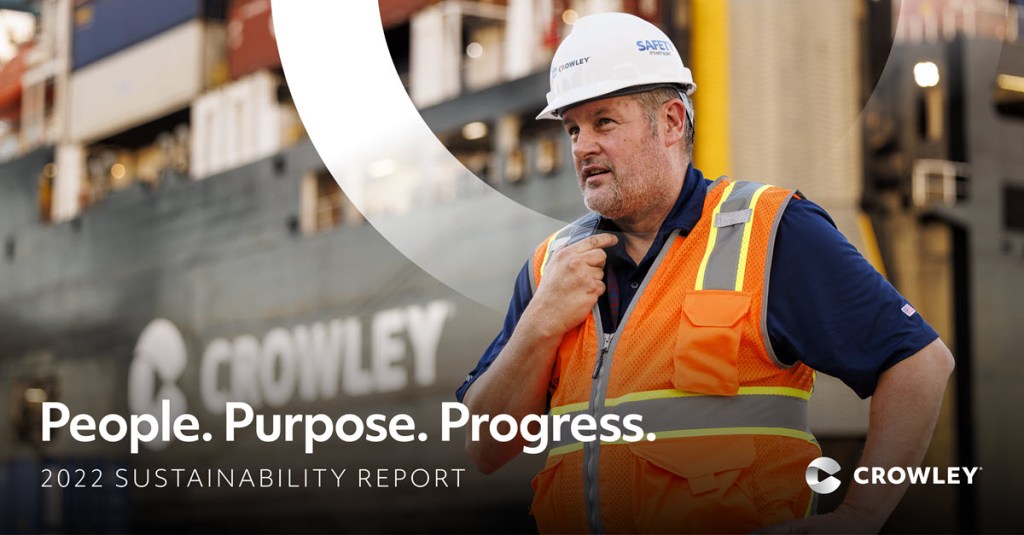 Sustainability – Overview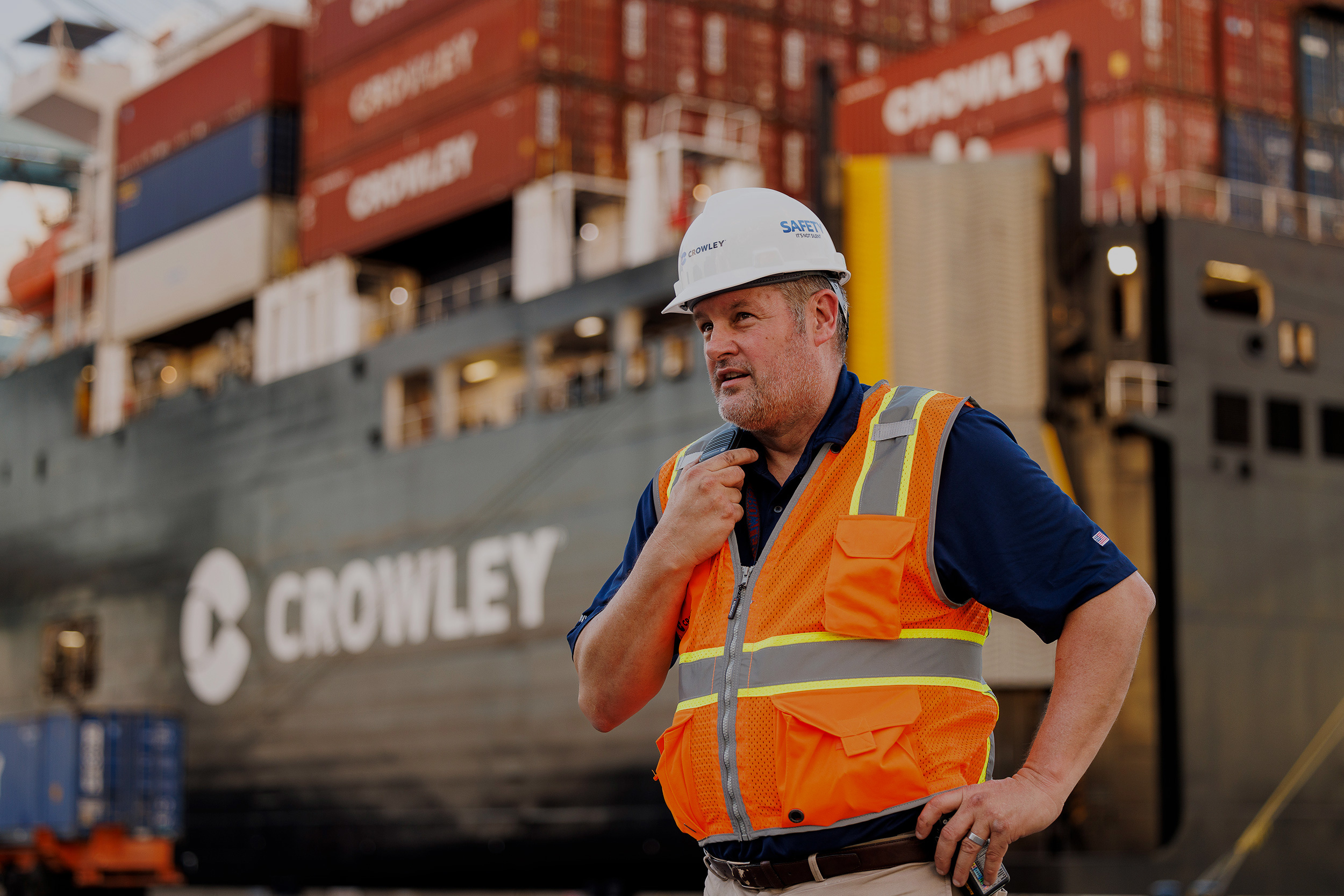 People. Purpose. Progress.
At Crowley, our purpose – bravely advancing what's possible to elevate people and planet – guides who we are and how we operate, both today and into the future. To fulfill this purpose, we need to make every facet of our organization more sustainable. We work hard to foster our company culture that emphasizes a shared sense of responsibility as we move to earn the trust of our stakeholders and build long-term value for them. Our Environmental, Social, and Governance (ESG) approach reflects our progress to animate our sustainability ambition: to be the most sustainable, innovative maritime and logistics solutions company in the Americas.
Resources
Download our 2022 sustainability report and ESG disclosures. 
2022 Highlights
Crowley made important strides in 2022 towards becoming the most sustainable and innovative maritime and logistics solutions company in the Americas. Here are a few highlights we are especially proud of:
Continued construction of eWolf, our all-electric tugboat 
Created a decarbonization plan for our business
Launched Crowley Wind Services
Purchased land to develop an offshore wind terminal in Salem, Massachusetts  
Hired our first Chief Information Officer
Joined the UN Global Compact (UNGC)  
Received a grant for JAXPORT to enable port electrification
Created a Diversity, Equity and Inclusion strategy and goals
Published our human rights statement
Reassessed our organizational risks & risks to our business units
Q&A with Our VP of Sustainability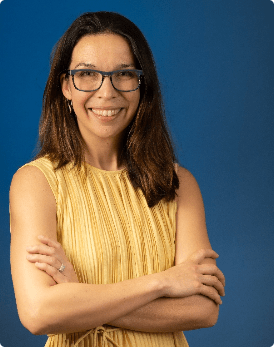 Meaghan Atkinson
VP of Sustainability
Crowley
In 2021, we built a foundation to support our vision of sustainability and social progress across the organization. In 2022, we accelerated the integration of sustainability throughout the business, from our investments in next-gen clean technology to building a more diverse and inclusive workplace that connects employees to company leaders. A few specific examples come to mind that capture our progress:
We are collaborating with the Port of Salem and the Port of Jacksonville (JAXPORT). In October 2022, Crowley and the City of Salem secured federal funding through the Port Infrastructure Development Grants to develop our Salem Harbor Wind Terminal in Massachusetts. In the same month, Crowley and JAXPORT were awarded a grant by the U.S. Department of Transportation and Maritime Administration to reduce emissions at our JAXPORT terminal through new technology and electrification. As both projects progress, we will set an example for other developers and operators and take our learnings forward to inform future terminal projects.
In 2022, we also bolstered our efforts to hold our suppliers to higher environmental and social standards, working with EcoVadis to assess our supplier performance. With the insights generated from supplier performance data, we can partner with other sustainability leaders in our supply chain and hold all suppliers responsible for their sustainability progress. Alongside this, we made strides in strengthening our support for small business suppliers and partners through new tools like LoadIQ.
Our 2022 mergers and acquisitions serve to support our journey to integrate sustainability throughout our business. Through identifying sustainability issues facing our business units, we have targeted partnerships and investments that can complement our work. For instance, in September 2022, we invested in Carbon Ridge, a leading developer of maritime decarbonization technologies and solutions. We took Series A investment stakes in Zero Emission Industries, a startup for developing hydrogen-propulsion technologies.
We formalized our DE&I strategy and goals, which are aimed at creating a diverse culture where everyone feels they belong at Crowley, and we transformed our employee resource groups (ERGs) into business resource groups (BRGs) to increase impact on business strategies and decision making.
We are connecting the dots between our sustainability efforts, business strategy and operational goals, as we embed sustainability as a seamless part of our day-to-day operations and decision making. There are three main areas that I see as critical to making this happen.
It starts with our employees. We know that our teams across the organization are eager to support our efforts, and we need to ensure we empower them to feel ownership in our progress while giving them the support they need to succeed.
Next, easy access to reliable data is critical. We are working to build decarbonization models and tools for our business units to drive their paths to decarbonization. This will include connecting disparate tools and systems to provide more transparent, real-time data on emissions, water, waste and other key areas across the organization.
Lastly, we know we cannot do it alone, and I see huge potential for new strategic partnerships and collaboration in our industry and beyond. We can work alongside customers to co-invest in new low-carbon fuels and other promising technologies, collaborate with suppliers to support small businesses and optimize our operations and team up with government partners to enable public-private partnerships.
With the addition of new team members and technology, we have heavily invested in mobilizing and driving employee engagement around our sustainability goals.
For instance, we know that sustainability is a broad term. To enhance clarity and education, we formalized an onboarding process for all new employees to understand the company's goals and strategy. This results in an understanding of sustainability as a collective effort, emphasizing how each employee's role impacts our overall ESG journey.
To increase transparency, we created a single digital touchpoint where employees can access information on DE&I, Crowley Cares and sustainability initiatives. Looking forward, we will use our new capabilities as a team to further build opportunities for employees to get involved with company and community initiatives.
Crowley's challenge will be supporting the transition to cleaner fuels — how do we best ensure that the right infrastructure is there, both for our operations and for our customers' business goals? As we develop a strategy to advance port electrification, we must concurrently transition the fuel we use for our vessel fleet. Our approach includes technologies like carbon-capture and fuels like hydrogen, biofuel and LNG.
Our newest business unit, Crowley Wind Services, is an example of how we build and invest in renewable energy for our customers. We are working with local communities to create upskilling and training programs needed for this new industry.. While we invest in clean energy, will work side-by-side with regulators and state and federal governments to implement these innovative solutions.
Material Issues
We conducted a formal materiality assessment in 2021 to identify the issues most crucial to our business and stakeholders. This included assessing the business's economic, environmental and social impacts, surveying internal and external audiences, benchmarking against our peers and researching ESG and industry standards. The issues that are most material to our stakeholders and business success are in the top-right quadrant.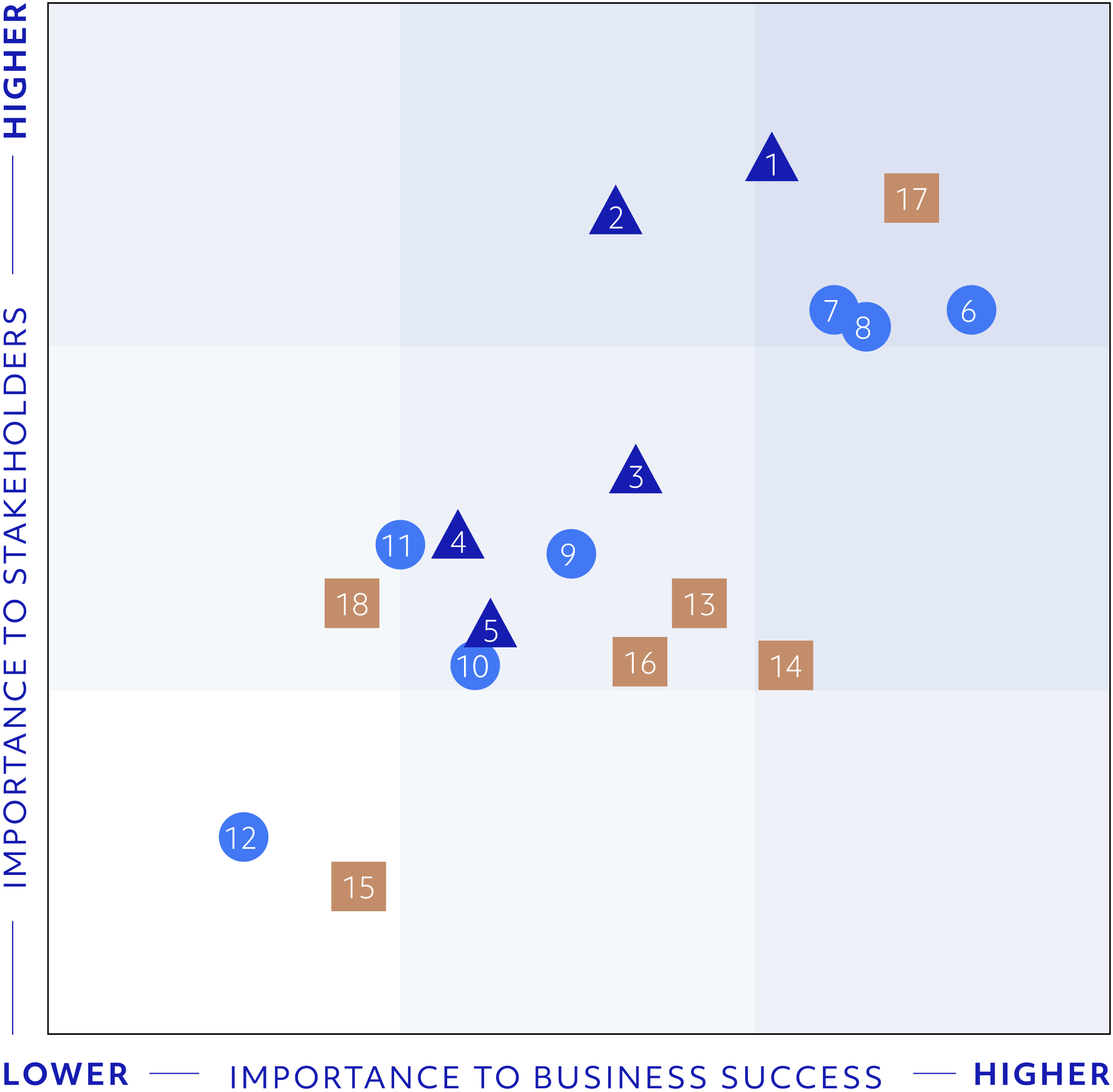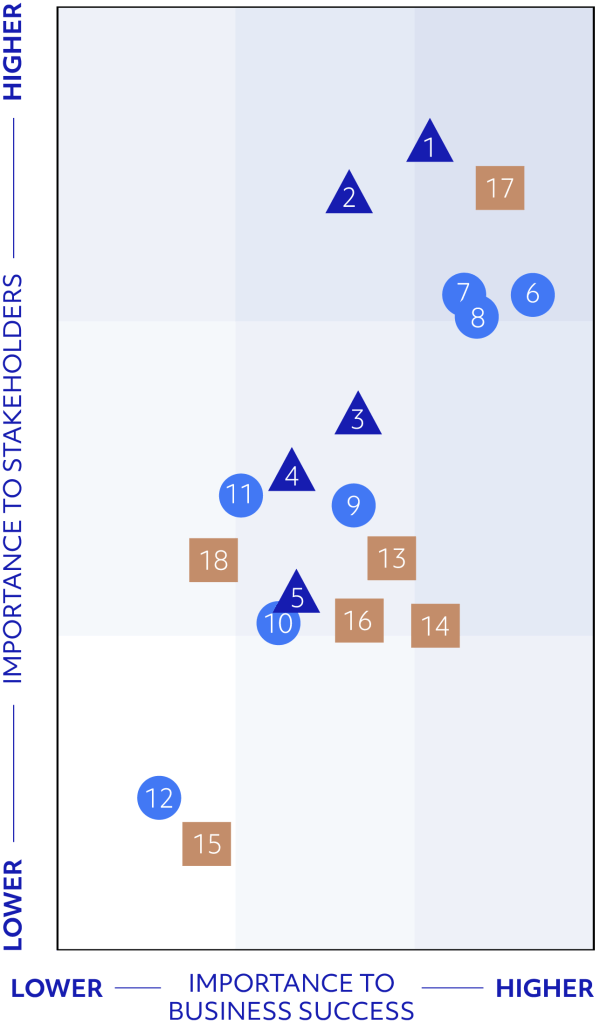 X-AXIS
Determined through internal interviews and surveys, review of internal documents and consideration of peer benchmarking and ESG standards
Y-AXIS
Determined by internal and external interviews, surveys and ESG/industry standards
Greenhouse Gas (GHG) and Energy Use
Ocean Health and Biodiversity Impacts
Air Quality and Pollutants
Effluents, Chemicals and Hazardous Waste
Resource Use and Waste Reduction
Workplace Health and Safety
Talent Attraction, Retention and Development
Diversity, Equity and Inclusion
Labor Management and Human Rights
Community Engagement and Support
Supplier Responsibility
Societal Benefits of Business Activities
Corporate Governance, Ethics and Compliance
Data Privacy and Cybersecurity
Physical Security of Assets and Infrastructure
Emergency Preparedness, Resilience and Adaptation
Sustainable Customer Solutions and Innovation
Transparency and Disclosure
Stay Updated
Be the first to know what's happening at Crowley.
Subscribe for regular updates on Crowley news, blog posts, press releases, and more.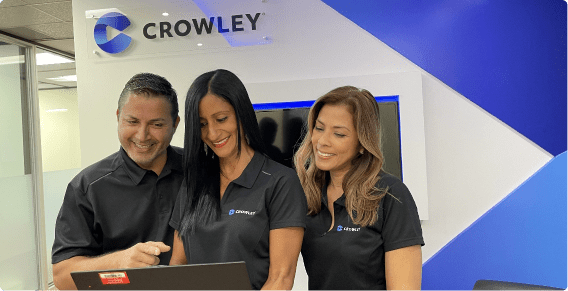 Join Us
If you want a career that is challenging, energizing, and rewarding, we hope you will consider joining our team as we continue to provide exemplary and innovative services worldwide.