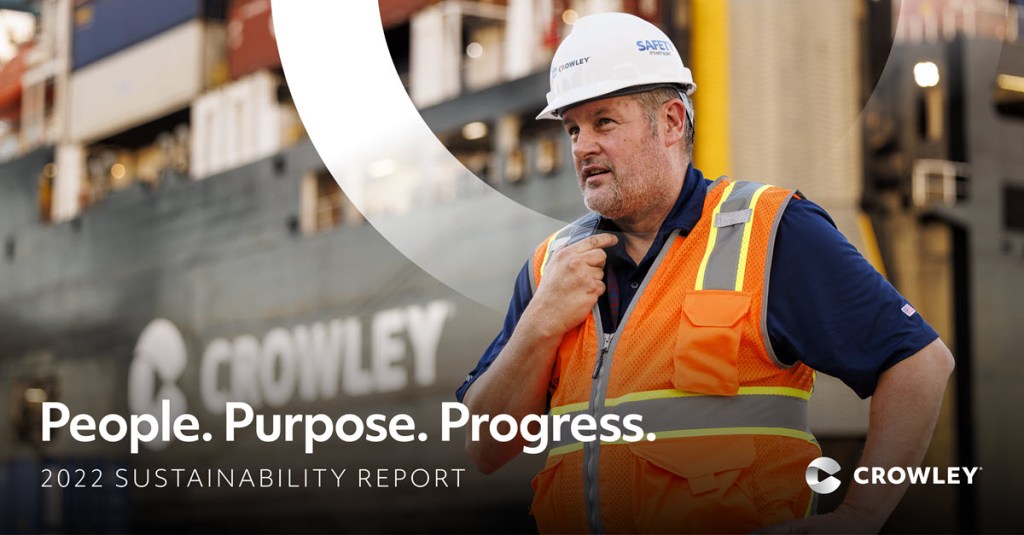 Driving Progress Together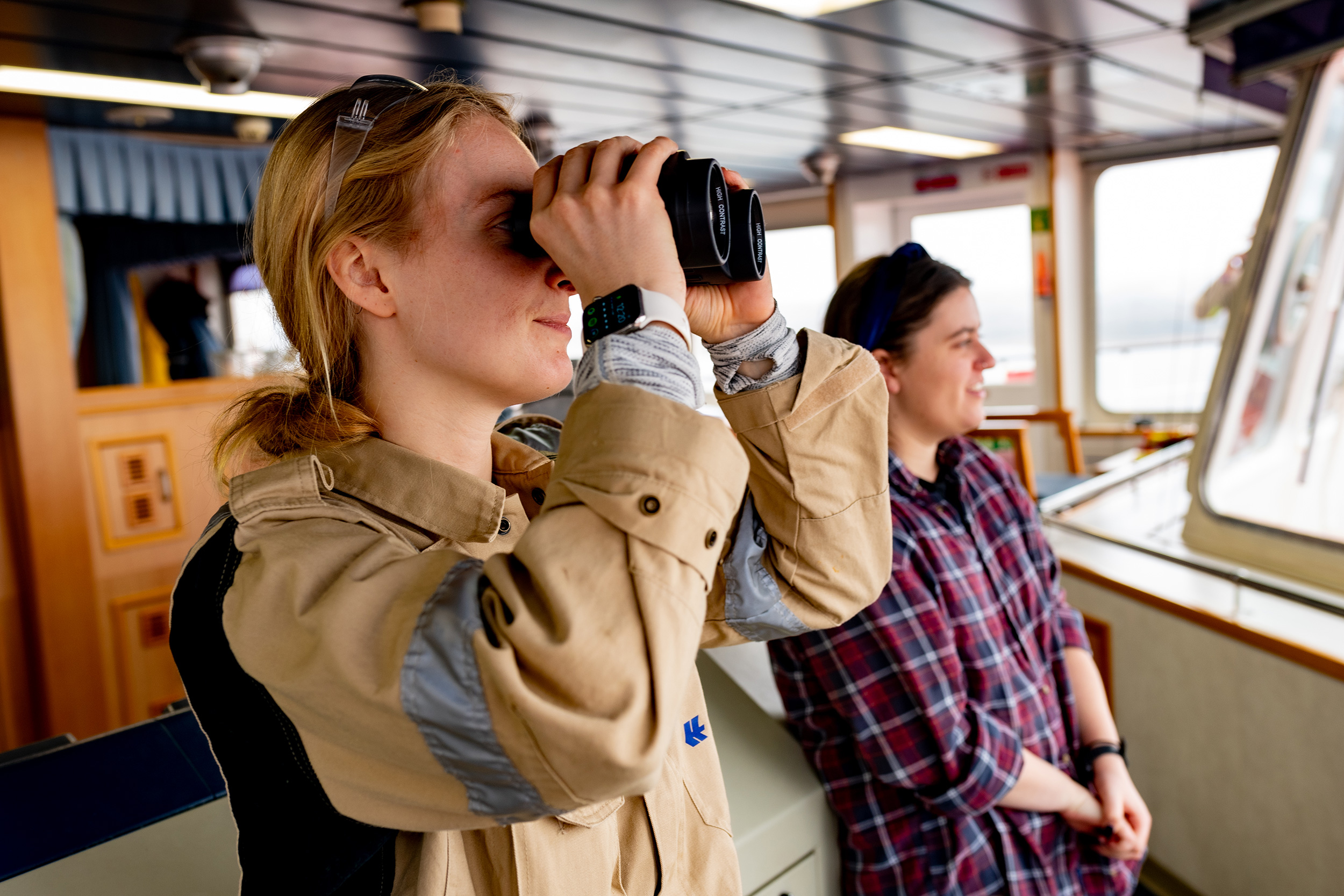 Driving Progress Together
From our employees to our customers, suppliers and communities, it's the people we work with that drive excellence in our business. To reach our sustainability goals, we partner with each of these valued groups and equip them with the tools and resources they need to succeed: from ensuring our employees are safe and healthy, to keeping customer satisfaction high, to bolstering community engagement and volunteering.
2022 Highlights
Crowley's ongoing journey to greater sustainability made important strides in 2022. Here are a few highlights we are especially proud of.
Established our DE&I strategy and goals 
Developed new Leadership Expectations 
Embedded sustainability into procurement and capital decision making
Putting our Employees First
Crowley's ongoing journey to greater sustainability made important strides in 2022. Here are a few highlights we are especially proud of.
Employee Diversity
Below is a breakdown of management employee diversity, which does not reflect union members or contractors. Our diversity reporting is a work in progress and we hope to be able to report on the diversity of our entire workforce in the future. We continue to implement initiatives to increase the diversity of our staff and reflect the places where we live and work.
Employee Breakdown by Race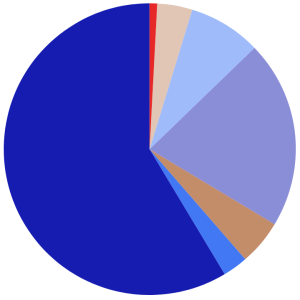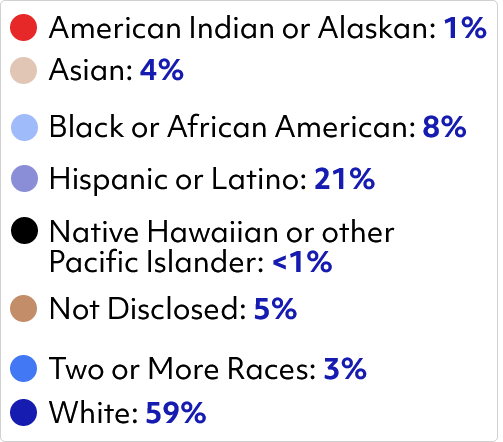 Employee Breakdown by Gender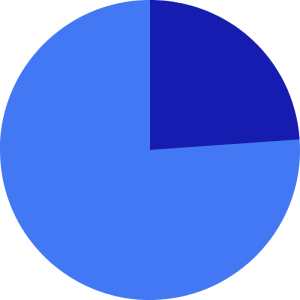 2025 Goals
After assessing our global workforce, we set strategic representation goals for 2025 to measure progress from our 2022 baseline: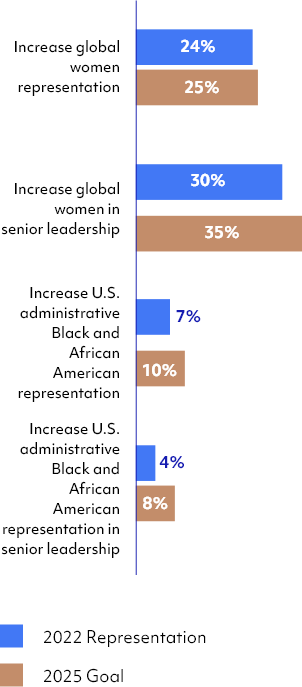 Career Development and Leadership
Our people are passionate, committed and proud to work at Crowley. They are what make Crowley's culture unique in our industry, and beyond.
Recruiting and retaining qualified diverse talent is an essential part of our strategy. Our people-first culture recognizes our employees' value and the importance of meeting their needs.
In 2022, our employees completed over 92,000 hours of training. New this past year, we provided employees with the opportunity to use digital platforms to build skills outside of their core responsibilities.
Changes to our leadership team in the last few years have brought fresh ideas and an even better connection between senior leaders and the broader organization. To encourage leadership support and transparency, we developed a framework to assess leadership competencies in 2022 that will be implemented in 2023.
Employee Health and Safety
Our employees' health and safety is essential to our success. Through enhanced benefits, new policies and targeted communication, we support our employees across all facets of wellbeing.
Safety is embedded across our core values as we cultivate a speak-up culture through established programs like proactive injury prevention, management site safety visits and safety leadership training. Everyone on a Crowley site, including all employees and contractors, has stop-work authority and an obligation to stop unsafe practices.
This year, we enhanced our benefit offerings to include LGBTQ+ needs and services, expanded coverage and travel benefits for employees seeking care outside of their own state and changed healthcare advocacy programs to provide employees a single point of contact for all benefit and healthcare questions.
See here for more information about safety at Crowley >
Delivering for Customers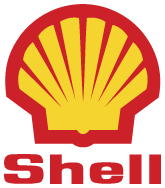 In 2022, we signed an MOU with Shell to support alternative energy solutions for the future of shoreside and terminal operations. This includes advancing our port electrification vision through supporting a shoreside charging station at the Port of San Diego for our newly developed, all electric eTug.
Crowley was honored as Offshore Carrier of the Year by The Home Depot for the speed and efficiency of our shipping and supply chain service in Puerto Rico and the U.S. Virgin Islands in 2022. The Home Depot cited Crowley's reliability, innovative strategies and surge capabilities during emergencies, specifically noting our support during Hurricane Fiona. Besides Crowley's containerized products and supplies shipping and logistics, we provided Home Depot with fuel to continue operations so customers impacted by the storm could acquire supplies.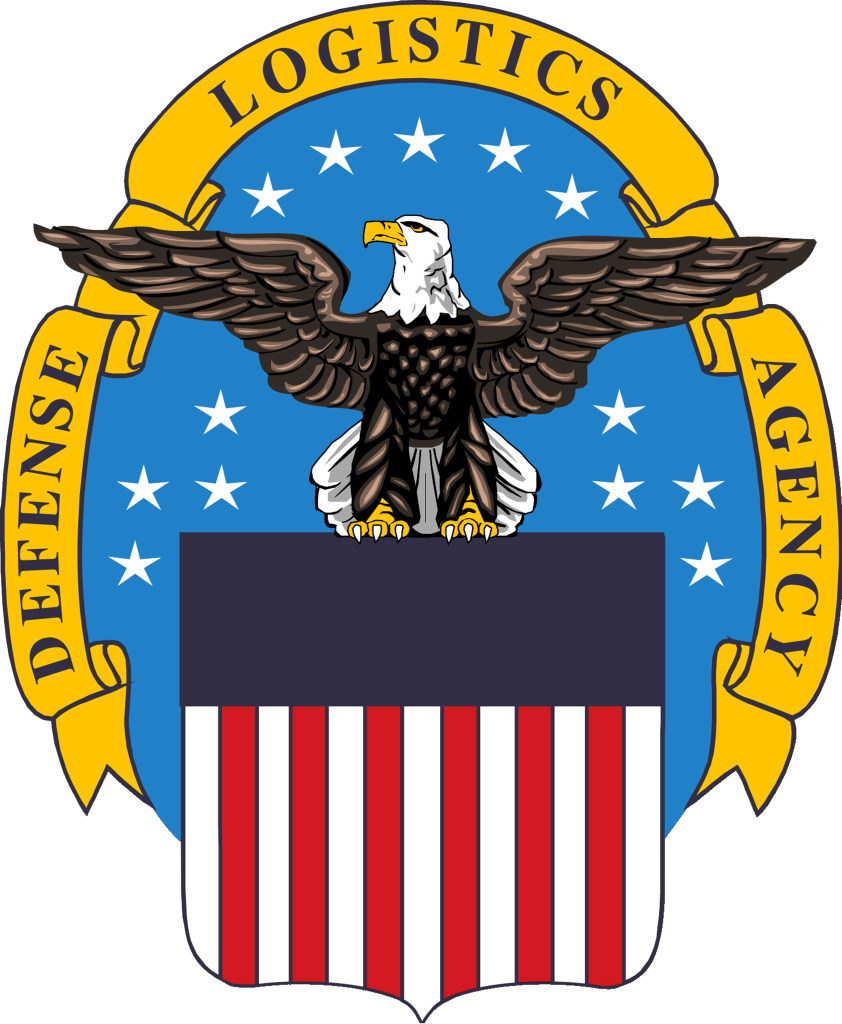 Defense Freight Transportation Services (DFTS), managed by Crowley Solutions, offers the Department of Defense, other government agencies, customers and vendors a single touch point for transportation services. As the federal government's primary contractor, our digital systems and strategies help optimize the government's supply chain and freight costs to deliver consistent customer excellence, while offering solutions for a diverse range of defense needs.
Supporting our Communities
Key Initiatives
University of North Florida Partnership: In 2022, we deepened our partnership with UNF through research opportunities within digital technology for students and upskilling our employees through an Advanced Citizen Data Science Program. This program aims to create citizen data scientists who turn their ideas into logistics reality.
Wreaths Across America: In Jacksonville, Philadelphia and Puerto Rico, Crowley volunteers supported Wreaths Across America by sponsoring and transporting veterans' wreaths to be laid at the nearby National Cemeteries to honor and remember servicemen and women.
Crowley Cares: Through the Crowley Cares program, we encourage our employees to make impactful and positive change where it matters most – within the communities Crowley serves across the Americas. Crowley Cares provides a coordination initiative to support employee volunteering and a foundation for charitable giving.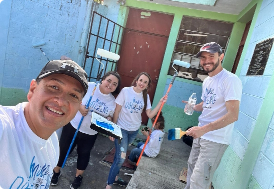 GUATEMALA
Crowley supported the Adolfo Vides Urrita Official Infant School No. 19 by painting one of its buildings, which benefited 150+ children, teachers and administrative staff.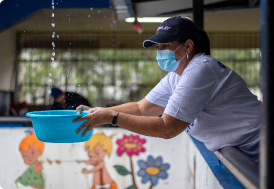 PANAMA
Crowley helped revitalize the José Domingo Espinar school by renovating various facilities, benefiting 800+ students and 40+ teachers and administrative staff.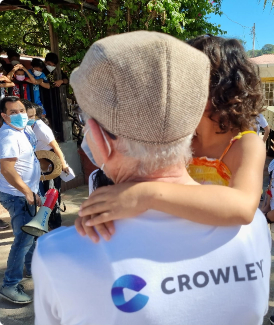 EL SALVADOR
Crowley joined forces with the Hogar Remar organization, which cares for children in situations of abuse, abandonment and need. The Crowley team helped renovate the library and donated a bakery oven to improve the organization's self-sustainability project.

Crowley supported the Sara Zaldívar Nursing Home by helping care for senior citizens and donating supplies for the community.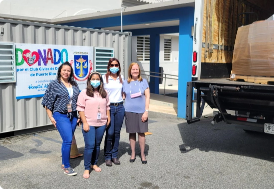 PUERTO RICO
Crowley donated much-needed supplies to Hospital del Niño in San Juan to improve the living conditions of children residing in the hospital.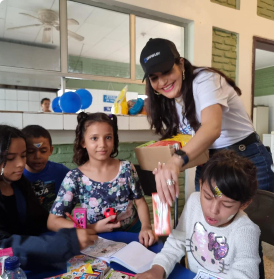 HONDURAS
Crowley supported the El Buen Samaritano Center, which houses and cares for patients, by cleaning the center and donating food and other necessities.

Crowley supported the Amor y Vida organization in Honduras by caring for children and youth with HIV and AIDS.
UKRAINE
Crowley Cares created the Ukraine Humanitarian Support Campaign, composed of pre-vetted non-profits committed to providing humanitarian aid to Ukrainians. Employees donated $28,000+ to provide resources to refugees and victims of the war.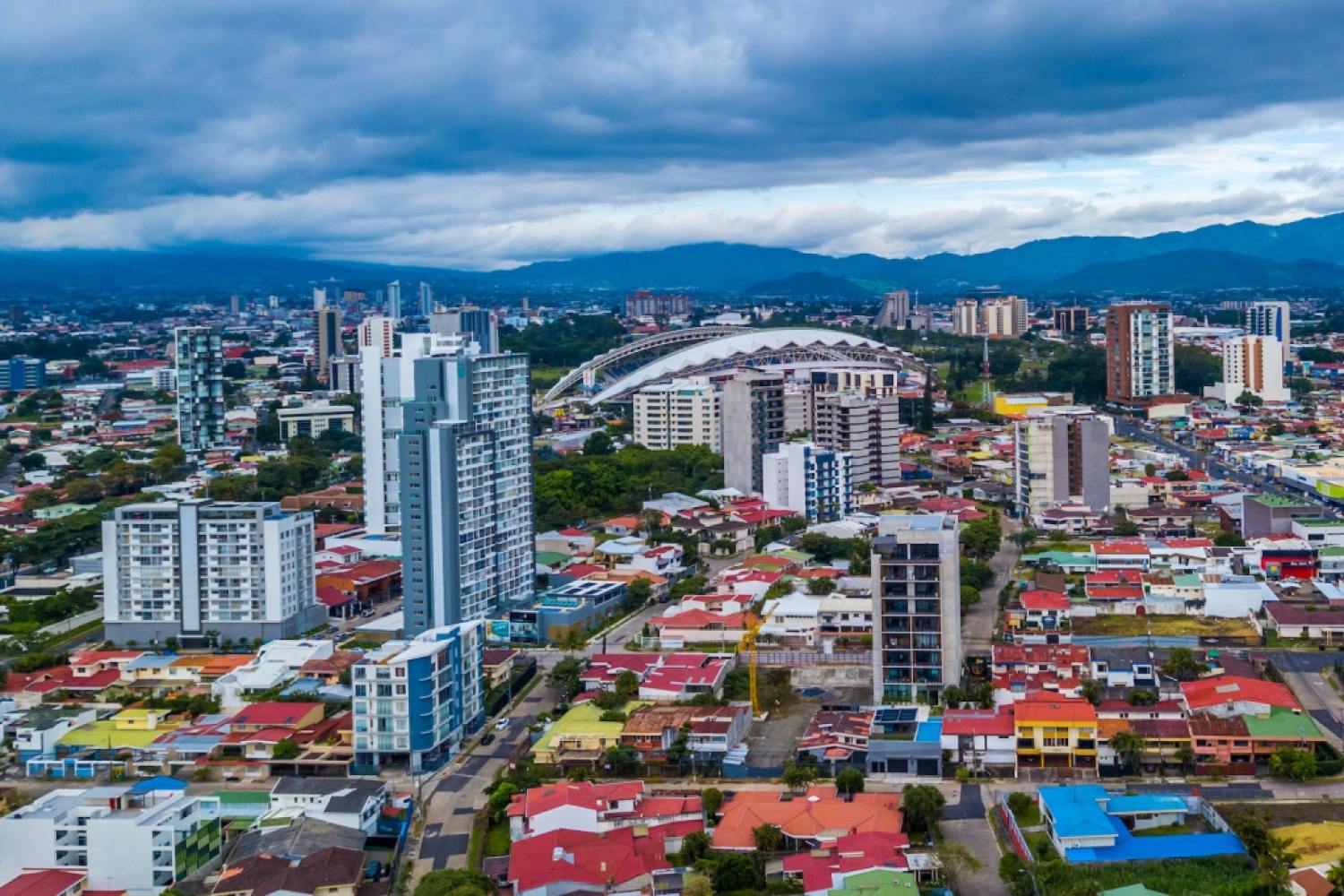 COSTA RICA
Crowley volunteered with the Animales de Asís center, which shelters vulnerable dogs and cats, caring for the animals and helping clean the facility.
FORT LAUDERDALE, FLORIDA
Crowley supported environmental efforts in South Florida by volunteering in beach clean-ups at a Fort Lauderdale beach.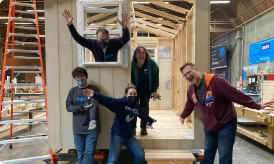 WASHINGTON
Crowley supported the Low-Income Housing Institute in Seattle by providing volunteer labor to build houses.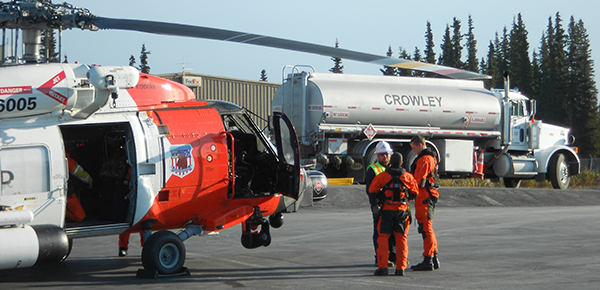 ALASKA
Crowley partnered with the Alaska Community Foundation to support victims of Typhoon Merboc.

Crowley helped support wildfire relief efforts by donating $5,000 to the American Red Cross.

JACKSONVILLE, FLORIDA
Crowley worked with the First Coast Hispanic Chamber of Commerce, Three Grains of Rice and other organizations to support the Jacksonville community in a mobile food drive.

Crowley contributed 4,000+ meals through Feeding Northeast Florida to help address food insecurity in the state.

Crowley worked with Kamala's Kloset to provide transgender, non-binary and gender non conforming individuals better access to clothing by sorting donations received during their annual shoe drive.

Crowley participated in a clean-up day with Jacksonville University's Marine Science Research Institute to prepare the future site of a new OCEARCH facility in Mayport.

Crowley volunteers marched at the River City Pride Parade to celebrate LGBTQ+ pride.

Crowley employees walked at the Leukemia & Lymphoma Light the Night to raise funds to support access to treatments for blood cancer patients and fund life-saving research.

Crowley supported the Boys and Girls Clubs of NEFL by helping to provide permits for their new building construction.

Crowley volunteers mentored students through the Big Brothers & Big Sisters' Beyond School Walls program, encouraging personal and academic achievement among local youth.

Hurricane Ian Relief
Crowley supported the Hurricane Ian Relief and Recovery Campaign by donating $8,400 to identify qualified non-profit organizations providing storm relief aid.
American Red Cross
Crowley's Honduras and Costa Rica employees participated in blood drives to help provide blood to local communities.

American Heart Association Heart Walk
In Jacksonville and Anchorage, Crowley volunteers walked at the American Heart Association Heart Walk to help raise money to fund lifesaving research and programs to combat cardiovascular disease and defects.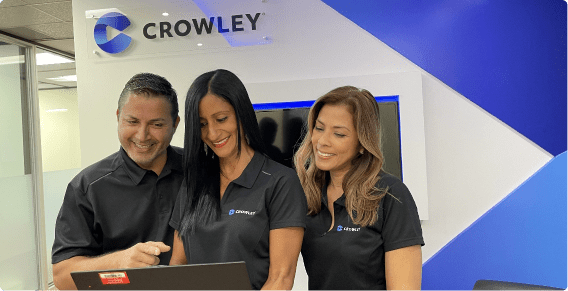 Join Us
If you want a career that is challenging, energizing, and rewarding, we hope you will consider joining our team as we continue to provide exemplary and innovative services worldwide.
Resources
Click below to download our 2022 sustainability report and ESG disclosures.