Puerto Rico Construction Update July 2016
2016-07-18
Construction associated with Crowley's investment in its Puerto Rico service is advancing on multiple fronts. We wanted to take a brief moment to give you an update and share photos (below) of the progress.
In San Juan at our Isla Grande Terminal, we have completed the installation of a new sheet pile bulkhead, and finished dredging approximately 410,000 cubic yards of material to support the arrival of the new ships. Installation of pipe pilings for the main pier is nearly complete, and concrete will soon be poured for the approach platform and the main pier.
In Pascagoula, Miss., at VT Halter Marine's shipyard, construction of El Coqui and Taino continues at an impressive pace. The engines are installed on El Coqui and her Ro/Ro decks are almost fully erected. Taino's LNG tanks have been installed, and her main and auxiliary engines will arrive to the shipyard in late July and early August, respectively. El Coqui recently achieved a milestone with the erection of her lower bow and bulbous bow module. Click here for a quick time-lapse video of the lift.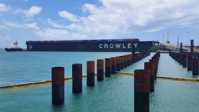 To support the pier, 444 pipe piles are installed and driven into the sea floor. Each pile, which will serve as the foundation for the pier decking, is between 120 and 140 feet long.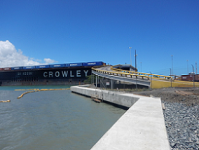 The concrete "cap" of the new sheet pile bulkhead is installed. The bulkhead had to be installed to allow for dredging associated with the new pier.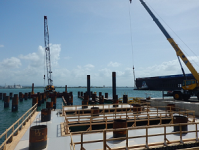 Forms are being installed for the approach platform as construction continues toward the first concrete pour for the new pier.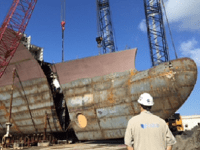 The lower bow module is erected for El Coqui.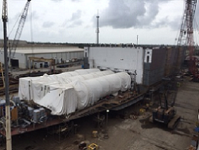 LNG tanks are installed in Taino.
We appreciate your continued support of Crowley and our full suite of supply chain solutions. Going forward, we will be pleased to continue to provide you with additional updates of the progress on our ships and terminal infrastructure in advance of the introduction of El Coqui next year.