Crowley Hits Milestones Building LNG Ships
2016-10-20
Highlighting the economic impact under the Jones Act of its $500 million investment in the trade between the U.S. mainland and Puerto Rico, Crowley Maritime Corporation's liner services group reached new milestones in its construction of two new, LNG-powered Commitment Class ConRo (combination container and Roll/On-Roll/Off) ships and in its terminal construction in San Juan.
The bow of El Coquí was recently set as shipbuilders finished constructing the full length of the ship, aligned the main engine, and completed other work required to prepare the vessel for launching in early 2017. The LNG tanks also have also been installed and build-out of the engine room and main engine are underway on sister ship, Taíno.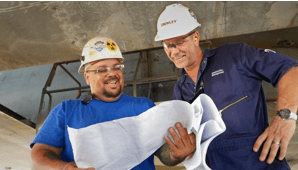 As the ships take shape, Puerto Rican pride is evident in the shipyard where more than 160 of the nearly 1,000 employees building the ships are from Puerto Rico. A new video available here highlights the contributions of Puerto Rican workers toward reaching the milestones of the Commitment Class ships.
 "I think it's special because it's (the ships are) going to Puerto Rico," said Wilfredo Perez, a pipe foreman, of the project. "It's going to create jobs back home."
Additionally in Puerto Rico, construction involving some 200 Puerto Rican workers is accelerating as they build a new pier and make terminal improvements at Crowley's Isla Grande port facility in San Juan, Puerto Rico. Concrete has been poured for the entire approach platform, and construction of the initial sections of the main pier is progressing. At the same time, construction of the new exit gate, electrical substation, and other improvements are proceeding on schedule. When completed, the terminal improvements, combined with the state-of-the-art ships, will offer customers increased efficiency and supply chain velocity as well as reduced landing costs.
"It's actually doing it. It's committing to Puerto Rico," said Eddie Torres, an outfitting foreman, said of Crowley's dedication to the shipbuilding program. "What I love best about are the names on the ships. … What better names? That's Puerto Rican pride right there."
To learn more, you can access the full press release here.