Crowley Senior Leaders Roberts and Harrison Changing Roles
Crowley Maritime Corp. announced today that Michael Roberts will be returning to Washington, D.C., to serve as the company's senior vice president for government relations. Roberts relocated in 2008 from Washington to Jacksonville, Fla., to serve as the company's senior vice president and general counsel. The move will enhance the company's presence in Washington to better address the important policy and regulatory issues affecting the maritime and logistics industry, and to increase support for the company's fast-growing work on behalf of the federal government.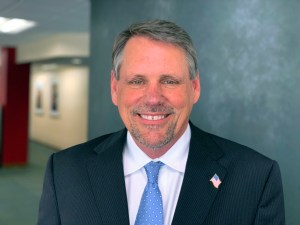 Roberts's career in Washington spans nearly 30 years and includes service in all three branches of the government and private law practice. Since 1991, Roberts has represented Crowley on the major issues affecting the industry, including the Maritime Security Program, Jones Act, and economic regulation. He is one of the founding members of the American Maritime Partnership (AMP), a key industry trade association, and will continue to help lead that group.
Roberts will also continue coordinating with Crowley's government services team in connection with its public sector work, which has grown more than five-fold in the past few years.
"We have a responsibility to help lead the industry through important policy decisions over the next few years," said Bill Pennella, vice chairman and executive vice president. "Mike has the experience and reputation to be very effective in this role."
Roberts has a bachelor's degree with high honors from Michigan State University, and a juris doctor degree cum laude from American University, Washington College of Law. As general counsel, Roberts provided senior leadership for various initiatives in addition to managing traditional legal and risk management functions. These included establishing a cargo insurance business, an employee-led charitable foundation supporting hundreds of nonprofits, and the newly-formed Florida Maritime Partnership.
As Roberts transitions to his new role, Parker Harrison will become senior vice president and general counsel and have responsibility for the company's legal and risk management teams. She will be based at Crowley's headquarters in Jacksonville. Both Harrison and Roberts will continue to report to Pennella.
Harrison, formerly senior vice president of procurement and risk management, is an experienced admiralty attorney and marine insurance executive. Her expertise will ensure that the legal and risk management teams are properly aligned to the business and continue to provide high-caliber services.
"Parker's strong experience in the maritime law and insurance industries makes her extremely well suited to lead these critical functions as our company continues to grow," said Pennella.
Harrison is the current president of the U.S. chapter of WISTA, the Women's International Shipping & Trading Association, a networking organization for women at the management level in the maritime and trading industries worldwide. She holds bachelor's and master's degrees from the University of Virginia, as well as a juris doctor degree, magna cum laude, from Tulane Law School with a certificate in maritime law.
Harrison joined Crowley in 2013 as director, claims, in the risk management department, where she managed claims, supported Crowley's growing ship management business, and led the team's risk management and mitigation efforts for the historic West Africa Ebola relief project (Operation United Assistance). In 2015, she was promoted to vice president, procurement, where she led the modernization and enhancement of the procurement function across the various lines of business. She joined the senior leadership team in 2018.
Shipping & Logistics Announcements
Terminal Escort Fee and Seal Fee at Port Everglades and Jacksonville – Updated!
We want to clarify a recent update we shared concerning Seal Fees. We aim to decrease the number of non-compliant seals on containers showing up in our terminals, which we then must replace. If you are shipping internationally, you must affix a compliant high security seal on your containers that meets the International Organization for […]
Read More
Shipping & Logistics Announcements
Terminal Escort Fee and Seal Fee at Port Everglades and Jacksonville
To Our Crowley Partners, We have some important updates to share: Terminal (TWIC) Escort Fee:Effective January 1, 2024, a $75 per instance Terminal Escort fee will be assessed to all trucks requiring an escort in line with U.S. Customs and Border Protection (CBP) requirements regarding port access under the Transportation Workers Identification Card (TWIC) regulation. […]
Read More