Toyota Logistics Services Recognizes Crowley with its Prestigious Logistics Excellence Award for Quality for Ninth Consecutive Year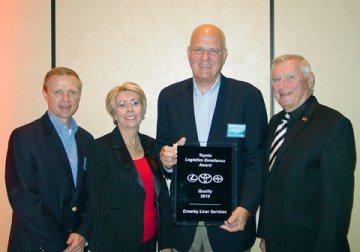 (JACKSONVILLE, Fla.; April 21, 2011) – Toyota Logistics Services recently presented Crowley Maritime Corporation's liner services group with its prestigious Excellence in Quality Award for 2010 in recognition of Crowley's outstanding performance transporting thousands of Toyotas from the U.S. to Puerto Rico during the year. It was the ninth consecutive year Crowley has received the award from Toyota.
Charlie Dominguez, vice president, national accounts, accepted the award from Toyota officials on behalf of Crowley in Newport Beach, Calif.
"This award is a testament to all of the people who help Crowley deliver exceptional customer service day in and day out," Dominguez said. "It is especially gratifying because we know Toyota is committed to building and delivering only the highest quality vehicles to its customers. We are proud to be a part of this outstanding partnership."
Crowley is highly successful transporting new and used vehicles because it invests the time and resources to do the job right.
Crowley's Puerto Rico vessels are designed with specialized automobile decking, which allows up to 240 vehicles per voyage to be driven on, stowed and transported in a protected space. A team of auto checkers and traffic specialists play a large role in ensuring that load lists are correct and documentation is complete prior to sailing. Additionally, the company has dedicated fenced, lighted and secured terminal space in Jacksonville for approximately 225 Toyota vehicles near the vessel loading ramp, minimizing the need for Toyota vehicles to be driven around and through the terminal.
"It all adds up to white glove service," said Dominguez. "And our customers – Toyota in particular – appreciate that."
Toyota (NYSE:TM) established operations in North America in 1957 and currently operates 14 manufacturing plants, including one under construction. There are more than 1,800 Toyota, Lexus and Scion dealerships in North America which sold more than 2 million vehicles in 2010. Toyota directly employs more than 35,000 in North America and its investment here is currently valued at more than $23 billion, including sales and manufacturing operations, research and development, financial services and design. Toyota's annual purchasing of parts, materials, goods and services from North American suppliers totals nearly $25 billion. Toyota currently produces 12 vehicles in North America, including the Avalon, Camry, Corolla, Highlander, Matrix, RAV4, Sequoia, Sienna, Tacoma, Tundra, Venza and the Lexus RX 350. For more information about Toyota, visit www.toyota.com or www.toyotanewsroom.com.
Jacksonville-based Crowley Holdings Inc., a holding company of the 119-year-old Crowley Maritime Corporation, is a privately held family and employee-owned company. The company provides marine solutions, transportation and logistics services in domestic and international markets by means of six operating lines of business: Puerto Rico/Caribbean Liner Services, Latin America Liner Services, Logistics Services, Petroleum Services, Marine Services and Technical Services. Offered within these operating lines of business are: liner container and break-bulk shipping; logistics; contract towing and transportation; harbor ship assist and tanker escort; energy support; salvage and emergency response through its TITAN Salvage subsidiary; vessel management; vessel construction and naval architecture through its Jensen Maritime subsidiary; government services, and petroleum and chemical transportation, distribution and sales. Additional information about Crowley, its subsidiaries and business units may be found on the Internet at www.crowley.com.
# # #
Caption, left to right: Randy Pflughaupt, Toyota Motor Sales group vice president of sales administration; Nancy Davies, vice president of Toyota Logistics Services; Charlie Dominguez, Crowley vice president, national accounts; and Don Esmond, Toyota Motor Sales senior vice president of automotive operations